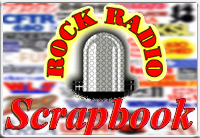 AIRCHECK OF THE WEEK
Edition #1270
Week of November 19, 2023


Subject: JFK ASSASSINATION COVERAGE RE-CREATION
Station: Northumberland 89.7 (CFWN)
Date: November 22, 2021
Time: 1:20:40 (unscoped)
24:54 (scoped)

It was a day those who experienced it will never forget.
On a sunny late fall afternoon in Texas, U.S. President John F. Kennedy was gunned down as he rode in a motorcade alongside his wife, First Lady Jackie Kennedy. The president died. Texas Gov. John Connally also riding in the car, was injured but recovered from November 22, 1963 shooting.
Fifty-eight years later, Northumberland 89.7 program host Dale Patterson noticed that his Monday Forgotten '45s show not only landed on November 22, but the time of his 1-4 p.m. show lined up perfectly with the actual time of the first reports of the shootings to the death announcement and beyond.

Patterson decided to re-create - more accurately imagine - how Northumberland 89.7 would have covered the asssas assassination had the station existed at the time. Relying on media accounts of the shooting - including the official UPI wire feed - Patterson wrote a script covering the time from the first bulletins of the shooting at 1:40 p.m. ET, to the official White House announcement of the president's death at 2:30 p.m. ET.
Northumberland 89.7 newsmen Andy Kirkpatrick and Fred Lukin were recruited to "report" on the shooting while Patterson filled his usual role as a program host. The show starts with Patterson playing music from November 22, 1963 before Fitzpatrick begins a series of updates on the shooting. Supplying on-the-scene reports was Lukin, who in this imaged scenario just happens to be in Dallas on business that day (he was actually in the next room). In between, Patterson plays somber music while speaking in appropriately subdued tones. The entire show was done live.
Enjoy the imaged JFK assassination coverage on Northumberland 89.7 (UNSCOPED) here.

Enjoy the imaged JFK assassination coverage on Northumberland 89.7 (SCOPED) here.

(Scrapbook archives)

The Aircheck of the Week PREVIEW!



We're previewing the Aircheck of the Week on Facebook. Every Friday, we post the audio link to the Aircheck of the Week on Facebook with the full feature to follow on Sunday as usual.
---