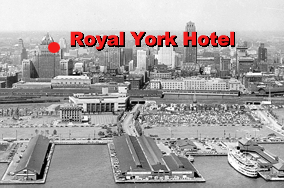 Toronto skyline in 1960

Toronto has changed a lot since 1969, and so has that city's AM radio dial.
The station featured on this aircheck, CKFH, has undergone one of the greatest upheavals. 'FH switched to an oldies format in 1973 before completely abandoning rock when it became a country station in 1975. In 1981, station founder Foster Hewitt sold the station to Telemedia after 30 years of ownership. The 'FH calls disappeared after the transaction and CJCL was born.
CJCL attempted a talk-based format early in its existence as Metro 1430. That later morphed into a Music of Your Life format which changed into an adult contemporary approach that lasted until 1992. That year, CJCL became Canada's first all-sports station as The Fan 1430. In 1995, The Fan 1430 swapped frequencies with CKYC 590 - the former CKEY - where it remains today as Sportsnet The Fan 590.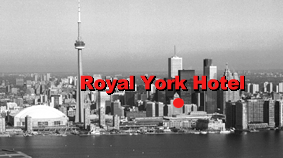 Toronto skyline in the early 2000s
As for CKEY, it doesn't even exist on the AM band anymore. In 1969, CKEY was a full-service station, boasting one of the city's most respected news staffs and an easy listening music format. In 1984, 'EY switched to a gold format as Solid Gold CKEY and later KEY-590. The CKEY calls disappeared in 1991 when the station became Country 59, CKYC. Today, the former CKEY is at 1430 on the dial and has an ethnic format as CHKT.
Moving up the dial, the Toronto station at 680kc in 1969 was CHFI and it had a Beautiful Music format. In 1971, CHFI changed calls to CFTR and soon became a Top 40 station. After 21 years of Top 40 magic, CFTR in 1993 became an all-news station as 680 News.
When Toronto radio listeners turned to 740kc in 1969, they heard the city's CBC AM outlet, CBL. In 1999, CBL moved to 99.1 on the FM dial (as "Radio One" or CBLA) and the frequency went silent but not for long. On January 8, 2001, CHWO 1250 Oakville, Ontario, was reborn as AM 740 Toronto with a standards-oldies mix.
A listener to CFRB 1010 in 1969 would have heard a full-service station with easy-listening music. Now it's NewsTalk 1010.
1050 CHUM was a Top 40 station in 1969. It's now TSN sports radio.
Unchanged in format is CHIN 1540. It was a multilingual station in 1969, and still is. And you'll also hear the French CBC outlet (CJBC) at 860 now, just as you did in 1969.
If you had tuned into 640kc in Toronto in 1969, you might have received some interesting DX catches, but nothing local. That frequency now is occupied by CFMJ (Global Radio AM 640) with a talk format. The station traces its history to country music giant CFGM Richmond Hill, Ontario, originally at 1300 (as CJRH), then at 1310 at CFGM and later at 1320 and 640.
Enjoy John Rode on CKFH in 1969 (UNSCOPED) here.

Enjoy John Rode on CKFH in 1969 (SCOPED) here.

(The Charlie Ritenburg Collection)