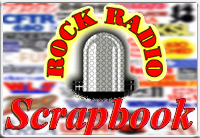 Rock Radio Heaven (B)

DARYL B.
Died: February 27, 2001, Winnipeg
Also known as: Birth name was Daryl Burlingham
Stations: CFQC Saskatoon, CJOB, CKY, CKRC Winnipeg, CFUN, CKLG, CKBD Vancouver, CKLW Windsor, Ontario, CHUM Toronto.
Notes: Died of a stroke at age 58, shortly after learning of the death of fellow deejay Rick Honey. Suffered from post-polio syndrome. Signed off his show with the expression "stay out of trees."
---
NORMAN B.
Born: December 18, 1943, Hamilton, Ontario
Died: January 19, 1997, St. Catharines, Ontario
Stations: CJRT-FM Toronto, CFOS Owen Sound, Ontario, CFSL Weyburn, Saskatchewan, CJME Regina, CJWA Wawa, Ontario, CJIC Sault Ste. Marie, Ont, CKFH Toronto, CKBB Barrie, Ont., CHOW Welland, Ont., CING-FM (FM 108) Burlington, Ont.
Also known as: His real name was Norman Blakely
Notes: The genius behind FM 108, his full story is told in the Norman B. Tribute. He died of a heart attack.
---
BILL BAILEY
Born: December 18, 1930, New Bern, N.C.
Died: January 14, 2012, Louisville, Ky.
Also known as: The Duke of Louisville; birth name was William Clyde Boahn.
Stations: KBYR Anchorage, WLS Chicago, WAKY, WKLO, WCII Louisville, Ky., WVLK Lexington, Ky.
Notes: Spent more than 30 years in Louisville radio. Won for WKLO the 1967 Radio-TV Mirror Award for local programming. An accomplished artist. A radio guy to the end, his daughter Faith Chapman says Bailey did morning announcements over the public address system at the nursing home where he lived after suffering a stroke that paralyzed his right side in 2004.
---
BILL BAILEY
Born: 1947, Chicago
Died: June 12, 2013, Allendale, Mich.
Stations: WOKY Milwaukee, WLS Chicago, KSLQ St. Louis, WNIC, WMXD, WDRQ-FM, WKBD-TV Detroit, KBEQ-FM, KLSI Kansas City, WXTR-FM Washington, D.C., WIZF Cincinnati (VP Programming), WGVU AM & FM Grand Rapids, Mich., WLHT-FM, WTRV-FM Grand Rapids, Mich., WGVS AM & FM Muskegon, Mich.
Notes: Won National Association of Broadcasters Marconi Award for Station of the Year in 1998. Three-time finalist for NAB's Crystal Award. Also a finalist for Billboard Air Personality of the Year and Program Director of the Year. The Chicago native died of an apparent heart attack while playing golf. He was 66.
---
BILL BAKER
Born: 1928, Tarentum, Pa.
Died: August 12, 2005
Also known as: Bouncin' Bill Baker, your early morning vitamin pill. Birth name was Charles William Baker.
Stations: WIOU Kokomo, Ind., WIBC Indianapolis
Notes: Was morning man at WIBC from 1956 to 1969. Went on to found Broadcast Productions of America, an audio and video production company. Member of the Indiana Disc Jockey Hall of Fame.
---
BILL BALLANCE
Born: October 27, 1918, Peoria, Ill.
Died: September 23, 2004, San Diego
Stations: KNX, KFWB, KGIL, KGBS, KABC, KWIZ Los Angeles, KOA Denver, KHVH, KGMB Honolulu, KNBR, KFMB San Diego, WBKB-TV Chicago
Notes: One of the original "Seven Swingin' Gentlemen" at Color Radio KFWB Los Angeles in 1958. Named one of L.A.'s Top 10 Disc Jockeys of all-time in a survey that appeared in the book Los Angeles Radio Radio by Don Barrett. His controversial talk-show show "Feminine Forum" on KGBS the early '70s is considered to be the forerunner to such talk show hosts as Tom Leykis and Howard Stern.
---
BUD BALLOU
Born: December 11, 1942, Liverpool, N.Y.
Died: April 16, 1977, Natick, Mass.
Also known as: Birth name was Dudley J. Ballou
Stations: WOLF, WNDR Syracuse, N.Y., KBTR Denver, WKBW Buffalo, N.Y., WMEX, WVBF, WKOX Boston
Notes: Evening jock at 'KB in late '60s, in between Joey Reynolds and Sandy Beach. Graduate of Syracuse University (communications). Hosted American Bandstand-type show at WNYS-TV in Syracuse. Died of cancer.
---
ROGER BARKLEY
Born: September 11, 1936, Odebolt, Iowa
Died: December 21, 1997, Duarte, Calif.
Stations: KYSM Mankato, Minn., KSUM Fairmount, Minn., WCCO Minneapolis, KALL Salt Lake City, KBOX Dallas, KIMN Denver, KLAC, KFWB, KFI, KJOI, KABC Los Angeles
Notes: Half of the famed Barkley-Al Lohman pairing in L.A. radio; they were together for 25 years - 1961 to 1986. The breakup was bitter they never spoke again after Barkley left for KJOI in 1986. Barkley died of pancreatic cancer.
---
JERRY BARR
Died: October 11, 1986
Also known as: Jerry Barbier
Stations: WIRL Peoria, Ill., WAKY Louisville, Ky., KEEL Shreveport, La.
Notes: Returned to Peoria and began working in sales at WXCL-AM Peoria.
---
WAYNE BARRY
Died: May 24, 2013
Also known as: Birth name was Wayne Barry Heinrich
Stations: CFCN Calgary, CKOV Kelowna, B.C., CKRD Red Deer, Alta., CJOC, CHEC Lethbridge, Alta.
---
HANK BASSIOR

Born: 1940, Montreal

Died: April 3, 2016

Stations: CKGM Montreal, KZST, KFTY Santa Rosa, Calif.
Also known as: "HK" Bassior on CKGM during the 1960s

Notes: Bassior was a talented voice artist and advertising producer in later years in Northern California. He was also a singer, forming the musical duo "Hank and Jean" with his first wife, performing in cocktail lounges, restaurants and clubs in Sonoma County during the 1970s. His daughters Lila and Liana (with second wife Mary) both inherited their dadís love of music and performing. In 2008, Lila appeared in the cast of Cole Porterís ďAnything GoesĒ at Cal State Fullerton, just after Liana performed in the same musical at Sebastopolís Analy High School. Died at at age 76, of heart and kidney failure.
---
BILL BEAMISH
Born: January 16, 1930, Midland, Ont.
Died: July 8, 2009, North Miami Beach, Fla.
Also known as: Birth name was William R. Beamish
Stations: WAVZ New Haven, Conn., WMCA New York
Notes: Starred on "Space Commander 8", a children's TV program on WNHC-TV New Haven in the 1960s. Was also a record promoter. Served in the Canadian Coast Guard before immigrating to the U.S.
---
DENNIS BELL
Died: January 9, 2008
Also known as: Birth name was Dennis LaCloche
Stations: CKGM, CFOX, CFCF/CIQC Montreal, CJSS Cornwall, Ont.
Notes: Was board op at CKGM 1967-68 for Buddy Gee, a.k.a. George Morris. Died of skin cancer.
---
FRANK BENNY
Died: May 9, 2005, Bradenton, Fla.
Also known as: His birth name was Frank Biniak
Stations: KISN Portland, Ore., WGR, WYRK, WBEN Buffalo, N.Y., WDDV, WCTQ Sarasota, Fla., WENG Englewood, Fla.
Notes: The Chicago-bred Benny joined WGR in 1965, leaving in 1985 after stints in both morning and afternoon drive. Left Buffalo area in 1989 for Florida, where he worked at several stations. Did weather and hosted "Bowling For Dollars" and the 4 o'clock movie on WGR-TV. According to his daughter, Kimberley Chance, his hobbies were golf, golf and more golf. In fact, he requested that his ashes be scattered over his favourite golf course. Died of complications from pneumonia at age 67.
---
GARY BELL
Died: June 4, 2018
Also known as: The Spaceman
Stations: CFOX, CKGM Montreal, CFTR Toronto, CFMJ (AM 640) Toronto
Notes: Did the "Vew From Space" conspiracy show on AM 640 from 2001 to 2017.
---
BOBBY BENNETT
Born: July 20, 1943, Pittsburgh
Died: September 8, 2015, Florida
Also known as: The Mighty Burner
Stations: WAMO, WZUM Pittsburgh, WOL, WTOP, WHUR-FM, WXTR, WPFW-FM Washington, D.C., XM Satellite Radio (Soul Street)
Notes: Named Billboard magazine's R&B Disc Jockey of the Year in 1972. Recognized as Disc Jockey of the Year by the Gavin Report in 1973. Created and served as program director at Soul Street. Co-author of The Ultimate Soul Music Trivia Book: 501 Questions and Answers About Motown, Rhythm & Blues and More.
---
BUZZ BENNETT
Died: 2015, Liberty Country, Florida
Also known as: Birth name was Russell Glen Bennett
Stations: WTIX New Orleans, KGB, KCBQ San Diego, WKTQ Pittsburgh, WHYI Miami, KDWB Minneapolis, KHYI Dallas, KRIZ Phoenix
Notes: Legendary PD and consultant.
---
AL BENSON
Born: June 30, 1908, Jackson, Miss.
Died: September 6, 1978, Berrien Springs, Mich.
Also known as: The Ole Swingmaster
Stations: WJJD, WGES, WEAW Chicago
Nicknames: His real name was Arthur Leaner. First to use black street slang on-air. Was also a preacher and a concert promoter.
---
IRON MIKE BENSSON
Born: October 17, 1953
Died: November 7, 2013
Stations: WJJL Niagara Falls, N.Y., WBYR, WUFX Buffalo, N.Y., CHTZ-FM St. Catharines, Ont.
Notes: Jocked at CHTZ-FM for 15 years after starting as a one-day fill-in. Signed off by saying "Put down the pipe and don't forget to wipe." Died of cancer.
---
DON BERNS
Born: August 18, 1947, West Hartford, Conn.
Died: March 1, 2015
Stations: WBRU, WICE Providence, R.I., WDRC Hartford, WTRY Troy, N.Y., KRLA Los Angeles, KLIF Dallas, KFMB San Diego, WPHD/WYSL, WKBW Buffalo, N.Y., WHB Kansas City, WTAE Pittsburgh, CFNY-FM, CKEY, CILQ (Q-107), CHIN-FM Toronto, CING-FM Burlington, Ont., CIDC Orangeville, Ont., Virtually All Canadian Network, Toronto, CKDX Newmarket, Ont.
Notes: The Connecticut native was program director at CFNY-FM from 1987 to 1988 after two years as assistant PD. Served as music director at WKBW. Highly sought after voice-over artist who did imaging for Global and TSN. Veteran of the Toronto rave scene as Dr. Trance. Died of an apparent heart attack.
---
JERRY G. BISHOP
Born: August 3, 1936, Chicago
Died: September 15, 2013, San Diego
Also known as: Jerry G, Svengoolie (TV character), birth name was Jairus Samuel Ghan
Stations: WNMP Evanston, Ill., WPGC Washington, D.C., KYW Cleveland, WCFL, WMAQ, WRLL, WFLD-TV Chicago, KPOP, KFMB-TV San Diego. Also worked in Rockford, Ill., and Springfield, Ill.
Notes: Spent more than 40 years in radio and TV. While at KYW toured with the Beatles as a reporter in 1964 and 1965. Hosted "Screaming Yellow Theatre", a horror film show on WFLD-TV from 1970 to 1973, where he was "Svengoolie." He and his character were inducted into the Horror Hall of Fame in 2011. Won three Emmy awards and a National Press Club Award in his 12 years hosting "Sun Up San Diego", a weekday morning talk show. Got his radio surname Bishop from a phone book.
---
MARTIN BLOCK
Born: 1901, Los Angeles
Died: September 18, 1967
Stations: KFWB Los Angeles, WNEW, WABC, WOR New York
Notes: The first deejay to be a star in his own right, Block made his show "Make Believe Ballroom" a New York institution. Co-wrote the 1941 Glenn Miller hit "Guess I'll Have To Dream The Rest." The Los Angeles-born Block was named to the Radio Hall of Fame in 1988.
---
AL BOLISKA
Born: April 8, 1932, Montreal
Died: April 7, 1972, Toronto
Stations: CKSL London, Ont., CKLC Kingston, Ont., CHUM, CKEY, CHIN, CKFM Toronto, CFCF Montreal
Notes: Was morning man at both of Toronto's rock 'n' roll giants, CHUM and CKEY in the late '50s and '60s.Wrote several joke books and had an international joke service for disc jockeys. Died of a heart attack on the eve of his 40th birthday.
---
BOB BOLTON
Died: September 15, 2015
Stations: WQXI Atlanta, WOWO Fort Wayne, WHK Cleveland, KXYZ Houston, WFUN Miami, WBBQ Augusta, Ga., WKIX Raleigh, N.C.
Notes: Was operations manager and program director at WKIX. Died of aneurysm.
---
JOHN BORDERS

Born: October 11, 1937
Died: March 30, 2016, Texas
Stations: WWJ Detroit, KQV Pittsburgh, KLIF, KFJZ, KBOX Dallas, KBEC Waxahatchie, Tex.
Also known as: On-air name was Johnny Dark. Birth name was John Mac Borders.
Notes: Program director at KQV from December 1967 to September 1968. After leaving KQV, he became national program director of the Tecas State Network stations. He later went into management and ownership, buying his first station in 1973. Voice of TM Stereo Rock. Founded Sunburst Media in Dallas in the '90s. Inducted into the Texas Radio Hall of Fame in 2004. Died of pancreatic cancer.
---
BARRY BOYD
Died: January 12, 2001, Edmonton
Stations: CKPG Prince George, B.C., CJCA, CFRN Edmonton, KFXM San Bernardino, Calif., KCBQ San Diego
Also known as: "Bouncing" Barry Boyd
Notes: Started in radio in the '50s in Prince George, B.C. This highly popular deejay also released a number of 45's. Died of complications from surgery.
---
BRUCE BRADLEY
Died: June 22, 2013, Lake St. Louis, Mo.
Stations: WWOL Buffalo, N.Y., WCAU Philadelphia, WROW Albany, N.Y., WBZ Boston, WHN, WNEW-AM, WYNY New York, KMOX, WIVB, KTRS St. Louis
Notes: Known for his wit and humour, the native of Rochester, N.Y., did both music and talk shows. Suffered from emphysema late in life. Died at the age of 79.
---
CAL BRADY
Died: August 19, 2013, Los Angeles area
Stations: WPHD, WYSL, WBUF Buffalo, N.Y., owned Calcomm Stations Oregon, operator of KQCB Seaside, Calif. Also owned KCBQ-FM Cannon Beach, Ore., and KSWB-AM Seaside, Ore.
Notes: Original "free-form" announcer on WYSL-FM. Did a show called "Night Train" on KQCB. Grew up in Buffalo. Died of liver and renal failure.
---
JIM BRADY
Born: August 21, 1946, Toledo, Ohio
Died: June 5, 2014, Perrysburg, Ohio
Also known as: Big Jim Brady, Mark Richards (on CKLW), birth name was Jim Felton
Stations: WTOL, WCWA, WRVF-FM, WRQN-FM Toledo, Ohio, WLYV Fort Wayne, Ind., WKLO Louisville, Ky., CKLW Windsor, Ont., CFTR, CJCL Toronto, CFGM Richmond Hill, Ont., CFRW Winnipeg, CHQR, CHRY Calgary, KOPA Phoenix, KLAC Los Angeles, KLUV Las Vegas, WBAP Fort Worth, Tex.
Notes: Perhaps best known for his eight years (1973-1981) hosting "Brady in the Morning" at CFTR. Known for his characters and bits that included "The Weather Faerie", "The Song of Inspiration", "Captain Inspiration" and "The Garbage Song." Retired from radio after a 44-year career in 2008 to focus on real estate, but was diagnosed with colorectal cancer two years later.
---
BOOM BOOM BRANNIGAN
Died: October 19, 2010, Albany, N.Y.
Stations: WBNY Buffalo, N.Y., WTLB Utica, N.Y., WPTR Albany, N.Y., WABY-AM Mechanicville, N.Y.
Also known as: Birth name was Joseph Motto; was Ronnie Victor at WBNY
Notes: Trademark was his dark glasses, velvet clothes and a big Cadillac. Owned WMVI (now WABY-AM) Mechanicville, N,Y., Died at the age of 82.
---
CHUCK BRINKMAN
Born: July 19, 1935, Dormont, Pa.,
Died: August 24, 2018, Plano, Tex.
Stations: WAND Canton, Ohio, WELI New Haven, Ct., WJW Cleveland, KQV, WFFM/WHYW/WMYG Pittsburgh, KOGO San Diego, KLUV Dallas, KAAM Garland, Tex., KGVL Greenville, Tex.
Notes: Was at KQV for 12 years (1960-1972), part of the "Fun Lovin' Five", longest of any personality at the station. Music director at both KVQ and WTAE. Spent 17 years (1988-2005) at KLUV-FM where he was program host and PD. PD at WFFM/WMYG. Inducted into the Pittsburgh Rock 'N' Roll Legends Class of 2007. Suffered from Parkinson's Disease.
---
LARRY BROADLEY
Born: January 31, 1950
Died: August 15, 2017, Exeter, Ont.
Stations: CJOE, CJBK, CKSL London, Ont.
Notes: Later moved to Grand Bend, Ont. on Lake Huron. Delved into real estate, owned and operated a bar and worked as a regional manager for a properties company.
---
DR. GRADY BROCK
Born: January 31, 1949
Died: June 28, 2015, Pineville, La.
Also known as: Dr. Brock, Doc Brock, Rick Shannon
Stations: KFNV Ferriday, La., WNAT Natchez, Miss., WPJB, WGNG Providence, R.I., WRBC Jackson, Miss., WINZ Miami, WAYS Charlotte, N.C., WCFL Chicago, KSTP St. Paul, Minn., KAAY, KKYK Little Rock, Ark., WNOE New Orleans, KOOJ Baton Rouge, La., WKQL Jacksonville, Fla.
Notes: One of the great screamers of Top 40 radio, he called himself the "Ugliest Mutha in Rock 'n Roll." Spent 42 years in radio. Suffered from pulmonary fibrosis.
---
B. BAILEY BROWN
Died: October 24, 2003, San Antonio, Tex.
Stations: KOKE Austin, Tex., KMPC, KHJ, KRTH, KDAY Los Angeles, KKYK, KBAT, KBER, KONO San Antonio, Tex., KCBQ San Diego
Notes: Brown also owned WBGR Lexington, Ky., was general manager at WPRS Paris, Ill., and was general sales manager at WTHI in Terre Haute, Ind. Died of a heart attack.
---
BILL BROWN
Died: October 9, 2011, Lake Hopacong, N.J.
Stations: WCLB Camilla, Ga., KXO El Centro, Calif., Far East Network (Japan), KGB San Diego, WOR-FM, WCBS-FM New York
Notes: Native of Lawrenceville, Ga. Program director at the Far East Network (Japan).Was at WCBS-FM for 36 years, mostly in middays, from 1969 to 2005. Program director at WCBS-FM for about four years beginning in 1974. He was the final deejay on WCBS-FM before they went to the Jack format; it was also his last air shift. Known for his "Brown Bag" lunch-time specials. Died at the age of 69.
---
TED BROWN
Died: March 20, 2005, New York
Also known as: His birth name was Theodore David Brown
Stations: WMGM, WNEW-AM, WNBC New York, WRIV Riverhead, N.Y., WVNJ Oakland, N.J.
Notes: His theme was "Am I blue? No, I'm Brown/Got a smile on my puss, not a frown/Every morning/We play discs and commit general crime." Died of complications from a stroke suffered in 1996. He kept his age private, but was in his '80s when he died. Got his first taste of broadcasting at dance when a master of ceremories failed to show up. Hosted four TV games shows. Voice of the New York Giants for a while and also appeared on NBC's Monitor. Spent 18 months as a POW in the Second World War.
---
CHUCK BROWNING
Born: August 8, 1939
Died: March 3, 1988
Also known as: The Chucker
Stations: KHJ, KGBS, KFI Los Angeles, WMCA New York, KFRC, K-101 San Francisco, WFIL Philadelphia, CKLW Windsor, Ont., WHBQ Memphis, KTSA San Antonio, KRUX, KUPD Phoenix, KCBQ San Diego, WMYQ Miami, WYDE Birmingham, Ala.
Notes: There are many great tales about Chuck Browning. Once, at KGB, when a cart machine malfunctioned, he gave it away to the fourth caller. When crossing into Windsor from the U.S., a border guard asked him if he had anything to declare. His answer "Yeah, war. If you don't stop hassling me I'm going to shoot holes in the Windsor Tunnel and turn it into a car wash."
---
ERROL BRUCE-KNAPP
Born: August 1942, Alexandria, Egypt
Died: August 11, 2016
Stations: Radio Caroline, Radio England CKFH, CHUM-FM, CILQ (Q-107) Toronto, CBC, TVOntario
Notes: Played the character Ryerson on the All-Night Show on CFMT (Channel 47) in the early '80s. Hosted the long-running UFO radio program, Strange Days.
---
WAYNE BRYANT
Died: 1997
Stations: CKXL, CHFM Calgary, CHED, KING-FM, Power 92 Edmonton
Notes: Was PD at all of the above stations except CKXL and CHED.
---
WILLIE BRYANT
Born: August 30, 1908
Died: February 9, 1964
Stations: WHOM, WOV New York, KSAN San Francisco, KALI Los Angeles
Also known as: Real name was William Stevens Bryant.
Notes: Complained about Alan Freed sounding black, which stirred up much controversy. First black host of a network radio show, "Night Life", on CBS in 1946. Had ABC network TV show from Flame Bar in Detroit in 1956. Elected to the honorary title of "Mayor of Harlem" in 1952, replacing Bill "Mr. Bojangles" Robinson.
---
CLINT BUEHLMAN
Born: March 8, 1912
Died: November 29, 1997, Buffalo, N.Y.
Also known as: Buehly
Stations: WGR, WBEN Buffalo, N.Y.
Notes: Buehlman spent nearly a half-century in Buffalo radio, first at WGR in 1931 and later at WBEN starting in 1942. He retired in 1977, surviving WBEN's transition to MOR Top 40. "Yours Truly Buehly" died at age 85 after a long illness. Member of the Buffalo Broadcasting Hall of Fame. Only one of four WBEN morning men in the 20th century.
---
STAN Z. BURNS
Died: November 16, 1990, New York
Stations: WINS New York
Notes: Played first Beatle record at WINS. Part of the legendary WINS deejay lineup of the '50s and '60s, he successfully made the transition to radio news when WINS switched to an all-news format in 1965. Spent some 40 years at WINS. Died of cancer at the age of 63.
---
SCOTT BURTON
Died: March 26, 2008, Maricopa, Ariz.
Also known as: Birth name is Scott Gary Burton
Stations: KFRC, KNBR San Francisco, WHK Cleveland, WDGY Minneapolis, WWDC Washington, D.C., KSD St. Louis, KFMB San Diego, KSTM, KTAR Phoenix, KVI Seattle
Notes: Died at age 71 of cancer. Founded Scott Burton Media of Scottsdale, Ariz., in 1992.
---