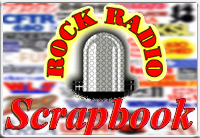 Rock Radio Heaven (C)

PAT CADIGAN
Born: December 2, 1935, Superior, Wisconsin
Died: May 15, 2017, Duluth, Minnesota
Stations: KUMD, KDAL, WEBC, WDSM, KDAL, WQMN Duluth, Minnesota
Also known as: Pat the Cat
Notes: Spent half-a-century in Duluth radio.
---
KIM CALLOWAY
Born: July 30, 1944
Died: August 22, 2013, Kelowna, B.C.
Also known as: Was Jim Calloway at CHUM-AM
Stations: CHUM-AM, CHUM-FM Toronto, CKWX Vancouver, CFVR Abbotsford, B.C., CKOV, CKOV-FM, CKQQ-FM Kelowna, B.C.
Notes: Was Jim Calloway as a sports announcer at CHUM-AM in the '60s before moving to CHUM-FM in the late '60s as a music host with the show "Collage". Hosted The Kim Calloway Talk Show on CKWX in the '70s and 80s. Co-recipient with Jack Webster for Best Reporting of the Year in 2004. The accomplished musician and car enthusiast died of cancer.
---
CHUCK CAMROUX
Died: May 11, 2022
Stations: CHAM Hamilton, CFTR, CHFI-FM Toronto, CKLW AM-FM Windsor, Ont., Canadian Radio Network, CJRT-FM Toronto
Notes: One of Canada's leading programmers - led the change from CJRT-FM into a full-time jazz station as Jazz FM. Edmonton-born Camroux retired after nearly 50 years in broaadcasting in 2004.
---
DON CANNON
Born: May 23, 1940, Yonkers, New York
Died: August 22, 2014, Wynnewood, Pennsylvania
Also known as: The Dean of Philadelphia Morning jjRadio; birth name was Dominic Canzano.
Stations: WHRF Riverhead, New York, WBAB Babylon, New York, WDRC Hartford, WWDJ Hackensack, New Jersey, WNEW-AM New York, WIBG, WCAU-FM/WOGL-FM, WFIL, WIFI-FM, WSNI-FM, WPGR, WIP Philadelphia
Notes: Spent 35 years in Philadelphia radio beginning in 1969 at WIBG. Hosted "Cannon in the Morning" on WOGL-FM from 1990 to his retirement in 2004. His voice on WIBG was featured in the movie "Rocky." His son Christopher Knight is also an air personality. Cannon used to end his morning shows with a voice-over of a girl singing "goodbye Mr. Semi-Wonderful." Hosted "Inside Golf" on Comcast Sports Net.
---
STEVE CANNON
Died: April 6, 2009
Also known as: King of the Kilohertz, Prince of the Airwaves
Stations: KSTP-AM, WCCO-AM Minneapolis
Notes: Was at KSTP for 13 years before taking his show "The Cannon Mess" to WCCO in 1971 for 26 years. His battery of characters, which he called "The Little Cannons" are themselves inducted into the Minnesota Museum of Broadcasting along with Cannon himself. He's the only inductee with two plaques - one for himself and one for his made-up characters. Signed off his show with the phrase "I got the money" except on his last show in 1997 when he said "I got the memories." Worked at stations in Mason City, Iowa, and in Stillwater, Bemidji and Duluth before arriving at KSTP-AM in the late 1950s. Also appeared as a sportscaster at KSTP-TV and did a kids show on WMIN-TV/WTCN-TV - now KARE-TV. Native of Michigan died of cancer at 81.
---
JOHNNY CANTON
Born: October 4, 1941, Kansas City, Kansas
Died: December 31, 2016, Edina, Missouri
Also known as: Wee Gee
Stations: WKLEX Lexington, Missouri. WDGY, WCCO-FM, KSTP-TV, KMSP-TV Minneapolis,
Notes: First disc jockey in the U.S. to play John Denver's "Take Me Home, Country Roads." Hosted "Bowling for Dollars" on KSTP and KMSP. Appeared in the movies "Airport" and "Mad Dogs and Englishmen." The native of Kansas City died of a stroke at the age of 75.
---
STEPHEN CAPEN
Born: February 28, 1946, Cambridge, Massachusetts
Died: September 12, 2005, Plymouth, Massachusetts
Stations: WFST Caribou, Maine, WBZA Glens Falls, New York, WAAB Worchester, Massachusetts, WDRC-FM, WCCC Hartford, WGLD Chicago, CJOM Windsor, Ontario, WNCR Cleveland, WCOZ Boston, WXRK New York, KSAN-FM, KSFX-FM, KRQR, KFOG, KDBK, KMEL, KUSF San Francisco, KVON-KVYN-FM Napa, California, CBS Radio
Notes: Piloted a very popular morning show in the Bay Area. One of his on-air pranks was a fake parachute jump when he was actually at home in bed. Wrote for several publications including San Francisco Magazine, Village Voice, Pacific Sun, Shambhala Sun, LensWork Quarterly. Died of lung cancer.
---
DEX CARD
Died: September 11, 2018
Stations: Armed Forces Radio, Germany, WHIM Providence, R.I., WADO New York, WCOP Boston, WERE Cleveland, WLS, WCFL Chicago
Notes: Hosted "The Card Party" on WLS during the '60s in afternoon drive, where he would count down the "Silver Dollar Survey" every week. Gave the group the "Cryan Shames" their first break by promoting their music.
---
PAT CARDINAL
Born: May 25, 1961, Winnipeg
Died: April 19, 2016, Vancouver
Also known as: Brad Wilson (CJRL),
Stations: CJRL Kenora, Ontario, CFRW Winnipeg, CKXY, CKLG, CKVX-FM (GM-PD), CKKS/CKLG-FM Vancouver (PD), CKLH-FM Hamilton, CHED, CKNG, CKRA-FM/CIRK-FM Edmonton, CILQ (Q 107), CISS-FM, CJAQ (JACK) Toronto, PD Energy FM Group (CING, CKGE, CFHK, CHAY), CKJR Wetaskiwin, Alberta, CFCW-AM-FM Camrose, Alberta
Notes: Died two years after being diagnosed with pancreatic cancer. He was 54. The day before he died, Cardinal learned that he would be inducted into the Canadian Broadcast Hall of Fame.
---
DICK CARR
Born: February 18, 1935
Died: May 5, 2014, Pismo Beach, California
Also known as: Birth name was Victor Alan Karsner
Stations: KYNO, KFRE, KARM, KMAK, KJEO-TV, KFSN-TV, KMPH-TV Fresno, California; also worked in radio in Oklahoma, Texas and Sacramento, California
Notes: Spent nearly 40 years in mornings in Fresno radio, ending in 1994 at which time the was city's longest tenured broadcaster at the time. Also did much TV work in various on-air capacities. Died after a long battle with respiratory problems.
---
RICK CARROLL
Born: September 15, 1946, Contra Costa, California
Died: July 10, 1989, Santa Monica, California
Also known as: His real name was Rickey Floyd Carroll
Stations: KKDJ, KEZY, KROQ Los Angeles, KLIV San Jose
Notes: Called the "Father of Alternative Rock Radio", this legendary programmer is credited with the much of the success of "New Music" KROQ with the "Rock of the Eighties" format. He also worked as a consultant for several radio stations. Rick died of complications from AIDS-related pneumonia.
---
JACK CARNEY
Born: August 23, 1932, Los Angeles
Died: November 27, 1984, St. Louis
Stations: WIL, KMOX St. Louis, WABC New York, KSFO San Francisco
Notes: Featured on Cruisin' 1958, as afternoon drive announcer on WIL. Also jocked in New Mexico, Milwaukee, Atlanta and Boston. Studied law at UCLA before going into radio. Famed for his on-air alter-ego "Pookie Snackenburg" Carney died while taking a swimming lesson at a St. Louis YMCA. His funeral was carried live on KMOX, where he had a long and successful run in morning drive beginning in 1971. Inducted into the Radio Hall of Fame in 2001.
---
BRIAN CARTER
Born: July 10, 1957, Baltimore
Died: April 22, 2012, Baltimore
Stations: WBSB-FM Baltimore, WUSL (Power 99), WDAS-FM Philadelphia, WBLS New York, Sirius XM Radio
Notes: He and Bill Simpson (a.k.a. Dave Sanborn) co-hosted the popular "Carter and Sanborn in the Morning" at WUSL from 1987 to 1999. Died of an apparent heart attack.
---
JIM CARTER
Died: August, 2005
Also known as: Birth name was Johnny Yount. Known on air as Big Jim Carter, Spanky Elliot.
Stations: KNAK Salt Lake City, KACY Oxnard, California, KSTN Stockton, California, KYNO Fresno, California, KEZY, KHJ Los Angeles, KGB San Diego, KCPX Salt Lake City, KPOI Honolulu
---
KEVIN C. CAVANAUGH
Died: August 14, 2021
Stations: WHEN, WNDR, WJMK Syracuse, New York, KSO Des Moines, Iowa, WTAC, WTLB Utica, New York, WWCK/WWMN Flint, Michigan, WIOT/WCWA Toledo, Ohio, WKBZ/WRNF Muskegon, Michigan, WBVE/WZRK Cincinnati, Ohio, WSPD/WLQR Toledo, Ohio, WBBG-FM/WRTK/WICT-FM/WWSY/WPAO Youngstown, Ohio
Notes: Called the "Godfather of local rock 'n' rollers" by the Flint Journal. Produced many concerts including Wild Wednesday at Sherwood Forest. MIchigan. Included in the DJ exhibit at the Rock and Roll Hall of Fame in Cleveland. President of Cavanaugh Communications. Was the first DJ in North America to play The Who. Wrote "Local DJ" about his time in radio and rock and roll in general.
---
MARC CHAMBERS
Born: April 16, 1956, Regina
Died: May 2, 2008, Toronto
Also known as: Birth name was Marc Webber, which he used on-air early in his career as well as J. Marc. Also used the air name Marc James.
Stations: CHUB Namaino, B.C. (as J. Marc and Mark Webber), CJAV Port Alberni, B.C., CJVB (as Marc Webber), CFUN Vancouver (as Marc James), CJOJ Belleville, Ontario, CHUM Toronto
Notes: Worked for the Oldies Network, and was a familiar voice for The Weather Network, Viewers Choice Pay-Per-View and Delta Airlines. Wrote for Broadcast Dialogue and was a popular speaker at schools and colleges. President of the multi-media company The MediaTech Group Inc. Hosted CHUM's weekly dances at Hollywood on the Queensway.
---
CHUCK CHANDLER
Died: November 28, 2017, Victoria
Also known as: Charles P. Rodney Chandler, Todd Young, birth name was Charles Paul Rodney Nahumko
Stations: CJDC-TV, CJCD-AM Dawson Creek, B.C., CJCH Halifax, CFOX, CKGM Montreal, CFRW Winnipeg, CJCA, CHED, CKXM, CKNG-FM, CHQT, CKRA Edmonton, CKDA Victoria, CKST Langley, B.C.
Notes: Broadcast live from the John Lennon-Yoko Ono bed-in at Montreal's Queen Elizabeth Hotel in 1969. Hosted TV show Disco Daze (later known as Any Way You Want It) on CITV Edmonton from 1975 to 1978. Announcer for Let's Make a Deal in early '80s. Native of Northampton, England. Died of lung cancer at age 73.
---
KEN CHANG
Born: September 16, 1937, Canada
Died: May 17, 1983, Los Angeles County, California
Also known as: His birth name is Kenneth Alan Chang
Stations: CHUB Nanaimo, B.C., CFUN, CKLG, CJOR Vancouver, CKAY Duncan, B.C., CBS Los Angeles. Co-founder CKAY.
---
RON CHAPMAN
Died: April 26, 2021
Also known as: Irving Harrigan (WNHC)
Stations: WHAV Havermill, Mass., WNHC New Haven, Conn., WFAA, KLIF, KVIL-FM, WLUV-FM Dallas
Notes: Started in radio in 1953 at WHAV - the day after he graduated from high school. Spent two years as the Voice of the United Nations Command in Korea in the '50s. Half of the Charlie (Jack Woods) and Harrigan show at KLIF for 10 years beginning in 1959. Joined KVIL-FM as disc jockey, music director, and program director sstarting in 1969, pioneering the "adult contemporary" format on FM. Spent 31 years there before moving to KLUV-FM in 2000, where he stayed before retiring from full-time radio in 2005. Filled in for Paul Harvey beginning in 2007. Inducted into the Radio Hall of Fame in 2012.
---
DAVE CHARITY
Died: November 22, 2008
Stations: WALL Middletown, New York, WPLJ New York
---
BOB CHASE
Born: January 22, 1926, Negaunee, Michigan
Died: November 24, 2016
Station: WOWO Fort Wayne, Indiana
Notes: Worked at WOWO in various roles from 1953 to 2009. Jocked and covered sports, news and entertainment, interviewing such stars as Elvis Presley, The Beatles, Bob Hope and Frank Sinatra. Voice of the Fort Wayne Komets for 63 years. In 2012 won the Lester Patrick Award, in appreciation for contributions to hockey in the U.S. Used his wife's maiden name as his air name. Died at the age of 90.
---
PORKY CHEDWICK
Born: February 4, 1918, Homestead, Pennsylvania.
Died: March 2, 2014, Pittsburgh
Also known as: Birth name was George Jacob Chedwick (he later informally changed his first name to Craig), The Daddio of the Radio, The Platter Pushin' Papa, The Bossman, Pork the Tork, The Pied Piper of Platter, The Porkulator
Stations: WHOD-WAMO Homestead, Pennsylvania, WEDO McKeesport, Pennsylvania, WLSW-FM Scottdale, Pennsylvania, WKFB Jeannette, Pennsylvania, WEEP, KQV Pittsburgh
Notes: Was one of the first white deejays to play so-called "race records" in a major American city, doing so in 1948 at WHOD. Worked at WHOD-WAMO for 36 years before being let go in 1984 shortly after the station honoured him for his years of service. Named Pittsburgh's favourite deejay by Esquire in 1965. Only Pittsburgh deejay recognized at the Rock and Roll Hall of Fame in Cleveland. Recognized for his accomplishments by Congressman Ron Klink on the floor of the U.S. Congress on October 5, 1998. Never drove a car due to vision problems.
---
GENE CHENAULT
Born: June 12, 1919, Eldorado, California
Died: February 23, 2010, Tarzana, California
Also known as: His birth name was Lester Eugene Chenault
Stations: KYNO Fresno, California, KIQQ Los Angeles (owner)
Notes: Owned KYNO when he crossed paths with Bill Drake. He teamed with Drake in 1965 to launch KHJ, one of the most successful stations in the history of Top 40 radio. In 1974, Chenault and Drake founded Drake-Chenault Enterprises to syndicate radio formats. Chenault handled the business side and Drake the music programming of the company's formats, which were distributed first in reel-to-reel tapes and later by satellite. The duo also syndicated radio specials documenting the history of pop music, including "The Top 100 of the Sixties" and "The Golden Years." The company was sold to Wagontrain Enterprises in 1986. Died of lymphoma.
---
CHUCK "THE MAGIC CHRISTIAN"
Born: 1943, Chicago
Died: July 2, 2010, Iowa
Also known as: Birth name is Chris Charles. Was Chuck Christensen at KMEN but known on-air at other stations as The Magic Christian.
Stations: KDWC West Covina, California, KLAS Las Vegas, KUTY Palmdale, California, KMEN San Bernardino, California, WCFL Chicago, KYNO Fresno, California, KBLA, KGBS, KLOS Los Angeles, KCBQ, KLZZ San Diego, KRIZ, KOOL-FM, KTAR Phoenix, CHUM, CFTR Toronto, WMEX, WVBF Boston, WIBG Philadelphia, WMYQ Miami, WHBQ Memphis, WIKS-FM Indianapolis, KLUV Dallas. Was also at the U.S. country network.
Notes: Started in radio in 1957. Moved to Whittier, California, at the age of 13. Got a weekly shift at KDWC at the age of 14 after calling every station in the phone book. Died of cancer.
---
ROGER CHRISTIAN
Born: August 3, 1934, New York State
Died: July 11, 1991, Tarzana, California
Also known as: His full name was Roger Val Christian
Stations: WSAY Rochester, New York, KRLA, KFWB, KBLA, KHJ, KGBS, KIQQ, KRTH Los Angeles, KFXM San Bernardino, California, XPRS Express, Mexico
Notes: One of the original "Boss Jocks" at KHJ, he held down the 9 a.m.-noon spot. He was also a song writer (Dead Man's Curve, The Little Old Lady From Pasadena), actor (17 movies including the Carpetbaggers) and producer (Sugarloaf).
---
JUNIOR CHUNG
Died: July, 2005
Stations: CING-FM Burlington, Ontario, CKMW Mississauga, Ontario, CIDC Orangeville, Ontario, CKDX Newmarket, Ontario
Notes: Long-time manager at CING-FM, did a reggae show there for several years. Died of cancer at 58.
---
DICK CLARK
Born: November 30, 1929, Bronxville, New York
Died: April 18, 2012, Santa Monica, California
Also known as: His birth name was Richard Wagstaff Clark; used the name Dick Clay for a short time at WRUN
Stations: WKTV U(TV newscaster), WRUN Utica, New York, WOLF-AM Syracuse, New York, WFIL Philadelphia, KPRO Riverside, California (owner), KGUD AM/FM Santa Barbara, California, (owner)
Notes: Took over full-time hosting duties at Bandstand - then a local Philadelphia show - in 1956. The show was broadcast nationally on ABC-TV beginning in 1957 (and renamed American Bandstand) and quickly became the show to watch for teenagers. It moved from Philadelphia to Los Angeles in 1964 where it remained until its cancellation in 1989, the longest running television variety show of all time. Hosted Dick Clark's Rockin' New Year's Eve from 1972 to 2004. Didn't host the 2005 show due to a stroke in late 2004, but returned in a limited hosting role from 2006 to 2012. Also hosted several versions of the TV game show Pyramid, winning nine Emmys in the process. Started the American Music Awards in 1973. Founded Dick Clark Productions in 1957 and served chairman and chief executive officer of the entertainment production company. Inducted into the Rock and Roll Hall of Fame in 1993. Died of a massive heart attack following an out-patient procedure at a Santa Monica hospital.
---
HOWARD CLARK
Died: April 5, 2009
Stations: WKY Oklahoma City, WTIX New Orleans, KFRC, KYA San Francisco, WWDJ Hackensack, New Jersey, KOKA, KEEL/KITT/KVKI, KSYR, KLKL Shreveport, Louisiana, KBSF Springhill, Louisiana
Notes: Worked in broadcasting for more than 50 years. Native of Bastrop, Louisiana, died of lung cancer only a week after being diagnosed with it.
---
TOM CLAY
Born: August 20, 1929, New York
Died: November 22, 1995, Valley Village, California
Also known as: Birth name was Tom Clague
Stations: KDAY, KGBS, KPPC, KIQQ, KWIZ, KZLA, KPRZ, KMPC, KBLA Los Angeles, WCBS-FM New York, KDEO San Diego, CKLW Windsor, Ontario, WWWW, WJBK, WJR, WQTE Detroit, WSAI Cincinnati, WILD Birmingham, Alabama
Notes: Aside from his radio work, is perhaps best known for his touching recording of "What The World Needs Now Is Love/Abraham Martin and John" in 1971. It reached #8 on Billboard. Tom enthused "I loved radio so much ... I would pray the all-night man wouldn't show up so I could work another six hours." Died of cancer.
---
DICK CLAYTON
Born: August 20, 1927
Died: July 28, 1998
Stations: WIL St. Louis, WINS New York, WIP, WCAU, WIBG, WPEN Philadelphia.
Notes: Known for his "Afternoon Reading" of the Philadelphia phone book, and "Jungle Pick" series with Bill St. James on WIP.
---
CHUCK CLEMANS
Died: November 26, 2020
Stations: KMEN Los Angeles, KCBQ, KGB San Diego
Also known as: Huckleberry
Notes: Hired twice as program director by Ron Jacobs, at KMEN and KGB. Took KMEN from last to #1 in 1962 with him as PD and morning man. Dreamed up the KGB Chicken. Helped get the Rolling Stones their first U.S. gig, in San Bernardino, California. Nationally ranked swimmer. Died at age 86.
---
BOB COBURN
Born: 1948
Died: December 17, 2016
Stations: KGB San Diego, WMET Chicago, KMET, KLSX, KZLA, KCBS, KLOS Los Angeles
Notes: Spent 36 years off-and-on at KLOS beginning in 1980. Hosted nationally syndicated ROCKLINE show. Died of lung cancer at age 68.
---
CLAY COLE
Born: January 1, 1938, Youngstown, Ohio
Died: December 18, 2010, Oak Island, North Carolina
Stations: WJAR-TV Providence, Rhode Island, WNTA-TV, WPIX-TV, WINS New York
Notes: Hosted "The Clay Cole Show," the New York equivalent of "American Bandstand." The show aired from 1959 to 1967 (it was renamed Clay Cole's Diskotek" in 1965) first on WNTA and then on WPIX. After "The Clay Cole Show" left the air in December, 1967, Cole wrote and produced for television and in 1979 hosted "A.M. New York". Authored "Sh-Boom: The Explosion of Rock 'n' Roll." Died of a heart attack.
---
CHUCK COLLIER
Born: May 6, 1937, Greenfield, Ohio
Died: September 22, 2011
Stations: WSRW Hillsboro, Ohio, WMWM Wilmington, Ohio, WONE Dayton, Ohio, WCBS-FM New York, WGAR-AM, WGAR-FM, WMJI Cleveland.
Notes: Was at WGAR for over 40 years, starting in the early '70s when the station was playing adult contemporary music on the AM dial. Moved over to the FM dial with WGAR-FM and was named to the Country Music Radio Hall of Fame in 2009. Won the National Association of Broadcasters' Marconi Award as Large Market Radio Personality of the Year in 2007. Inducted into the Ohio Radio-TV Broadcasters' Hall of Fame in 2005. Was afternoon host and music director at WGAR-FM and midday host and program director at WMJI.
---
AL "JAZZBO" COLLINS
Born: January 4, 1919, Rochester, New York
Died: September 30, 1997, Mann County, California
Also known as: Jazzbo (also spelled Jazzbeaux), birth name was Albert Richard Collins
Stations: WIND Chicago, WNEW, WINS New York, KNAK Salt Lake City, KMET, KFI, KLAC, KGBS Los Angeles, KSFO, KGO, KMPX, KKIS San Francisco, WTAE Pittsburgh, WIXZ McKeesport, Pennsylvania, KAPX Marin County, California, KSCM College of San Mateo, California
Notes: Originated the "Purple Grotto" program on WNEW. Supposedly he was broadcasting from a place called the "Purple Grotto" three stories below the studio. One of the top jazz announcers in the U.S., he lent his voice to underground radio KMET in the early days of that station. Hosted NBC's "Tonight: America After Dark" for five weeks in between the tenures of Steve Allen and Jack Paar. Died of cancer.
---
BOB COLLINS
Born: February 28, 1942, Lakeland, Florida
Died: February 8, 2000, Waukegan, Illinois
Also known as: Birth name was Harold Wallace Lee
Stations: WALT Tampa Bay, WRIT Milwaukee, WGN Chicago
Notes: Best known as a morning show host at WGN, but was a jock at WALT. Died when his private plane collided with a female student pilot who was also killed. Ironically, the plane crashed into the roof of a hospital that Collins helped raise money for in Zion, Illinois, (Lake County) north of Chicago. Collins was inducted into the Radio Hall of Fame in 2008.
---
DAVE CONLEY
Died: August, 2005
Also known as: The Clean Living Kid
Stations: KACY Oxnard, California, KSEE San Antonio, Texas, KCBQ San Diego, KTNQ, KHJ Los Angeles, KAVR San Antonio
Notes: One of the original jocks on "the New Ten-Q" that debuted December 26, 1976. Also worked in Portland radio.
---
JAY COOK
Died: April 2, 1999
Nickname: Your "little bitty buddy"
Stations: WHBQ Memphis, WFIL Philadelphia, KIIS-FM Los Angeles, WYDE Birmingham, Alabama
Notes: Was at WFIL for 14 years and was also the PD there. Driving force in the start-up and development of KIIS-FM. Was president of Gannett Broadcasting when he retired in 1994. Died of cancer.
---
JOHN COOK
Died: April 12, 2016
Stations: KIIS-FM Los Angeles (PD), KPLX Dallas (PD), KHKS, KKBQ, KKPN Houston (PD), WYSP, WYXR Philadelphia (PD)
Notes: Son of Jay Cook (above).
---
GEORGE COOPER
Born: October 30, 1933, Bangs, Texas
Died: November 17, 2003, San Antonio, Texas
Also known as: Nickname was "Super" Cooper
Stations: KBOX Dallas, KULF Houston, WINZ Miami, KONO San Antonio, Texas
Notes: Spent 42 years in radio, 20 of them at KONO. Also involved in the Boy Scouts of America as a scout leader and Round Table Commissioner. He had a lifelong passion for music, playing the French horn and winning various state and national praises.
---
JACK L. COOPER
Born: September 18, 1888. Memphis
Died: January 12, 1970, Chicago
Stations: WCAP Washington, WEAW, WSBC, WJJD, WBEE, WAAF, WHFC, WEDC, WEHS-FM, WWCA, WMSC Chicago
Notes: Known as the first black deejay, and possibly the first to play records on a gramophone. Started in radio in 1922 at WCAP.
---
STEVE COOPER
Died: December 13, 2020
Stations: WNDE, WIFE, WFBQ, WTPI
Also known as: Super Cooper, birth name was James R. Carr
Notes: Got his break when he sent an aircheck to CKLW PD Bill Hennes, who sent it to WNDE PD Jim Davis, who hired him. Davis picked Cooper's name out of a phone book. Cooper spent 32 years in Indianapolis radio.
---
JIM CONNORS
Born: May 7, 1940, Pawtucket, Rhode Island
Died: February 24, 1987, Virginia
Stations: Armed Forces Radio, Istanbul, WYSL Buffalo, New York, WMEX Boston, WROC Rochester, New York., WJET Erie, Pennsylvania, WRKI Providence, Rhode Island, WBSM New Bedford, Massachusetts, WCIB Cape Cod, Massachusetts
Notes: Inspired Harry Chapin's hit "WOLD." Received 13 gold records for discovering artists and-or their music. Died in a car crash.
---
SCRUFF CONNORS
Born: 1952, Toronto
Died: December 18, 2016
Also known as: Birth name was Jeff Newfield
Stations: Q-107 (CILQ), MOJO 640 (CFMJ), WYSP Philadelphia, CHTZ-FM Niagara Falls, Ontario, CFBR Edmonton, CJKR Winnipeg
Notes: Raised $72,000 for cancer research in the wake of Terry Fox abandoning his "Marathon of Hope" due to illness in 1980. Known for his wacky and sometimes controversial stunts, Connors once confined himself to the studios at Q-107 and played "Stairway to Heaven" over and over. Was suspended for a week by CJKR when a contest in which the winners were expecting to go to Miami, Florida, instead wound up in Miami, Manitoba, watching the game in a bar. Died of bladder cancer.
---
REGE CORDIC
Born: May 15, 1926, Pittsburgh
Died: April 16, 1999, Los Angeles
Also known as: Birth name was Regis John Cordic
Stations worked at: WWSW, KDKA, WTAE Pittsburgh, KNX, KRLA, KMPC Los Angeles
Notes: Cordic's Pittsburgh morning show - Cordic and Company - had a staggering 85 share at the height of its long run. Had a running bit about the "Frothingslosh" beer which became Pittsburgh legend. Cordic was also a TV actor, and had a featured role in Darren McGavin's "Outsider" episodes on NBC. Was top voice talent for KABC, HBO and was featured in many commercials and cartoons. Hosted movies on WTAE-TV. Died of cancer.
---
JUDD (OTIS) COURSEY
Died: May 21, 2001, Oldsmar, Florida
Also known as: Judd Otis
Stations: WSAR Fall River, Massachusetts, WTXL Springfield, Massachusetts, WAAF Worchester, Massachusetts, WBUZ Fredonia, New York, WKSN Jamestown, New York, WFMW Madisonville, Kentucky, WDXN Clarksville, Tennessee, KPUR, KQIZ, KKBQ Amarillo, Texas, WDRC Hartford, Connecticut, WRCQ Farmington, Connecticut, KULF Houston, WHBO, WUSA Tampa, Florida, KXGL, KJQY San Diego
Notes: Half of famous 'Bob (DeCarlo) and Judd' morning team at WUSA in '80s and early '90s. Was program director at WDRC for a time. The native of Dumas, Texas, died of stomach cancer at age 55.
---
BOB CRANE
Born: July 13, 1928, Waterbury, Connecticut
Died: June 29, 1978, Scottsdale, Arizona
Stations: WLEA Hornell, New York, WBIS Bristol, Connecticut, WICC Bridgeport, Connecticut, KNX Los Angeles, WTIC Hartford, WLEA Hornell, New York
Notes: Best known for his starring role on "Hogan's Heroes". He was murdered in Scottsdale, Arizona
---

ROSS CRAIN

Died: February 24, 2019, Vancouver BC, age 86, following an accidental fall.

Stations: CKWX and CJOR Vancouver, CFCF and CFOX Montreal

Notes: Was part of CFCF's Seven Swinging Gentlemen on-air lineup and later, of the CFOX Country Gentlemen, early 1960s. Became a Market Development Analyst at CBS TV Network Sales in New York, later took on Director or Manager duties in Research and Marketing in Toronto for the CTV Network, BBM, the Globe and Mail, ADCOM and the Newspaper Marketing Bureau. A Professor of Business management at Seneca College during most of the 1980s and 90s. Retired back to Vancouver where he became a volunteer textbook recorder for the blind and visually-impaired through his Crain Resources Production Centre.

---
FRANKIE CROCKER
Born: December 18, 1940, Buffalo, New York
Died: October 21, 2000, North Miami Beach, Florida
Stations: WUFO Amherst, New York, WWRL, WMCA, WRKS, WBLS New York, KUTE Los Angeles, WGCI, WNUA Chicago, WKKS St. Louis, KGFJ Los Angeles
Notes: Died of cancer. Was news director at WUFO in addition to being a deejay. It was said about him: "when Frankie Crocker isn't on the radio, your radio really isn't on."
---
C.C. CROWE
Born: June 23, 1949, Amarillo, Texas
Died: July 3, 2002, Woodland Park, Colorado
Also known as: The Big Bird, his birth name was Tommy Jack Dickinson
Station: KIXZ Amarillo, Texas
---
MORT CROWLEY
Died: 1995
Also known as: Johnny Holiday (WADO)
Stations: WADO New York, WLS Chicago, WIL, WEW, KWK, KXOK, KMOX-AM, KMOX-FM St. Louis, WKNR Dearborn, Michigan, WDGY Minneapolis-St. Paul, KIMN Denver
Notes: Was the first deejay on WLS when it changed to a rock 'n' roll format on May 2, 1960.
---
BOB CRUZ
Born: March 19, 1952
Died: February 19, 1995
Stations: WINZ Miami, WLCY Tampa Bay, WABC New York
Also known as: Bob Morgan, Bob O'Brien
Notes: Raised in Levittown, New York, Cruz was chosen to replace Dan Ingram in afternoon drive at WABC in late 1970s mainly because he sounded so much like Ingram. The similarity is amazing. After WABC went talk in 1982, Cruz did studio work for ABC Radio. Died of AIDS.
---
JACK CULLEN
Born: 1922, Vancouver
Died: April 27, 2002, New Westminster, B.C.
Also known as: Birth name was John Francis Cullen
Stations: CJAV Port Alberni, B.C., CJVI Victoria, CKMO, CKNW, CKST Vancouver
Notes: Once known as the 'Boy Disc Jockey', his 'Owl Prowl' show was a mainstay at CKNW for 50 years beginning in 1949. Had a collection of 300,000 records. Suffered from heart problems.
---