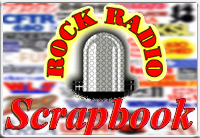 Rock Radio Heaven (H)

JOE HAGAR
Died: February 23, 1999
Also known as: Smokin' Joe Hagar, Smokin' Joe Beamer, High-Gear Hagar
Stations: WRSU Rutgers, WNJH Hammonton, New Jersey, WMID Atlantic City, New Jersey, WWBZ Vineland, New York, WAMS Wilmington, Delaware, WWCO Waterbury, Connecticut, WDRC Hartford, WAVZ New Haven, Connecticut, WIFE Indianapolis, KDWB, KSTP Minneapolis, WIVY, WAIV Jacksonville, Florida, WQYK St. Petersburg, Florida, WFLZ, WYUU Tampa, Florida.
Notes: Died at age 54 of cancer.
---
SAM HALE
Died: August 4, 2015
Also known as: Charlie King. Sammy Hale
Stations: WMMT, WBMC McMinnville, Tennessee, WYDE Birmingham, Alabama, WKDA Nashville, WQXI Atlanta, WDGY Minneapolis, WJJD Chicago, WOKY Milwaukee, WADO New York.
Notes: Georgia Radio Hall of Fame inductee, and was co-founder and vice-president of that organization. First newscaster on Army's first broadcast TV station. Left radio after 12 years in 1966 for a second career as a chartered market technician. Died at age 78.
---
CLARENCE HAMANN
Died: November 9, 1999, Louisiana
Stations: WJMR, WSDL New Orleans
Notes: One of the original New Orleans Poppa Stoppas. Replaced Henry J. Thiele, Jr. in 1953. Aged 81 at death.
---
GEORGE HAMBERGER
Born: March 19, 1946, Buffalo, New York

Died: May 29, 2020, Hamberg, New York
Also known as: The Berger
Stations: WYSL AM FM, WGRQ-FM, WKBW, WBEN, WZIR, WGR, WHTT-FM Buffalo, New York, CFTR Toronto
Notes: Popular jock known for his self-depreciating wit started at WYSL-FM in 1969. Went into commercial real estate after his radio days ended in 2001. Known as a natural personality who could do any format.
---
HUNTER HANCOCK
Born: 1916, Ulvaled, Texas
Died: August 4, 2004, Claremont, California
Also known as: Ole 'HH
Stations worked at: KMAC San Antonio, KPAB Laredo, Texas, KFVD (later KPOP), KGFJ, KBLA, KGER, KCBS-TV Los Angeles
Notes: Regarded as the first deejay in the western U.S. to play Rhythm and Blues and the one of the first to play rock 'n' roll. For years, his shows were rated #1 among black listeners in southern California. Featured on the Cruisin' album compilation, representing 1959. Left radio in 1968.
---
JIM HAND
Died: May 11, 1962
Stations: CJCA Edmonton
Notes: Used the slogan "a little hand in the morning." Had an incredible 87% rating from 1958 to 1962, leaving 13% for the other five stations in the city. Died of a brain tumour at age 28.
---
JOHN HARADA

Died: July 15, 2019
Also known as: Johnny H.
Stations: CKFM (The MIX) Toronto, CFGO Ottawa, KOOL-FM-KFUN-FM (CFCA-FM, CKKW-FM) Waterloo, Ontario, SUN-FM (CKUL) Halifax, 104.7 HEART FM (CIHR) Woodstock, Ontario, 88.5 THE RIVER (CIWN), Mount Forest, Ontario, WSRQ Sarasota, Florida
Notes: Hosted, produced and wrote two TV shows. Freelance voice-over talent and freelance writer for Cashbox Canada and a sports fitness magazine. Taught black belt karate.
---
JOHN HARDING
Died: June, 1973
Also known as: John Wesley Harding (at WIBG)
Stations: KYNA-FM Des Moines, WCAO Baltimore, WIBG Philadelphia, KRIZ Phoenix
Notes: Committed suicide just before he was to start at WCFL Chicago.
---
BOBBY HARPER
Born: 1939, Saskatchewan
Died: July 22, 2003, Atlanta
Also known as: "Skinny" Bobby Harper, birth name was Robert Blake.
Stations: KFNF Shenandoah, Louisiana, KWKY Des Moines, Iowa, KUSN St. Joseph, Missouri, WING Dayton, Ohio, WSAI Cincinnati, WYSL Buffalo, New York, WKNR Detroit, WPLO, WQXI, WAKY, WIIN, WGST, WKLS, WLTA, WSB Atlanta, WAKY Louisville, Kentucky, WDAF Kansas City, Missouri
Notes: His on-air antics inspired the Johnny Fever character on the TV show WKRP in Cincinnati. His promotional stunts included riding a wild bull, running in an ostrich race and belly-flopping into an immense ice cream sundae. Brought the Beatles to Cincinnati on their first U.S. tour. Was also a colour commentator for the Atlanta Flames of the NHL. Known as "The King of Bad Tasre." Died of cancer at age 64.
---
JIM HARRIOTT
Born: August 11, 1937
Died: May 12, 2007, Seattle
Also known as: Birth name was William James Harriott
Stations: WMCA, WNBC, WCBS-AM New York, KING-TV, KOMO-TV Seattle, WJLA-TV Washington, D.C., Voice of America
Notes: One of the original WMCA "Good Guys", was well-known for his work in radio and TV news and extensive voice work. Harriott was the newscaster in the 1983 movie "War Games". Died of complications of a stroke.
---
HARRY HARRISON
Born: September 20, 1930, Chicago
Died: January 28, 2020
Stations: WCFL Chicago, WPEO Peoria, Illinois, WMCA, WABC, WCBS-FM New York
Nptes: Only jock to work at WMCA, WABC and WCBS-FM. Inducted into National Radio Hall of Fame in 2019. Known for the quote, "Every day should be unwrapped like a precious gift ... that's why they call it the Present."
---
GEORGE HART
Died: March 29, 1993, Pittsburgh
Also known as: Was Shawn McCoy at WXKX, Birth name was George Hartung
Stations: WOKY Milwaukee, WXKX, KQV, WFFM, WPNT, WWSW-FM, WLTJ, WEZE-FM, WPTT-TV Pittsburgh, KONO AM and FM, KSRR-FM San Antonio
Notes: Hart and Billy Soule did the last music show on KQV October 14, 1975. PD at WPNT. Was general manager at KONO AM and FM. The Pittsburgh native died of a heart attack while undergoing a liver transplant. He was 39.
---
SHELLEY HARTMAN
Born: October 23, 1952
Died: July 17, 2022
Stations: CHEZ Ottawa
Notes: Jocked at CHEZ for 21 years.
---
STEVE HATLEY
Born: July 25, 1947
Died: February 28, 1984, Albuquerque, New Mexico
Also known as: The Box
Stations: WIBG Philadelphia, KSTP St. Paul, Minnesota, KAKC Tulsa, WHBQ Memphis, WIFE Indianapolis, KOB-FM Albuquerque, New Mexico (as PD)
Notes: Died in motorcycle accident in Albuquerque, New Mexico
---
BRUCE HAYES
Died: November 20, 1994
Stations: KFWB, KDAY, KHJ, KFI Los Angeles, WRR, KLIF Dallas
Notes: Was the morning man at KFWB when the famed "Color Radio" debuted on January 2, 1958. Bruce also acted in both dramatic TV roles and commercials. The former member of KFWB's "Seven Swingin' Gentlemen" team died of cancer.
---
BRIAN HENDERSON
Born: January 13, 1945, Toronto
Died: January 11, 2019
Also known as: Henny, Henny in the Morning, The Great Hendini (as he called himself), birth name was Brian Douglas Henderson
Stations: CKMP Midland, Ontario, CKBB, CKVR-TV Barrie, Ontario, CKCB Collingwood, Ontario, CHLO St. Thomas, Ontario, CJCH Halifax, CHUM Toronto
Notes: Spent 27 years at CHUM, from 1977 to 2004, working in turn as a sportscaster, newscaster and a program host. Died of cancer.
---
JOCKO HENDERSON
Born: March 8, 1918, Baltimore
Died: July 15, 2000, Philadelphia
Also known as: The Ace From Outer Space
Stations: WLIB, WADO, WOV New York, WDAS, WHAT Philadelphia, WSID Baltimore
Notes: Click here for more.
---
ROY HENNESSY
Born: 1942
Died: June 7, 2020, Toronto
Also known as: Real Roy Hennessy
Stations: CHOK Penticton, B.C., CKLG AM-FM, CHHR-FM Vancouver, CKXL Calgary
Notes: Spent 15 years (1964-79) at CKLG, including 12 as morning man. President Hennessy & Bray Communications.
---
DAVE HERMAN
Born: Huntington, New York
Died: May 29, 2014, Newark, New Jersey
Stations: WHTG Eatontown, New Jersey, WMMR Philadelphia, WABC-FM, WXRK, WNEW-FM New York
Notes: A pioneer of the free-form format, Herman hosted "The Marconi Experiment" on WMMR in the late '60s. Went to WABC-FM in 1972 and then moved to WNEW-FM where he did he morning show from 1972 to 1991. Went to WXRK before returning to WNEW-FM to do mornings again from 1997 to 1999. After his final WNEW-FM stint, he founded eYada.com, an early experiment in online talk radio. At the time of his death was in federal custody awaiting trial on charges related to a child sex sting to which he pleaded not guilty. Died at the age of 78 after suffering an aneurysm.
---
LARRY HIMMEL
Born: 1946, Chicago
Died: November 6, 2014
Also known as: The Cruiser (KGB-FM)
Stations: KSIV Pekin, Illinois, WJOB Hammond, Indiana, CJOM-FM Windsor, Ontario, KGB-FM, KFMB-FM, KNSD-TV, KFMB-TV San Diego
Notes: The Chicago native started in radio in 1969, moving to television 10 years later. Spent six years at KGB-FM as "The Cruiser" in the '70s. Known for his light-hearted segments on the San Diego community at KFMB-TV, where he was a reporter-weatherman. Died of brain cancer.
---
DOUG HOBBS
Died: May 5, 2013, Hamilton, Ontario
Stations: CKSL London, Ontario, CKTB St. Catharines, Ontario, CJRN Niagara Falls, Ontario
Notes: Once played every song Elvis recorded back-to-back on this Saturday morning oldies show. Long-time morning host and sports director for CKTB, he also broadcast the minor league St. Catharines Blue Jays for that station. An avid baseball fan, he was an official scorer for the Toronto Blue Jays from 1990 to 2012. Lifetime member for the Order of Magicians. Died following a heart attack at the age of 68.
---
DANNY HOLIDAY
Born: March 23, 1942, Everett, Washington
Died: February 20, 2012
Also known as: Birth name was Danny Prescott Thygesen.
Stations: KOL, KSND, KZOK, KBSG Seattle, KPUG Bellingham, Washington, KSER Everett, Washington
Notes: Gained fame for his "Rock 'N' Roll Time Machine" show, which focused on the music of the '50s and '60s. Was also a record promoter and worked in graphic arts in his later years. His radio and music career exceeded 40 years. Died after an extended illness.
---
FRANK HOLLER
Died: October 15, 2015, Newington, Connecticut
Also known as: Justin Paige at WDAI
Stations: WPOP Hartford, AFVN Danang, Vietnam, WLW Cincinnati, WYSP Philadelphia, WDAI Chicago, WHYN-FM Springfield, Massachusetts, WKLS Atlanta (PD), WWWW Detroit (PD), WCMF Rochester, New York, (PD), WCOZ Boston (PD) WDRC-AM-FM (PD), KLOU St. Louis (PD), WIOQ Philadelphia (PD)
Notes: Hosted Jukebox Saturday Night on WDRC-FM. Hartford native died at the age of 67.
---
SAM HOLMAN
Died: January, 1987
Stations: KOIL Omaha, KISN Portland, Oregon, WIL St. Louis, WKNR Dearborn, Michigan, WKTQ Pittsburgh, WLS Chicago, WABC New York, WOHO Toledo, Ohio, WPOP Hartford, Connecticut, KQV Pittsburgh, CKLG Vancouver, KGO San Francisco, KNEW Oakland, California, KEYV Las Vegas
Notes: Was program director at WABC before Rick Sklar. Did talk show at WPOP called "Hotline". Also programmed CKLG, WPOP and WLS. Was national program director of the ABC owned and operated stations. Died in 1986 at age 52.
---
RICK HONEY
Born: May 13, 1947
Died: February 24, 2001, Vancouver
Stations: CJOB-AM, CJOB-FM Winnipeg, CKPR Thunder Bay, Ontario, CJCB Sydney, Nova Scotia, CKLG, CKNW, CKBD, CFUN Vancouver, CKSR-FM (STAR-FM) Chilliwack, B.C.
Notes: Named Performer of the Year by the British Columbia Association of Broadcasters in 2000. Spent 24 years at CKNW hosting the "Road Show" afternoon program. Died of cancer (he did his last show at CKBD just two days before he died). His close friend and fellow deejay Daryl B. passed away of a stroke three days after Honey's passing.
---
SANDY HOYT
Born: 1939, New Glasgow, Nova Scotia
Died: August 5, 2002, Picton, Ontario
Also known as: That Nice Man on the Radio
Stations: CJCH Halifax, CIGO Port Hawkesbury, Nova Scotia, CHIQ Hamilton, Ontario, CFTR, CHFI-FM Toronto (also worked in Chatham and Kitchener, Ont.)
Notes: Also appeared on Channel 11's broadcasts of the Hamilton Red Wings junior hockey team for years. Co-hosted Canwest Global TV's annual Santa Claus Parade from 1985 to 1997. Died of complications from a brain tumour at age 63.
---
HARTLEY HUBBS
Died: December 15, 2005
Stations: CHUM Toronto, CKWX Vancouver
Notes: Was CHUM helicopter traffic reporter in 1960s. Did news at CKWX in the '70s. Ran unsuccessfully for the Progressive Conservatives in the 1974 Canadian federal election.
---
EMPEROR BOB HUDSON
Born: 1939
Died: September 20, 1997, Montrovia, California
Also known as: Birth name was Robert Howard Holmes
Stations: KRLA, KBLA, KFWB, KGBS, KRLA, KFI, KIEV Los Angeles, KKMI Seattle, XPRS Mexico
Notes: Billboard morning man of the year in 1966. Teamed with Ron Landry at KGBS beginning in 1971, and the two produced the Grammy-winning comedy album "Ajax Liquor Store." Hudson died Sept. 20, 1997 at the age of 66.
---
GRANT HUDSON
Born: April 4, 1944, Hagerstown, Maryland
Died: December 16, 2020
Also known as: Birth name was Jim Reese
Stations: CKLW Windsor, Ontario, WCAR, WWJ Detroit, WNOE New Orleans (PD), WVAM Altoona, Pennsylvania, WNBC New York, WOWO Fort Wayne, Indiana, WFLA Tampa Bay, WSRQ Sarasolta, Florida, WJRB Bradenton, Florida (co-owner), WTZR Virginia Beach, Florida
Notes: Remembered for his "extreme" 20-20 newscasts on CKLW. Got the first name "Grant" after mishearing news director Byron MacGregor suggesting "Brent." Died of cancer at the age of 76.
---
DICK HUGG
Born: June 9, 1928, Canton, Ohio
Died: August 30, 2006, Long Beach, California
Also known as: Huggy Boy
Stations: KRKD, KWKW, KALI, KGFG, KBLA, KRLA, KRTH Los Angeles, KWKY-TV Glendale, California, XPRS Tijuana, Mexico
Notes: The native of Canton, Ohio, was one of the pioneering R&B deejays. In the early '50s, he broadcast a late-night show on KRKD from the window of the famous Dolphin's of Hollywood record store. Hosted dance show on KWHY-TV He was still on the air as late as 2002 playing oldies on KRTH. Died of internal bleeding at the age of 78.
---
PAT HUGHES
Died: 1969, Atlanta
Stations: KBOX Dallas, WQXI, WPLO Atlanta
Notes: Was early promoter of Ronnie Milsap who credits him in his autobiography. Died of diabetes.
---
MAURICE HULBERT
Born: July 30, 1916, Helena, Arkansas
Died: December 24, 1996, Towson, Maryland
Also known as: Commander Hot Rod
Stations: WDLA, WDIA Memphis, WWIN, WITH, Baltimore; WHAT, WDAS Philadelphia, WWRL New York, WBGR Baltimore (sales)
Notes: Named to Black Radio Hall of Fame in 1991.
---
DAVE HULL
Born: January 20, 1934, Alhambra, California
Died: October 15, 2020
Also known as: The Hullaballooer
Stations: Armed Forces Radio, North Africa, KGFJ Roswell, New Mexico, WONE Dayton, Ohio, WQTE Detroit, WTVN Columbus, Ohio, WFLA Tampa/St. Petersburg, Fla., KRLA (three times), KFI, KGBS, KIQQ, KHJ, KMPC, KRTH, KIKF Los Angeles, KWXY Cathedral City,/Palm Springs, California.
Notes: So popular he had a flavour of ice cream named after him at Baskin-Robbins. Billboard named him #1 in the Top 40 category in 1966. Was the last jock pictured on the final KRLA "Tune-Dex" survey in 1985. Worked in real estate after his radio days.
---
HERB HUNT
Died: 1978, Washington, D.C.
Stations: WLCY Tampa Bay
Also known as: Johnny Rebel, Herbert L. Hunt (newscasts)
Notes: WLCY night-time jock in the '60s, hosted Tampa Bay area's first talk show, 'Open Mike'. Died of pancreatic cancer.
---