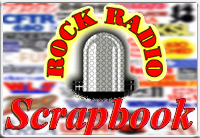 Rock Radio Heaven (M)

BYRON MacGREGOR
Born: March 3, 1948, Calgary
Died: January 3, 1995, Detroit
Also known as: His birth name is Gary Lachlan Mack
Stations: CKLW Windsor, Ontario
Notes: At 19 was the youngest news director in major market radio. At 22 recorded 'The Americans" a narrative recording that sold threee million copies. He gave all of the profits to the American Red Cross. His wife, Jo-Jo Shutty MacGregor, was the first female helicopter traffic reporter in North America at CKLW and was still doing traffic in Detroit in the 2000s. Died of complications from pneumonia.
---
ANGUS MacKAY
Died: January 3, 2016
Stations: CHOM-FM, CJFM Montreal
Notes: One of the first DJ's when CHOM-FM launched in 1970. Moved to CJFM in 1974, but left to move to England and Jamaica. Returned to CJFM in 2005 to co-host the show Rhythms International. Around the same time as he started at CHOM, Mackay and Peter Starr started the city's first rock magazines, Gumbo and Side One. Died of cancer at age 67.
---
PHIL MacKELLAR
Died: January 26, 1983, Mississauga, Ontario
Also known as: That Feller MacKellar
Stations: CKFH, CKEY, CKFM, CJBC Toronto
Notes: Hosted "All That Jazz" for years at CKFM. A 34-year broadcast veteran, his career basically ended when - thinking the microphone was off - he repeated a racist remark on the air at CKFM on July 31, 1982. A broken man, he died a few months later of a heart attack.
---
DON MacKINNON
Born: January 2, 1934
Died: June 24, 1965, Malibu, California
Stations: KIOA Des Moines, KDEO San Diego, KROY Sacramento, California, KABC Hollywood, California, KEWB San Francisco, KLAC, KFWB Los Angeles
Notes: Native of Yonkers, New York, Don Imus said he was inspired to get into radio by listening to MacKinnon. Died when his car went over a cliff in Malibu, California,, following a personal appearance.
---
BOB MacRAE
Born: November 2, 1949, Buffalo, New York
Died: December 4, 2007, Vesper, New York
Also known as: Birth name was Robert Henry Zdrojewski
Stations: WKBW, WBNY, WGRF-FM (97 Rock), WBEN, WZIR Buffalo, New York
Notes: Probably best-known for his time at WKBW in the 1970s and 1980s. Was program director at WZIR and WGRF. Owned production company called Limelight Productions. Did voice-over work after moving to Central New York in 1990. Semi-retired following a heart valve replacement in 1992.
---
ANDRE MAISONNEUVE
Died: October 21, 2016
Also known as: Katfish Morgan
Stations: CFCN (AM 106) Calgary, CKFM Toronto, CHOM, CJFM (Mix 96) Montreal, CILV (Live 88.5) Ottawa; also worked in Halifax and London, Ontario
Notes: Born in Quebec and raised in Thunder Bay, Ont. Spent 35 years in radio, the last 11 at Live 88.5. Died of cancer at age 55.
---
JOHN MAJHOR
Born: November 28, 1953, San Bernadino, California
Died: January 23, 2007, Young America, Minnesota
Stations: KKLS Rapid City, South Dakota. (as Curt Martin), WAPE Jacksonville, Florida, CHUM, CJEZ, CITY-TV, CFMT-TV Toronto, KLAC, KCBS Los Angeles, KSFQ Santa Fe, New Mexico
Notes: Spent 11 years at CHUM - mostly in drive shifts - from 1975 to 1986. A pioneering veejay, he played videos on his "Video Singles" show on CFMT in 1983. From 1984 to 1986 he hosted the "Toronto Rocks" video show on CITY-TV. Was one of the original anchors of the "E" Network in the U.S. Known as the "barefoot disc jockey" because he liked doing his shows without shoes or socks. Was 53 when he died of cancer.
---
JOHN MANZI
Born: September 13, 1942, Providence, Rhode Island
Died: July 18, 2010, Providence, Rhode Island
Also known as: Big Ange, Andy Jackson
Stations: WJAR, WPRO, WICE Providence, Rhode Island, WHIM East Providence, Rhode Island, WKRI West Warwick, Rhode Island, WINR Binghamton, New York, WELM Elmira, New York, WASY Gorham, Maine., WZON, Bangor, Maine
Notes: While at WPRO, he described himself as the "Cadillac of PRO radio." Died of cancer at the age of 68.
---
TERRY MANN
Born: December 21, 1936, Wingham, Ontario
Died: June, 1973
Also known as: His real name was Bill Henning
Stations: CKLB Oshawa, Ontario, CKFH, CHUM Toronto, WKBW Buffalo, New York, WNDR Syracuse, New York
Notes: Died of diabetes-related complications.
---
PIERRE MARCOTTE
Born: November 25, 1938, Joliette, Québec
Died: July 13, 2022, Québec City
Stations: Radio: CKVL, CJMS Montréal. Television: CFTM 10 Mtl (TVA), TQS, Canal Vox.
Notes: Much-loved personality of Montréal radio in the 1960s and 70s. Hosted several television variety, quiz and games shows, in tandem with co-host and friend Claude Boulard. Host of the hugely popular comedic TV program "Les Tannants" on CFTM Télé-Métropole in the 1970s in tandem with co-hosts, singers Joël Denis and Shirley Théroux. "Les Tannants" regularly achieved ratings of well over 2 million viewers on CFTM and the TVA network. Also a successful businessman and restauranteur. Owned and managed the iconic Hélène de Champlain Restaurant on Parc Jean-Drapeau in Montréal for many years. Marcotte died in hospital at the heart and pulmonary institute in Québec City of COVID, at age 83.
---
JAY MARKS
Died: June 7, 2020
Stations: WJDX Jackson, Mississippi, KTSA San Antonio, KULF Houston, Y-100 (WHYI) Miami, WMAQ Chicago
Notes: Highly sought-after voice actor whose client list included Lipton, Miller High Life, Sears, Kelloggs, 7-11 Stores and Chevrolet.
---
LEE MARSHALL
Born: November 28, 1949, Ventura, California
Died: April 26, 2014, Santa Monica, California
Stations: KABC, KGFJ, KDAY, KBLA, KHJ Los Angeles, WOR-FM New York, KCBQ San Diego, CKLW Windsor, Ontario, CKGM Montreal, KVEN Ventura, California, KOY, KRIZ Phoenix
Notes: Voice of Kellogg's Tony the Tiger after Thurl Ravenscroft's passing in 2005. Also the voice of "Buff", buffalo head at Disneyland's Country Bear Jamboree attraction. Pro wrestling announcer for the AWA and WCW. Former Los Angeles Dodger manager Tommy Lasorda said of Marshall, "If God ever wanted to make a speech, Lee Marshall would get the call." Died of cancer.
---
HARRY MARTIN
Died: January 5, 2009, Point Loma, California
Also known as: Happy Hare
Stations: KCBQ San Diego, WXYZ Detroit, KGBC Galveston, Texas, KLAC Los Angeles, WADO New York, KYW Cleveland
Notes: Had four different stints at KCBQ. In addition to his air work, also spent over 20 years selling air time for various stations. Teamed with Specs Howard (Jerry Liebman) on a popular morning show on KYW, then moved to Detroit where the program was successful (but Howard continued to own the legendary Specs Howard School of Broadcast Arts in Southfield, Michigan). Inducted into Ohio Radio/TV Hall of Fame in 2006. Received the Lifetime Achievement Award in 2004 by the San Diego Radio Broadcasters. Still active in 2008, when he hosted a weekly show at signonsandiego.com. The native of Galveston, Texas, died of liver cancer at age 81.
---
KEN MATZ
Died: January 23, 2010, Harrisburg, Pennsylvania
Also known as: Ken Matts (WRAW), Gary Smith (at WFEC)
Stations: WRAW Reading, Pennsylvania, WFEC Harrisburg, Pennsylvania, WIBG Philadelphia, KYW, WCAU-TV Philadelphia, WITI-TV Milwaukee, KGO-TV San Francisco, WCIX-TV Miami, WMAR-TV Baltimore
Notes: Started broadcasting career at WRAW in 1964. Won several AP Awards and an Emmy over his long career which ended in retirement in 1997. Died at age 64 of throat cancer.
---
PETER HUNTINGTON MAY
Born: June 5, 1939

Died: November 18, 2019
Stations: KEWB Oakland, California, KISN Portland, Oregon, KGB, KCBQ San Diego, KIKX, KZAZ-TV Tucson, Arizona, WDGY, WCCO Minneapolis, Minnesota, KSTP (as GM) St. Paul, Minnesota, KGHL, KOYN, Y93, KULR-TV Billings, Montana
Notes: Also jocked in Miami, Omaha, Honolulu, Puerto Rico, Makanto, Minnesota, St. Peter, Minnesota and Chippewa Falls, Minnesota. Managed a Twin Cities band called the Stilroven in the late '60s. Named to the Minnesota Rock 'n Roll Hall of Fame in 2010.
---
DAVE MAYNARD
Died: February 9, 2012, Citrus Hills, Florida
Stations: WHIL, WORL, WBZ-AM, WBZ-TV, WCVB-TV Boston
Notes: A native of Larchmont, New York, Maynard spent 48 years in Boston radio and television. Hosted the talent show "Community Auditions" at WBZ-TV for 21 years beginning in 1965. Began overnight shift at WBZ in 1979, moving to morning drive the next year and to middays in 1990. Retired from full-time duty in 1991 but continued at WBZ in fill-in shifts. While doing overnight talk at WBZ, he saved the life of a suicidal caller by keeping him on the air until help arrived. Boston mayor Kevin White declared December 1, 1983 to be "Dave Maynard Day" in honour of Maynard's then 25 years at WBZ. Was named the Massachusetts Broadcaster of the Year in 1999, and was inducted into the Massachusetts Broadcasters Hall of Fame in 2009. Graduate of Emerson College and Boston University, he also taught at BU for 17 years. An avid chef, he wrote three cookbooks. Died after a long battle with Parkinson's Disease.
---
DAVE MAZMANIAN
Born: 1947
Died: June 17, 2017, Toronto
Also known as: The Maz, birth name was David Harry Mazmanian
Stations: WCFL Chicago, CHUM, CILQ (Q 107), CKEY (Key 590), CKYC (Country 59) Toronto
Notes: Came to Canada in 1970 from WCFL Chicago. After working at CHUM, he moved to Capital-EMI, Harry Hinde Productions and Daffodil Records. Helped launch Q-107 in 1977. Died following a stroke.
---
BOB McADOREY
Born: July 24, 1935, Niagara Falls, Ontario
Died: February 5, 2005, St. Catharines, Ontario
Also known as: Birth name was Robert Joseph McAdorey
Stations: CJCD Dawson Creek, B.C., CHVC Niagara Falls, Ontario, CJOY Guelph, Ontario, CHUM, CHFI, CFTR Toronto, CFGM Richmond Hill, Ontario, Global Television
Notes: Did afternoons at CHUM during its glory years of the 1960s and was music director at the influential station. Found a second career in television at Global in the 1970s, and went on to spend many years there as entertainment editor. Predeceased by his wife and two of his children. Spent his final years in Niagara-on-the-Lake, Ontario. Read his Toronto Star obituary here.
---
ROGER McCALL
Died: December 12, 2003
Stations: WCMF Rochester, New York
Also known as: Unkle Rog
Notes: Spent three decades at WCMF, mostly on the all-night show. A big supporter of local music talent, he recorded six albums of Rochester bands during a 25-year period. Died after he was shot during a robbery. He was 52.
---
COYOTE McCLOUD
Born: August 31, 1942
Died: April 6, 2011, J. Percy Priest Lake, Tennessee
Also known as: Birth name was William Lehmann but legally changed his name to Coyote William McCloud. Known as Bill Scott at WGOW-AM.
Stations: WGOW-AM Chattanooga, Tennessee, WQXI Atlanta, WMAK-AM, WMAK-FM, WYHY, WWKX, WZPC, WRQQ Nashville
Notes: Wrote the song "Where's the Beef" as a promotion for an advertising campaign featuring Clara Peller. Was the first imaging voice of Country Music Television in the '80s. Was once profiled on CBS' 48 Hours in a segment on shock jocks. Coyote nickname came from friends who saw him as a younger Wolfman Jack. Died of cirrhosis of the liver on his houseboat on J. Percy Priest Lake, Tennessee, outside Nashville.
---
DAVE McCORMICK
Born: June 6, 1936, MacGregor, Manitoba
Died: March 29, 2017, Vancouver
Also known as: Big Daddy
Stations: CHML Hamilton, Ontario, CFUN, CKNW, CFMI, CJJR-FM, CKBD, CISL Vancouver, KMAK, KYNO Fresno, Calif.ornia, KOL Seattle, KMEN San Bernardino, California
Notes: Got his radio start as a 14-year-old at CHML. In addition to on-air duties, was music director and co-program director at CFUN, music director at KMAK and KYNO, program director at KOL, handled PD and MD duties at KMEN, created the series Discumentary for CFMI-FM. Handled special events in addition to his DJ work at CISL. Won B.C Broadcaster of the Year Award in early '90s, four times B.C. Country Music Association Country Broadcaster of the Year, 1998 inductee B.C. Country Music Hall of Fame. Passed away after a long illness at age XX.
---
LARRY McCORMICK
Born: February 3, 1933, Kansas City, Missouri
Died: August 27, 2004, Los Angeles
Stations: KPRS Kansas City, KGFJ, KDAY, KFWB, KLAC, KMPC Los Angeles
Notes: Named 4th most popular R&B deejay of the year in 1967 by Billboard. Made successful transition to television with stops at KCOP, KABC and KTLA. Winner of many awards, including the "Torchbearer" award from the Black Journalists Association of Southern California.
---
JAAN McCOY
Born: June 21, 1954, Sao Paolo, Brazil
Died: October 18, 2014, Farmers Branch, Tex.
Also known as: Birth name was Jaan Kalmes
Stations: WFBL Syracuse, N.Y., CKOC Hamilton, CFGO Ottawa, WLGZ Rochester, New York, KPBC Dallas, KAAM Garland, Texas, KIXT "The Coyote", KGVL Greenland, Texas
Notes: Began radio career at age 16. Hosted The Breakfast Club morning show on KAAM. Spent more than 30 years in Dallas radio including time at FM Classic Rock, Rock Hits on the ABC Radio Network in Dallas. Died of a heart attack while in the broadcast chair at Westwood One, where he was a producer of their 24-hour classic hits format.
---
EARL McDANIEL
Born: 1928
Died: March 26, 2014, Arizona
Also known as: Earl The Pearl
Stations: KFVD/KPOP, KLAC, KDAY, KFWB Los Angeles, KEWB San Francisco, KFMB San Diego, KGMB/KSSK Honolulu
Notes: Credited with breaking Elvis's Heartbreak Hotel nationally. Believed to have been the first deejay to play The Chipmunk Song (he got fired for playing it twice an hour!). First deejay to host record hops and dance programs on Los Angeles television. Hired both Robert W. Morgan and The Real Don Steele at KEWB, before their success at KHJ. Gave away $1,000,000 to a single listener while at KGMB/KSSK in a promotion for the new morning team of Larry Price and Michael Perry. Became president of Heftel Broadcasting and helped programmed WLUP Chicago, KQV Pittsburgh and KTNQ Los Angeles (the former KPOP, where he began his career). Died at the age of 85.
---
KEVIN McGOWAN
Died: August 8, 2012, Toronto
Stations: CKWW Windsor, Ontario, CFCF Montreal, CJRN Niagara Falls, Ontario, CIFX (The Fox) Winnipeg, CKKL-FM (KOOL-FM) Ottawa, CIFX (BOB-FM) Winnipeg, CKKO-FM Kelowna, B.C., CHMY (myFM) Renfrew, Ontario, CIMY (myFM) Pembroke, Ontario
Notes: Was PD for My Broadcasting Corporation's myFM stations in Ontario. Spent 35 years in radio. Died at the age of 58.
---
ED McKENZIE
Born: January 20, 1911, Flushing, Michigan
Died: February 5, 2001, Flint, Michigan
Stations: WJBK Detroit
Also known as: Jack The Bellboy, Birth name was Edmond Thomas McKenzie
---
WAYNE McLEAN
Born: August 18, 1944
Died: April 30, 2018
Stations: CJSP-AM Leamington, CFOS Owen Sound, CKGL Kitchener, CFRB Toronto, CKWW, CKLW Windsor, CHML Hamilton, CFPL London, also worked in Sarnia, Ottawa
Notes: Taught communications at the University of Windsor and also taught film studies at Walkerville Collegiate and Windsor Library. An ordained Baptist minister, Was a pastor with The Gospel Meeting from 1972 to 1977. Spent his last 10 years as a film script consultant.
---
GORDON McLENDON
Born: June 8, 1921, Paris, Texas
Died: September 14, 1986, Denton Country Texas
Stations: See below
Notes: McLendon is one of the co-fathers of Top 40 radio. He owned many stations including KLIF, KNUS-FM Dallas, KILT Houston, WAKY Louisville, Kentucky, KEEL Shreveport, Louisiana, KADS Los Angeles, KABL Oakland, California, WYSL Buffalo, New York, and WNUS-FM and WYNR Chicago. In addition to be an innovator in Top 40 radio, he was also ahead of his time in seeing the future of all-news radio. Pioneer of "beautiful music" programming at KABL. He also foresaw the advent of info-commercials at KADS. Also co-produced a couple of cult classic "B" films, "The Killer Shrews" and "The Giant Gila Monster."
---
JAY McPHAIL
Died: December 1996
Stations: CJJD Hamilton, Ontario, CING-FM Burlington, Ontario, CKEY Toronto
Also known as: Terry McPhail
Notes: Lead singer for the rock group Tenderness from 1969 to 1973. Was CHAM's all-night man from 1972 to 1974. Died of cancer in 1996.
---
BILL MEEKS
Born: March 2, 1921
Died: September 8, 1999
Notes: Founded the PAMS jingle company. Died of cancer. A tribute to Bill Meeks can be found here.
---
BILL "ROSKO" MERCER
Born: May 25, 1927, New York City
Died: August 1, 2000, New York City
Also known as: Rosko
Stations: WLIB, WINS, WQIV, WOR-FM, WNEW-FM, WBLS, WKTU, WBAI New York; KGFJ, KBLA, KMET, WHAT Chester, New Jersey, WDAS Philadelphia, WNJR Secaucus, New Jersey, Voice of America
Notes: First black announcer on both WINS and KBLA. Resigned on-air at WOR-FM after that station's switch to a more restrictive format. Was hired soon after at WNEW-FM where he spent three years. Did voice-over work for commercials and was heard in announcements for CBS Sports.
---
KEVIN METHENY
Born: June 6, 1954
Died: October 3, 2014, San Francisco
Also known as: Michael Flowers (KWHP)
Stations: KWHP-FM Edmond, Oklahoma, WKY Oklahoma City, KJR Seattle, WNOE-FM New Orleans (PD), KDEO El Cajon, California (PD), WIBG Philadelphia (PD), WXXX Pittsburgh (PD), WEFM Chicago (PD), KSLQ-FM St. Louis (PD), WNBC New York (PD), KTKS-FM Dallas (PD), WSOK-AM/WAEV Savannah, Georgia. (VP-GM), KFRC-AM-FM San Francisco (OD), KQQL-FM Minneapolis (OD), Clear Channel/Jacor's Jacksonville and Cleveland clusters, WGN Chicago (PD), WJR Detroit (PD), KGO, KSFO San Francisco (OM)
Notes: Spent 44 years in radio, mostly in management positions. Fired shock jock Howard Stern at WNBC in 1985, and Metheny became known to Stern fans as "Pig Virus."
---
RUTH MEYER
Died: January 22, 2011, Kansas City
Stations: KCKN, WHB Kansas City, WMGM, WMCA, WHN, WNEW-AM New York
Notes: Was hired at 250-watt KCKN to write commercials and help the programming staff after failing to find a newspaper job. Met Todd Storz, one of the founders of Top 40 radio, while at WHB. Joined WMCA in 1958 which became one of the leading Top 40 stations in the U.S. during the early-to-mid-'60s under her guidance. It was Meyer who designed the famous WMCA smiley-face sweatshirts. Left WMCA in 1968 to go into consulting, though she did return for a time during its talk era. Programmed WHN for a short time after it launched as a country station in 1973. Helped create the NBC Source Network and the Direction Network at ABC.
---
GEORGE MICHAEL
Born: March 24, 1939, St. Louis
Died: December 24, 2009, Washington, D.C.
Also known as: "King" George Michael; birth name was George Michael Gimpel
Stations: WIL St. Louis, KICN Denver, WRIT Milwaukee, KBTR Denver, WFIL Philadelphia, WABC New York, WRC, WRC-TV Washington
Notes: Replaced Cousin Brucie in the evening shift at WABC in 1974, spending five years there after an eight-year stint at WFIL. Hosted the sports highlight show "The George Michael Sports Machine" which was distributed for syndication nationally by NBC from 1984 to 2007 (it began in 1980 as a local show called "George Michael's Sports Final." on WRC-TV Washington, where he worked as a sports anchor for 28 years ending in 2008. Michael won an Emmy for "The George Michael Sports Machine." While at WABC in the '70s, he was also a sports anchor on WABC-TV and did colour commentary for the New York Islanders of the National Hockey League. Was also a nationally known collector of baseball cards and early baseball photos. Died of complications of chronic lymphocytic leukemia.
---
JOHNNY MICHAELS
Died: February 8, 2002
Stations: WIXY Cleveland, WFAS, WOR-FM, WMCA, WCBS-FM, WNBC New York, WWDJ Hackensack, New Jersey
Notes: A versatile announcer, Michaels was one of the last Top 40 jocks on WMCA and one of the first free-form announcers at WOR-FM. Also did the first shift, in mornings, when WCBS-FM switched to oldies in July, 1972. Died at the age of 60. Not to be confused with the Johnny Michaels who has worked at WTIC-FM, WDRC and WWYZ. Michaels' son, J. R. Moehringer, is a Pulitzer Prize winner and a national correspondent for the Los Angeles Times.
---
HUMBLE HARV MILLER
Died: June 4, 2019, Camarillo, California
Also known as: Humble Harv
Stations: WAAT Trenton, New Jersey, WIBG Philadelphia, KBLA, KHJ, KKDJ, KIQQ, KISS, KUTE, KRLA, KCBS-FM, KRTH, KCBS-FM, KZLA, KHTS Los Angeles, KVI Seattle
Notes: The Philadelphia native was hired by KHJ to give the station a more "hip" sound in late nights. Did jail time after being convicted of second degree murder for shooting his adulterous wife Mary Gladis Miller to death in May 1971. Returned to the airwaves at KKDJ in 1974. Appeared in two movies as a disc jockey.
---
FRED MITCHELL
Died: June 9, 2001, Florida
Stations: WJLB Detroit, WOHO, WSPD-TV Toledo, Ohio
Notes: Brought many national acts to Toledo, including Elvis Presley. Left radio in 1963 to go into automobile sales. Died at the age of 85.
---
JOHNNY MITCHELL
Died: November 11, 1987
Also known as: Sebastian Stone, Johnny Holiday and Mel Kent (WYDE). Birth name was (Gerald) Edward Phillips
Stations: WKSR Pulaski, Tennessee, WBMC McMinnville, Tennessee, KHJ Los Angeles, KCBQ San Diego, KFOG, KFRC San Francisco, WSIX Nashville, Tennessee, WYDE Birmingham, Alabama, KQV Pittsburgh, WOR-FM New York
Notes: Stayed awake 195 hours at WYDE early in his career. Died of heart attack.
---
BANANA JOE MONTIONE
Born: January 24, 1954, Pittston, Pennsylvania
Died: September 11, 2021, Los Angeles
Stations: WKRC Wilkes-Barre, Pennsylvania, WFIL Philadelphia, WHYI (Y 100) Miami, CHUM Toronto, WLOF Orlando, KHJ Los Angeles, WHTF York Pennsylvania (owner), WTLQ Pittston, Pennsylvania (owner)
Notes: Created the "Banana Joe Flashback Show", whose flagship station was KIIS-FM Los Angeles. Joined Premiere Radio Networks as National Programming Marketing Directir and helped launch WUSA Tampa, Florida and KTXQ Dallas. Launched Banana Joe Radio Group in 2003, and flashbacktop40.com in 2005. Was SVP for syndication delivery system Synchronicity.com, featuring new platforms and automation systems for radiio.
---
DICK MORELAND
Died: July 24, 1988
Stations: KRLA Los Angeles
Notes: Moreland was at KRLA from 1961 to 1969. In 1966, he won a Billboard award as the most cooperative music director, program director or music librarian in exposing new music. Started the very successful Music Plus record chain. Ended his show with "This has been a Desert Rose Production. Bye Bye. Buy Bottled in Bond. Bye Bye." Died of cancer at age 55.
---
BUMPER MORGAN
Died: October 26, 2005
Also known as: His birth name was Frederick Merrin
Stations: WXLO, WPIX-FM, WNBC New York, WENE, WNBF, WKOP-FM Binghamton, New York, KAHU Honolulu, WWSW, WWNL-AM (station manager), WSHH-FM, WJJJ-FM, WCTX-FM, WHTX-FM, WVTY Pittsburgh
Notes: Was announcer for TV show "Inside Edition." Did voice work for BBC. Filled in for Casey Kasem on American Top 40. The native of Endicott, New York, died of a heart attack at age 57.
---
ROBERT W. MORGAN
Born: July 23, 1937, Galion, Ohio
Died: May 22, 1998, Los Angeles
Also known as: Early in his career used the name Bob Morgan
Stations: WWST AM and FM, Karns, Tennessee, KHJ-AM, KHJ-TV, KIQQ, KMPC, KMGG, KRTH Los Angeles, KEWB San Francisco, WIND Chicago, KMAK Fresno, California, KACY Oxnard, California, KROY Sacramento, California, KMBY Monterey, California, KTEE Carmel, California, KOMY Watsonville, California
Notes: Named Billboard Magazine's Air Personality of the Year in 1967. Co-produced and narrated the 48-hour History of Rock and Roll, which aired on KHJ in 1969. Inducted into the Radio Hall of Fame in 1994. Died after a year-long bout with lung cancer, the same disease that killed The Real Don Steele and Bill Drake. Middle name was Wilbur.
---
GEORGE MORRIS
Born: Jerzy Sztaidelman, Poland, 1942
Died: March 14, 2021, Montreal
Also known as: Buddy Gee
Stations: CKGM, CJFM Montreal
Notes: Was "Buddy Gee, The Big Boss with the Hot Sauce" on 980 CKGM, from 1962 to 1968. In a right-place-at-the-right-time scenario, Buddy Gee was one of three emcees for the twin Beatles concerts at the Montreal Forum, September 8, 1964, alongside Michel Desrochers (CJMS 1280) and Dave Boxer (CFCF). Later briefly returned to radio, hosting a voicetracked Sunday Morning Solid Gold Show at CJFM 96 Montreal, in the late 1980s-early 1990s. Started his own multimedia company in 1968, Listen Audio, located for decades in OLd Montreal. Became hugely successful in the freelance voiceover field for national radio and TV commercials and audio/video/record productions of all kinds. Of note, Morris was the recurring voice of "Lotto/649" radio and television ads for many years. Died of heart disease a few weeks short of his 79th birthday.
---
MR. MAGIC
Born: March 15, 1956, New York
Died: October 2, 2009, New York
Stations: WHBI, WBLS, WQHT New York, WEBB Baltimore
Also known as: Birth name was John Rivas
Notes: When his "Rap Attack" weekend show debuted on WBLS in April, 1983, he became the first host on a commercial station to devote a show entirely to rap. The New York Times said in his obituary that he was to rap what Alan Freed was to rock 'n' roll in terms of popularizing his genre of music. Mr. Magic was also a producer and performer in his own right who worked with the Force MD's. Died of a heart attack.
---
HAL MURRAY
Died: September 17, 1988
Also known as: Emperor, as in Emperor Hal Murray
Stations: KQV Pittsburgh, KDWB Minneapolis, WINQ Tampa, Florida, KFWB Los Angeles, WNEW New York, WOKY Milwaukee, WILZ St. Petersburg, Florida, WKIS Orlando, Florida, WEEK Peoria, Illinois, WHKK Akron, Ohio, WHLW Lakewood, New Jersey, WNOE New Orleans
Notes: Listeners to his KQV show were known as "Murray's Militia" and his show was known as the "Murray Go-Round". Died at age 67.
---
PAT MURRAY
Stations: CKEY Toronto, CING-FM (FM 108) Burlington, Ont.
Notes: Was at CKEY during its easy-listening era. Died in 1980s.
---
SCOTT MUNI
Born: May 10, 1930, Wichita, Kansas
Died: September 28, 2004, New York
Stations: Radio Guam, WAKR Akron, Ohio, WMCA, WABC, WOR-FM, WNEW-FM, WAXQ New York
Also known as: Nicknamed "Scottso" and "The Professor"
Notes: The gravel-voiced Muni was one of the first major Top 40 announcers to move successfully to the album rock format. Replaced Alan Freed at WAKR, then moved on to a run of more than 40 years in the New York market. Was on the scene broadcasting live for WABC when the Beatles first arrived in New York in 1964. Over 30 of those years were at New York's legendary album rock station, WNEW-FM, where well-known musicians often dropped in to be interviewed. Hosted syndicated programs "Ticket to Ride" and "Scott Muni's World of Rock". Voice-over work included the famous "How Do You Spell Relief" Rolaids TV commercial, and promos for Monday Night Football. Died nine months after suffering a stroke in January, 2004.
---
ERNIE MYERS
Died: March 8, 2016, La Mesa, California
Stations: XETRA Tijuana, Mexico, KCBQ, KOGO, KPOP San Diego
Notes: First appeared on San Diego radio as KCBQ morning man in 1954. Was at KOGO for 19 years and KSDO 14 years. Called horse races at Del Mar north of San Diego and also hosted a satellite feed from the track. Received a lifetime achievement award from the San Diego Radio Broadcasters Association in 2001. Brother of "Mad Daddy" Pete Myers. Died at age 86 of complications from Parkinson's disease.
---
ERNIE MYERS
Born: November 25, 1929, Van Nuys, California
Died: March 8, 2026, La Mesa, California
Also known as: Birth name was Henry Ernest Myers
Stations: KOGO, KSDO, KPOP San Diego, XETRA Tijuana, Mexico
Notes: Brother was Pete Myers, of Mad Daddy fame. Had parts in several movies including "Attack of the Killer Tomatoes." A horse racing fan, he Meyers was a speaker for the Del Mar Thoroughbred Association. In 2001, received a Lifetime Achievement Award from the San Diego Radio Broadcasters Association.
---
'MAD DADDY' PETE MYERS
Died: October 4, 1968, New York
Also known as: Birth name was Pierre "Pete" Myers
Stations: KCBQ San Diego, WHKK Akron, Ohio, WJW, WHK Cleveland, WNEW-AM, WINS New York
Notes: His Mad Daddy show featured the sound-effect of a bubbling cauldron, representing a vat in a laboratory. As Mad Daddy, he was one of the highest-energy jocks in rock radio history. However, while on WNEW - after one shift as Mad Daddy - he subsequently appeared as the mellow Pete Myers. Unhappy with being moved to the night shift at WNEW-AM, he shot himself in his Manhattan apartment. He was 40.
---