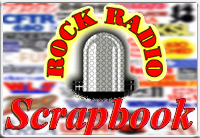 Rock Radio Heaven (S)

DICK SAINTE
Born: November 16, 1938, Kansas City, Mo.
Died: December 10, 2005, The Dalles, Ore.
Also known as: Birth name was Richard Arnold Middleton, used Dick Middleton at KBZY
Stations: KBZY Salem, Ore., KFLY, KLOO Corvallis, Ore., WLS, WCFL Chicago, KFRC San Francisco, KGB San Diego, KIIS, KHJ, KRLA Los Angeles, KEX, KWGG, KISN Portland, Ore., KGB San Diego, WIFE Indianapolis, KFMS Las Vegas
Notes: During his career, he also served as program director and station manager. Named number-one disc jockey in California in the '70s by California Disc Jockey Association. Long-time member of the Screen Actors Guild. Sainte played the trombone and was once a vocalist for Les Browne and his Band. Knowledge of music was said to be encyclopedic. Won a gold album for his contributions in producing a million-selling album for the group Chicago. Said R&R Smooth Jazz Editor Carol Archer (former KFRC): "He was a great jock, and even a better person." Died of natural causes related to diabetes.
---
JACK SANDERS
Died: February, 1978, Nashville, Tenn.
Also known as: "Jumpin' Jack"; Birth name was James Dale Spence
Stations: KLTI Fort Worth, Tex., KGKO Dallas, KEEL Shreveport, La., WAKY Louisville, Ky., also worked in Moultrie, Ga.
Notes: Voted "America's Greatest Disc Jockey of the Year" by Movie Mirror Magazine in 1960. Had his first radio gig at age 15 while still in high school. Known for his bizarre on-air promotions, like broadcasting in a bubble underwater at a swimming pool. Most listened to deejay in Louisville in his time. A leader in the Louisville music scene, Sanders established several record labels, recording studios, talent agencies and booking agencies. Left Louisville for Nashville where he worked as road manager for Hank Williams, Jr. Owned and operated the Spotland Company, one of Nashville's most successful advertising agencies. Died at age 45 from liver disease and complications of pneumonia.
---
STEVE SANDS
Born: July 3, 1946, Ventura, Calif.
Died: September 8, 1992, McHenry, Ill.
Also known as: Birth name was Steven Michael Sandoz
Stations: KEZY, KGBS, KROQ, KIIS, KGBS, KKDJ, KWIZ Los Angeles, WJJD, WAIT Chicago, KTEE, Idaho Falls, Idaho, WFLB Fayetteville, N.C., XTRA Mexico, WSB Atlanta, KVEN Ventura, Calif., KACY Oxnard, Calif.; KEZL San Diego, AFN Vietnam
Notes: Had production company in early '80s. Died of a heart attack.
---
MICHAEL SARZYNSKI
Died: October 8, 1998, Philadelphia
Also known as: Dr. Michael Sarzynski
Stations: WNBC New York, WKXW Trenton, N.J., WILK Wilkes-Barre, Pa., WKPQ Pittsburgh, WFIL Philadelphia
Notes: Died during routine surgery. He was in his late '40s.
---
HARRY SCARBOROUGH
Died: January 8, 2012
Also known as: Happiness Harry Scarborough, Ted Bear (KSTN)
Stations: KSTN Stockton, Calif., KKJO St. Joseph, Mo., KEPL El Paso, Tex., KMBY, KWAV, KNRY Monterey, Calif., WDGY, KQRS Minneapolis, KRUX Phoenix, KMEN San Bernadino, Calif., KYNO Fresno, Calif., KGB, KCBQ, KPRI San Diego, KIMN, KTLK Denver, KERN Bakersfield, Calif., KSFX, KIOI San Francisco
Notes: From a January 8, 2012 San Francisco Chronicle radio column by Ben Fong Torres, reporting Scarborough's death:: "....one friend said he was in his mid-60s and had been in ill health for about eight years, living in a subsidized apartment in Marin County and, more recently, in a van parked near Ocean Beach."
---
REINER SCHWARZ
Born: 1948
Died: August 30, 2014
Stations: CHOM-FM Montreal, CHUM-FM, Q-107 (CILQ). CHFI-FM, CKFM, CFNY, Talk 640 (CHOG), CIUT Toronto, Energy 108 (CING-FM) Burlington, Ont.
Notes: Director of programming at CHOM-FM in early '70s. Director of programming and operations at CFNY from 1989 to 1991. Hosted Nightmusic show on TVO. Featured on the television shows Liberty Street, Swann and The Execution of Raymond Graham.
---
DAVE SCOTT
Died: December 2, 1996, Meadville, Pa.
Also known as: Daddy, Your Uptown Irish Doodle Boy, Your Country Cousin, Dirty Old Man, Sweet Old Shanty Irishman, Birth name was Manus C. Scott
Stations: WHJB Greensburg, Pa., KQV, WEEP Pittsburgh, WIXY Cleveland (as newsman)
Notes: Started at KQV in 1942 and was the only jock kept on when the station switched to Top 40 January 1, 1958. Left KQV around May, 1968. Native of Brookline, Pa. Died at age 77.
---
GRAHAM SCOTT
Died: June 18, 2011
Stations: CFOX , CHMJ Vancouver, CHDI (Sonic 102.9), CKER (101.7 World FM) Edmonton
Notes: Son of CFOX, WPTR and Capital Radio London deejay Roger Scott. Native of Hammersmith, London, England.
---
MIKE SCOTT
Born: December 19, 1938, Louisiana
Died: June 7, 2008, Houston
Also known as: Birth name was B. Michael Belile
Stations: KONO San Antonio, KLIF Dallas, KCBQ San Diego, KFRC San Francisco, WJBK Detroit, KQUE, KNUZ, KILT Houston
Notes: Twice Billboard's Country Music Personality of the Year. Member Texas Radio Hall of Fame. Successful programmer, producer and voice talent who operated recording studio in Houston.
---
ROGER SCOTT
Born: October 23, 1943, London
Died: October 31, 1989
Also known as: Bob Baker (at BBC Radio 1 in 1973)
Stations: WPTR Albany, N.Y., CFOX Montreal, UBN (closed circuit station for United Biscuits factories in U.K.), BBC Radio 1, Capital Radio London
Notes: Participated in the recording of "Give Peace a Chance" by John Lennon and Yoko Ono during their "Bed-in" for peace at the Queen Elizabeth Hotel in Montreal. Was at Capital Radio for 15 years beginning in 1973, with features like "The Three O'Clock Thrill", "Hitline" and his Friday oldies show "Cruising." Died of cancer.
---
JOEL SEBASTIAN
Born: July 11, 1932, Detroit
Died: January 17, 1986, Evanston, Ill.
Stations: WCFL, WLS, WJMK-FM Chicago, WXYZ Detroit, WINS New York, KYW Cleveland, KLAC Los Angeles, also worked in Dallas and New Haven, Conn.
Notes: Died after a long bout with pneumonia and colon cancer.
---
MIKE SELDEN
Born: January 9, 1945
Died: March 11, 1997
Stations: KFJZ, KLIF, KNUS, KVIL, KXOL, KCWM-FM, KPLX, KIXK Dallas-Fort Worth, Tex., KNET Palestine, Tex., KBEC Waxahachie, Tex.
Notes: Was program director at KNUS while doing a noon-2 p.m. show. Did some of the artwork on KLIF's music charts.
---
DAVE SHAFER
Died: May 7, 2006, Florida
Also known as: Birth name was Dave Schiefer
Stations: CKLW, CKLW-FM Windsor, Ont., WJBK Detroit (as Jack the Bellboy), WCAR, WOMC, WCZY Detroit, also worked in Dover, Del., and Tucson, Ariz.
Notes: One of the few deejays who worked at CKLW in both the Big 8 and pre-Big 8 eras. Was program director at CKLW, CKLW-FM, WCAR, WOMC and WCZY. The native of Rochester, N.Y., retired to Florida in 1992. He died of complications from sinus surgery at age 73.
---
SHANA
Born: April 10, 1953, Camp LeJeune AFB North Carolina
Died: July 17, 2015, Michigan
Also known as: Birth name was Margaret Reichl; full name was Shana LiVigni
Stations: KWBB Wichita, KFRC San Francisco, KHJ, KEZY, KROQ, KLOS, KLSX, KPCC, KCBS-FM Los Angeles
Notes: Learned English from cartoons like Felix the Cat and Casper. First female jock at both KFRC and KHJ.
---
BOB SHANNON
Died: January 26, 2015
Stations: KWIZ, KFI, KHJ, KLAC, KRTH Los Angeles, KRUX, KUTY Palmdale, Calif., KDWB Minneapolis, KJR, KING Seattle, WIXY Cleveland, KDKA Pittsburgh, KXOK St. Louis, KCBQ San Diego
Notes: Last jock on KHJ before the switch to country. Started "The Actor's Workshop" in Orange Country, Calif., in the 1980s. Used his birth name R.J. Adams in acting. Had a regular role on Riptide, and appeared frequently on Hill St. Blues, Murder She Wrote and Hotel. Was in eight major films including Rocky IV. Died of a massive heart attack while working on film project in Pennsylvania. The native of St. Catharines, Ont., was 67.
---
JOHNNY SHANNON
Died: October 27, 2015
Also known as: Solid Gold Shannon
Stations: KONO-AM-FM, WOAI-AM-FM, KAJA (KJ-97), KTFM, KSMG (MAGIC 105.3), KTSA San Antonio, WOR-FM, WXLO (99X), KNOW, KEYI Austin, Tex., KILT-AM-FM Houston
Notes: Spent 45 years on-and-off in San Antonio radio, the last 10 years of his life as a reporter at KTSA. Member of Texas Radio Hall of Fame. Died of liver cancer at age 70.
---
RICK SHAW
Died: June 22, 1998, San Rafael, Calif.
Also known as: His real name was Hugh Silvas
Stations: KIMN Denver, KILT Houston, KLIF Dallas, WOR-FM, WXLO New York, KQV Pittsburgh, KFRC, KYUU, KIOI San Francisco, KOIL Omaha, Neb., KNX-FM Los Angeles, KEZY San Bernardino, Calif.
Notes: Shaw, who his widow reports lived drug, smoke and alcohol free, died at 53 of an aortic aneurysm. A licensed pilot.
---
RICK SHAW
Died: September 22, 2017
Also known as: Birth name was James Hummel
Stations: WAMV East St. Louis, Mo., KLOI Omaha, Neb., KICN Denver, WCKR-WIOD, WQAM, WINZ, WMXJ (Magic 102.7), WLBW-TV Miami, WAXY-FM Fort Lauderdale, Fla.
Notes: Spent 51 years in radio. Credited with being the first to play the Beatles in south Florida. Hosted "Saturday Hop" on WLBW-TV. For the last 46 years of his career, signed off every show with Ray Peterson's Goodnight My Love. Died at the age of 78.
---
JIM SHELTON
Born: 1919
Died: February, 1993
Also known as: Birth name was James S. Undercoffer
Stations: WIBC Indianapolis
Notes: Top DJ at WIBC (during Top 40 era) 1955-1966 remained with station in sales after that. His "Pick-A-Pocket" was a WIBC favourite. Worked at WIBC for 50 years and never missed a day of work in due to illness. From 1947 to 1978 was a Turn 4 reporter for the Indianapolis Radio Network. Died, while on vacation, of heart failure at 73.
---
PAUL SHERMAN
Born: July 10, 1916, Brooklyn, N.Y.
Died: May 9, 1983, Coconut Creek, Fla.
Also known as: The Crown Prince of Rock 'N' Roll
Stations: WINS, WEVD New York
Notes: Was Alan Freed's fill-in (hence the nickname), perhaps the ultimate relief job in radio. Worked at WINS for 38 years starting in 1943. Was announcer, reporter and anchor when the station went all-news in 1965 to his retirement in 1981.
---
TOM SHERMAN
Died: November 7, 2004
Also known as: The Bostonian; birth name was Sherman Thomas Asbell
Station: WJLB, WPGR, WXYZ, WCHB Detroit
Notes: Was also a club DJ in Detroit. Died at the age of 62. Suffered from cancer.
---
BOB SHERWIN
Born: July 7, 1954
Died: May 16, 2007, Hamilton, Ont.
Also known as: Nicknamed "Sparky"
Stations: CJBK London, Ont., CHSC St. Catharines, Ont., CKOC, CHML Hamilton, Ont., CKNS Caledonia, Ont.
Notes: Spent nearly a-quarter century at CKOC, much of it in mornings, from 1978 to 2001. Studied at Mohawk College in Hamilton before taking a radio job in Trail, B.C. Nicknamed "Sparky" after former Detroit Tigers manager Sparky Anderson (Sherwin was a huge Tiger fan). Died of a heart attack.
---
PAUL SIDNEY
Died: April 2, 2009
Stations: WBRY Waterbury, Conn., WLIS Old Saybrook, Conn., WLNG Sag Harbour, N.Y.
Notes: The Brooklyn-born Sidney joined WLNG in 1963 and never left. He became the station's program manager in late 1964, later became vice-president, general manager and station president. He lived for his station, did literally thousands of remotes, and above and beyond all else kept the station local and a vital presence in the community. His station's buses, decorated with a mural of the station's personalities riding a bicycle, became a regular sight beginning in the '70s on Long Island. Sidney's station featured a wide playlist, classic PAMS jingles, and plenty of personality. Sidney was named to the New York State Broadcasters Association Hall of Fame in 2007. Died of leukemia at age 69.
---
LEE BABY SIMMS
Born: 1944, Charleston, S.C.
Died: January 28, 2015
Also known as: Birth name was Gilmore LaMar Simms, Hot Toddio on the Radio (WTMA), Doc Frail (KRLA)
Stations: WTMA, WONO Charleston, S.C., KONO, KTSA San Antonio, WMBR Jacksonville, Fla., WLOF Orlando, Fla., WJBK Detroit, WSHO New Orleans, WIST Charlotte, N.C. (also as PD), WGCL, WKYC Cleveland, WPOP Hartford, WMYQ Miami, KCBQ San Diego, KRLA, KROQ, KTNQ, KMET Los Angeles, KKUA, KORL, KPOI, KDUK Honolulu, KFOG, KYA, KISQ-FM San Francisco, WLVE Miami, KKIS Concord, Calif., KPRQ Rohnert Park, Calif., KOOL Phoenix.
Notes: By his count, he worked at 35 stations in 22 markets and was fired 25 times because ``I never took an insult from anyone.`` His "Lee Baby" nickname was given to him by KONO PD Woody Roberts. Wrote Time for the Pozo-Seco Singers. Died at the age of 72 of suicide. He had been suffering from cancer.
---
BOBBY SIMON
Died: November 2, 2002, near Centralia, Wash.
Also known as: The Simonizer, B.S. in the Great Northwest
Stations: KEED Springfield, Ore., KAYE Puyallup, Wash., KORD Pasco, Wash., KOL, KJR, KZOK-FM, KYYX Seattle, KNEW Spokane, Wash., KTAC Tacoma, Wash., KISN Portland, Ore., WIFE Indianapolis
Notes: Had four different stints at KJR. Died in car crash at the age of 65.
---
RUSS SIMPSON
Died: January 29, 2004, Qualicum, B.C.
Stations: CHOV Pembroke, Ont., CJLX Port Arthur/Fort William, Ont., CKPT Peterborough, Ont., CKEY Toronto, CJOE London, Ont., CKLG Vancouver, KRIZ Phoenix, STAR-FM Chilliwack, B.C., WOHO Toledo, Ohio
Notes: Was one of the original "Top Cats" at CKLG when they switched to Top 40 on August 22, 1964. Hosted "Royale Windfall" on CHAN-TV Vancouver. Was 64 when he died of cancer.
---
RICK SKLAR
Born: 1930
Died: June 22, 1992, New York
Also known as: Birth name was Richard J. Sklar
Stations: WPAC Patchogue, N.Y., WNYC, WINS, WMGM, WABC New York
Notes: Grew up in Brighton Beach, Brooklyn. Legendary program director at WABC during its glory years from 1962 to 1977. Kept the station on top of the ratings pile during his entire career there. Sklar was promoted to vice-president of programming for ABC's radio division in 1977, then left ABC in 1984 to start his own radio consultancy business. His story and that of WABC's is told in Sklar's book "Rockin' America." Inducted into the Radio Hall of Fame in 1993. Died due to a lack of oxygen and other mistakes made by the hospital staff on the operating table during minor foot surgery. The hospital was found to be negligent and fined, and the physician that treated him had her license to practice medicine suspended by the state. Sklar was 62.
---
TOMMY SMALLS
Born: January 25, 1921
Died: January, 1978
Also known as: Doctor Jive
Stations: WWRL New York
Notes: One of New York City's leading R&B dee-jays, Smalls started his afternoon (3-5:30 p.m.) WWRL show in 1952. Co-owner of the Stork Club in New York. He had a small record company and was the first to record David Ruffin of the Temptations. His radio career basically ended in 1958 with the payola scandal but by then his place in rock radio history was secure.
---
CHINA SMITH
Born: 1943, Grand Rapids, Mich.
Died: August 23, 2005, Los Angeles
Also known as: His birth name was Thomas Wayne Rorabacher
Stations: KCBQ San Diego, KING Seattle, KDAY, KRLA, KROQ, KMET, KLOS, KWST, KMGG, KUTE, KTWV, KAJZ/KBJZ, KACD/KBCD, KCBS-FM Los Angeles, WWWW Detroit, WGRD, WODJ Grand Rapids, Mich.
Notes: Used air name Wayne Thomas during early years in Michigan radio. KCBQ PD Gary Allyn gave him the name China Smith in 1969. Was the voice of TV's "Solid Gold" in the 1980s.
---
CRAIG M. SMITH
Born: February 14, 1956
Died: September 6, 2010, Newmarket, Ont.
Notes: Moderated the popular Southern Ontario/Western New York Radio-TV Forum (SOWNY) from 2001 to 2010. Hosted The SOWNY Show, an online program that featured interviews with radio, television and musical people, from 2007 to 2009. Avid collector of music and radio memorabilia. Suffered from liver disease.
---
H. WAYNE SMITH
Died: February, 1980
Stations: WCFR Springfield, Vt. (as Bill Peterson), WSVP Providence, R.I., WNHC New Haven, Conn., WMEE, WLYV Fort Wayne, Ind., WLAV-FM Grand Rapids, Mich. (as PD)
Notes: Was PD at WLAV-FM when he died. Native of Ohio.
---
IRV SMITH
Died: January 31, 1959, New York
Stations: WINS New York
Notes: Was morning man at WINS for about 15 months (his show was called "A Smith Named Irving.") Died in a car crash at the age of 30.
---
LARRY SMITH
Died: September 18, 2017
Stations: CING-FM (FM 108) Burlington, Ont.
Notes: Owned Stardust Records in Hamilton from 1983 until his passing at the age of 76.
---
ROBERT O. SMITH
Born: 1942, Grass Valley, Calif.
Died: May 30, 2010, Vancouver
Also known as: The Masked Avocado, Dr. Zingrr, and Walter Wart the Freaky Frog.
Stations: KAHI Auburn, Calif., KHOE Tahoe, Nev., KOWL South Lake Tahoe, Nev., KLAV Las Vegas; KMBY Monterey, Calif., 1966; KJR, KSND, KOL, KVI, KIXI-FM Seattle, KTAC Tacoma, Wash., CFMI-FM, CISL Vancouver, CKMA Abbotsford, B.C,
Notes: Was a highly sought after voice actor who had voice roles in many cartoon and animate TV shows. He once created 20 voices for a single TV spot. Was also a competitive power-lifter, known as "Bench Bozo", who held several records in the masters division. Never said publicly what the "O" stood for. Died of pancreatic and liver cancer at the age of 67.
---
RAYMOND "GENE" SNYDER
Died: March 29, 1999, West Virginia
Stations: WCEF Parkersburg, W. Va., WJBW New Orleans, WAKY Louisville, Ky., WOWE New Albany, Ind.
Notes: Recorded song called "Able and Baker", a novelty tune which dealt with two monkeys sent into space. Started Joni Talent Agency in Louisville. Was 63 years old when he died in Parkersville, W.Va.
---
LARRY SOLWAY
Born: March 13, 1928, Toronto
Died: January 9, 2012, Toronto
Stations: CHUM, CFRB, CHOG (Talk 640) Toronto, CHIC Brampton, Ont., CKAR Oshawa, Ont., CFLY Kingston, Ont.
Notes: Hosted "Speak Your Mind" talk show full-time on CHUM from 1964 to 1970, when he left in the wake of a controversial series of shows he did about sex. The departure led to Solway writing a book called "The Day I Invented Sex." Also wrote (with former investment counsellor Andrew Bertram) the book "Don't Be Blindsided by Retirement", about adjusting to the retirement lifestyle. Solway was a panellist on the CBC shows "Flashback" and "This is The Law." He appeared in the films "Meatballs" and "The Brood" among others and was a stage actor, producer and director. Ran unsuccessfully for the NDP in the 1999 Ontario provincial election. An avid sailor and a piano player, Solway died of complications from bladder cancer.
---
HANK SPANN
Died: October 14, 2009, California
Stations: WUFO Buffalo, N.Y. WGIV Charlotte, N.C., WAOK Atlanta, WWRL New York
Also known as: The Soul Server
Notes: Was the DJ voice on the single version of "Payback" by James Brown. Was promotion executive at Reprise and Warner Brothers and rep for Billboard Airplay Monitor. Famously signed off with "I'm gonna take two steps to the rear and get out of here. I'm in the wind New York, Later!"
---
MICHAEL SPEARS
Died: October 25, 2005, Dallas
Stations: KAND Corsicana, Tex., KDOK Tyler, Tex., KLIF Dallas, CKLW Windsor, Ont. as a jock (also programmed KFRC San Francisco, WPLP Tampa Bay, Fla., WYSL Buffalo, N.Y., KNUS, KKDA Dallas, WSFO-WPLP Tampa, Fla., WPNT Chicago and was operations director of KRLD Dallas.) Consulted over 30 radio stations and groups in multiple formats.
Also known as: On-air he used the name Hal Martin.
Notes: His stations won Billboard Station of the Year honours three times and he was named Billboard Program Director of the Year twice. In 1976, produced the first satellite broadcast from Australia for the U.S. Bicentennial celebrations. Co-created The Amber Plan, a radio alert system to aid in the search for missing children. In 2002, won the Service to America award as bestowed by the National Association of Broadcasters. Induced into the Texas Radio Hall of Fame in 2004. Has produced literally hundreds of commercials and news segments for radio and television. Was much in demand as a public speaker and emcee. He even did magic: at age 15 he was Texas State Champion Magician. Died at the age of 58 of cancer
---
JACK SPECTOR
Born: September 15, 1921
Died: March 8, 1994, Hempstead, N.Y.
Also known as: Jake
Stations: WJJD Chicago, WMCA, WNBC, WHN, WCBS-FM New York, WHLI-AM Hempstead, N.Y., also worked in West Virginia and Albany, N.Y.
Notes: His famous sign-off was "Look out street, here I come." Hosted Saturday night oldies show on WCBS-FM. He suffered a heart attack and died while on the air at WHLI.
---
JOHN SPRAGGE
Died: December 16, 2008, Toronto
Stations: CHUM, CFRB Toronto
Notes: Did mid-mornings at CHUM from 1958 to 1968. Was program director at CFRB from 1972 to 1985. Also worked in Kitchener, Ont., at CFCA, CKKW and CKCO-TV, and was a public speaker and consultant. Devoted a great deal of his life to charity work. Died at age 71 of cancer.
---
JIM STAGG
Born: 1935, Bessemer, Ala.
Died: November 6, 2007, Lake Forest, Ill.
Also known as: Birth name was Jimmy Pearson Staggs
Stations: KYW Philadelphia, WYDE Birmingham, Ala., WOKY Milwaukee, WCFL, WMAQ Chicago, WIBG Philadelphia
Notes: Known for his melodic voice, modest demeanour and encyclopedic musical knowledge. His show "Stagg's Starbeat: brought together musicians like Ray Charles, Frank Sinatra and the Beatles. Travelled and wrote about the Beatles during their three U.S. tours. Rose to program director at WCFL. From 1975 to 2000, owned Record City, a Skokie-Ill., record store and grew to five Chicago-area locations and two in Florida. Narrated the "Chickenman" series. Was licensed realtor and founded a personal video production company with his wife and daughter. Said: "If all I'm remembered for is radio, what a waste." Died of esophageal cancer.
---
JIM STANLEY
Died: June 1, 1995
Also known as: The Stanley Steamer
Stations: WLCY Tampa, Fla.
Notes: His morning show was the highest-rated in Tampa for years. Worked as spokesman for the Florida State Fair after his radio career ended. Died of heart attack.
---
ALISON STEELE
Born: January 26, 1937, Brooklyn, N.Y.
Died: September 27, 1995, New York
Nickname: The Nightbird
Stations: WNEW-FM, WNEW-AM, WPIX, WXRK New York
Notes: Generally worked all-night or late-evening shift at WNEW-FM; she was the only deejay to stay when WNEW-FM switched from standards to progressive rock in 1967. First woman named Billboard FM Radio Personality of the Year in 1976. Served as the announcer for "Search For Tomorrow" from 1982 to 1984. Writer, producer and correspondent for CNN's Limelight until 1985. Late in life, she and her sister operated at cat boutique, "Just For Cats". Died of stomach cancer.
---
THE REAL DON STEELE
Born: April 1, 1936, Hollywood, Calif.
Died: August 5, 1997, Hollywood Hills, Calif.
Also known as: Birth name was Donald S. Revert. The "S" stood for Steele (his mother chose it because it sounded more "show-biz."
Stations: KOIL, Omaha; KHJ, KIQQ, KTNQ, KRLA, KODJ, KCBS, KRTH Los Angeles, KISN Portland, Ore., KEWB San Francisco
Notes: Steele is best known for his years at KHJ, where he was an original Boss Jock. His Friday afternoon signoffs were legendary. He also hosted a syndicated oldies show, "Live From the Sixties", that aired in many markets. Often made mention of Tina Delgado (as in "Tina Delgado is alive, alive!" but took the secret of who she was to the grave. Appeared in several movies as a deejay. Steele died of lung cancer.
---
TERRY STEELE
Born: July 19, 1947, Chester, Pa.
Died: August 13, 1993, Toronto
Nickname: The Bear
Also known as: Birth name was James Stromberg
Stations: WINX Rockville, Md., WNOR Norfolk, Va., CHUM, CKEY, CKFM, CJEZ Toronto
Notes: Terry's greatest fame as a radio announcer was during his CHUM years in the '70s and '80s. Died in a freak accident when he fell backwards in the bathroom into an empty bathtub.
---
DOC STEEN
Died: September 8, 2004, Vancouver
Stations: CKGM Montreal, CJOB, CKRC, CITI-FM Winnipeg
Also known as: Doc Stone at CKGM, Birth name was Irving Steen
Notes: Got "Doc" nickname while a pharmacy student at the University of Manitoba. Part of CKGM's original on-air lineup when they went on air on December 7, 1959. Was music director at CKRC in addition to being on on-air host.
---
MARTHA JEAN "THE QUEEN" STEINBERG
Born: September 9, 1930, Tennessee
Died: January 29, 2000, Detroit
Stations: WDIA Memphis, WJLB Detroit
---
BUBBA JOHN STEVENS
Died: December 28, 2016
Also known as: Birth name was John Laboranti
Stations: WYSP-FM, WMMR, WMGK-FM Philadelphia, WGOE, WRXL Richmond, Va., WMYK Moyock, N.C.
Notes: Spent 45 years in radio. Got his nickname "Bubba John" after doing a series of promotions for a rib restaurant. The native of Deptford, N.J., died of cancer at the age of 66.
---
RAY STEVENS
Born: 1933, Montreal
Died: February 2017
Also known as: Roman Pidwysocky
Stations: CKGM Montreal
Notes: Was part of the original lineup, in afternoon drive, when CKGM debuted December 7, 1959. Interviewed many of the musical stars of the day, including Sam Cooke, Brenda Lee, Chubby Checker and Duane Eddy. Also had a career as a stage impresario, with a day-job in advertising after his on-air days ended. He also contributed editorial columns to publications in Canada, the U.S. and Ukraine. Died at age 84.
---
BOB STICHT
Died: January 11, 2012
Also known as: Was Bob Robbin at WHB, full name was Robert (Bob) Thomas Sticht.
Stations: WHB Kansas City, Mo., WLAC, WSIX, WAMB Nashville, WSVT Smyrna, Tenn. (owner)
Notes: Had a syndicated radio show, "The All-Time Greats Parade", co-hosting with Snooky Lanson. Worked as a station announcer in Memphis, Louisville and New Orleans before becoming a rock 'n' roll deejay at WHB. Retired in 2007. The native of Noxapater, Miss., died at the age of 83.
---
GEOFF STIRLING
Born: 1921, St. Johns, Nfld.
Died: December 21, 2013
Stations: CKGM AM-FM/CHOM Montreal, CKPM Ottawa, CKWW, CJOM Windsor, Ont., CJON, CHOZ St. Johns, Nfld., OZ Radio Network, Newfoundland, KSWW Wickenburg, Ariz.
Notes: Founded the Sunday Herald (precursor to the Newfoundland Herald) in 1946. Moved into radio in 1951 with CJON-AM in 1951, then four years later launched CJON-TV. Many more radio and TV stations would follow, including CKGM-AM and CKGM-FM (later CHOM) and Newfoundland superstation NTV, credited as Canada's first 24-hour TV station in 1972. Also an author, film maker and publisher. Induced into the Canadian Broadcasters Hall of Fame in 2001.
---
JAY STONE
Died: October 15, 2001, Hawai'i Kai
Stations: KNX-FM Los Angeles, WXLX Pittsburgh, KZZP Phoenix, KXTZ Las Vegas, KIKI, KGMZ-FM (Oldies 107.9) Honolulu
Notes: Raised in Los Angeles. Described by his long-time friend and radio consultant Jerry Clifton as "a total radio nut", Stone died in a car accident at the age of 55.
---
PHIL STONE
Born: 1914, Glasgow
Died: May 1, 2008
Stations: CHUM Toronto
Notes: Worked in magazines, newspapers and did sportscasting on the CBC before being hired by CHUM to do public relations. He filled in when a regular sportscaster failed to show and stayed on the air, eventually hosting his own show. He did the 2-5 p.m. shift when CHUM became Canada's first Top 40 station in 1957. Left the air in 1959 to become a vice-president at CHUM in charge of promotions and charitable work. Founded the radio program at Humber College in 1972 and also taught at York University and Conestoga College. A well-known promoter and fund-raiser who was president of the Canadian Public Relations Society, he was also a published writer and columnist, a public speaker and an MC. Died at the age of 94. Appeared on CHUM's 50th anniversary reunion show about a year before his death.
---
TODD STORZ
Born: May 8, 1924, Omaha, Neb.
Died: April 13, 1964
Also known as: Birth name was Robert Todd Storz
Stations worked at: Programmed many stations as one of the founding fathers of Top 40 radio.
Notes: Grandson of Omaha brewing legend Gottlieb Storz. One of the founding fathers of Top 40 radio. Owned many stations: WTIX-AM New Orleans, KOWH Omaha, Neb., WTIX New Orleans, KXOK St. Louis, WHB-AM Kansas City, WDGY Minneapolis-St. Paul, WQAM Miami, KOMA Oklahoma City.
---
RUSS SYRACUSE
Born: 1930, Rochester, N.Y.
Died: April 18, 2000, Sacramento, Calif.
Also known as: The Moose, Birth name was Russell Siragusa
Stations: WNDR Syracuse, N.Y., WKBW Buffalo, KYA, KSFO, KFRC, KNBR, KMPX San Francisco
Notes: Was "pilot" of the "All-Night Flight" on the "Super Freak 1260 (KYA)" in the '60s. The show was an imaginary "flight", featuring sound effects and features relating to that theme. Elected to Bay Area Radio Hall of Fame in 2008. Was a schoolteacher before going into radio. After his radio days, got into photography. Died of heart failure at age 70.
---
MARTIN STREEK
Born: June 16, 1964
Died: July 6, 2009, Toronto
Station: CFNY Toronto
Notes: Grew up in Mississauga, Ont. Spent 25 years at CFNY beginning in 1984 and ending with his departure due to corporate "restructuring" in May, 2009. Known for his live-to-air shows from nightclubs and his Thursday night countdown show. Took his own life.
---
SUPER SHANNON
Died: December 25, 2014
Stations: WKBW, WGRQ Buffalo, N.Y.
Also known as: Birth name was Stephen Alexander Reid
Notes: Known for his high energy, loud delivery. Supervised the nightclub DJs for Turgeon Restaurants in Buffalo in 1977 (Boardwalk Cafe/Electric Co. Disco, Ali Baba's, Library). One of the first DJs at the Club 747 in Buffalo when it was built in 1975. Later became co-host with the first PM Magazine in Columbus, Ohio. After that he became host of a morning talk show with CBN. Died at age 68 after a 10-year struggle with cancer.
---