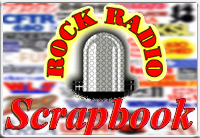 Airchecks: 1960
Talent: BOB ROBIN
Station: WHB Kansas City
Date: April 29, 1960
Time: Part 1 - 30:05 (unscoped)
Part 2 - 28:03 (unscoped)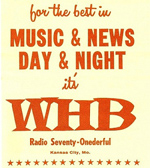 Top 40 radio pre-dates the rock era.
Long before Elvis Presley and Bill Haley were rocketing up the charts, businessman Todd Stortz introduced the first Top 40 format at KOHW in his hometown of Omaha in 1951. As one account goes (and there are many), Stortz and program director Bill Stewart noticed customers at a bar in Omaha playing the same songs over and over on the jukebox. They took that idea to radio and it worked: KOHW's market share went from four per cent to 45 per cent in 1951.
Bolstered by that success, Stortz brought his format to WTIX New Orleans in 1953 and a year later took it to WHB Kansas City. WHB was a huge success, garnering a 52 per cent market share, leaving Kansas City's three other radio stations to split the rest. The World's Happiest Broadcasters had arrived and would be a dominant force for a long time.
WHB's share remained in the double digits until the early '80s, but competition from FM eventually overwhelmed it. In 1985, the legendary station dropped Top 40 after 31 years for oldies. Continuing to be buttressed by FM, the once-mighty WHB dropped to a 1.2 share in 1990. It switched to a country format in 1993 and went all-sports in 1999.
This April 29, 1960 aircheck captures WHB during its glory years. You're "Bobbin' With Robin" - Bob Robin - as he counts down the big hits of the day on "The Top 40 Show." Robin - whose real name was Robert Sticht - died in 2012 at the age of 83 having retired from radio just five years earlier. The Mississippi native also worked in Memphis, Louisville and New Orleans before jocking in Nashville at WLAC, WSIX and WAMB.
Hear Bob Robin on WHB, Part 1 (UNSCOPED) here.

Hear Bob Robin on WHB, Part 2 (UNSCOPED) here.

(The Don Shuttleworth Collection)



Rock Radio Scrapbook pays
online streaming fees to the
Society of Composers, Authors and Music Publishers of Canada (License 22-F)

---
Talent: GENE NOBLES
Station: WLAC Nashville
Date: 1960
Time: 30:41 (unscoped)
11:25 (scoped)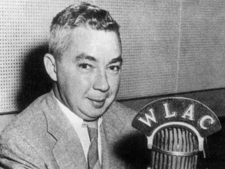 Gene Nobles was born to sell and be on the radio - not necessary in that order.
A former carnival barker and bingo caller, Nobles was perfect to be a radio announcer and salesman. In fact, he was WLAC's sales manager for a while, but Nobles really made his mark as one of the first white disc jockeys in the U.S. to play African-American "race" music - as they called it at the time. Nobles joined the station in 1943 and three years later began the then unheard-of practice of playing African-American music on a white station. He would be joined on the WLAC air staff by three other white jocks - John R. (Richbourg), Bill "Hoss" Allen and Herman Grizzard - also playing the African American music that many other stations were ignoring. Together, they were known as "The 50,000-Watt Quartet", and that monster WLAC signal could be heard all over the eastern U.S. at night, also getting into Canada, Mexico and the Caribbean.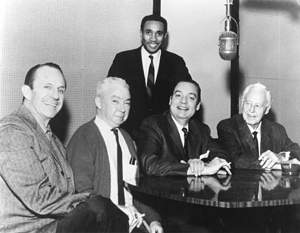 (l-r) John R, Gene Nobles, Don Whitehead, Hoss Allen, Herman Grizzard, circa 1970
Nobles and the three other members of "The 50,000-Watt Quartet" did much to introduce African-American music to white audiences during the '50s, '60s and early '70s. They played R&B, blues and gospel music. Nobles and Richbourg left the station in the '70s (Grizzard died in 1971 and John R. in 1986), leaving Allen as the final remaining member still at WLAC. He did a gospel show at WLAC until 1993, four years before his death.
Nobles - a native of Hot Springs, Arkansas - was known for his snappy repartee and colourful "slamguage" radiospeak.
His expressions included:
"Jerks/fillies" – boys/girls.
"From the heart of my bottom" – a suggestive inversion of the traditional testimony to sincerity.
"That's G-A-double L-A-T-I-N, folks", spelling the name of the town where Randy's Record Shop was located.
Gene Nobles died September 21, 1989 at the age of 76.
Enjoy Gene Nobles on WLAC (UNSCOPED) here.

Enjoy Gene Nobles on WLAC (SCOPED) here.

(The John Harrison Collection)
---
Talent: HERMAN GRIZZARD
Station: WLAC Nashville
Date: 1960
Time: 3:45 (unscoped)
1:16 (scoped)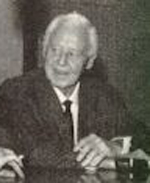 Herman Grizzard, born in 1900, was the eldest of WLAC's "The 50,000-Watt Quartet." Grizzard joined the station in the early 1930s. He did a variety of shows in his early years at the station, but by 1950 had started to play African-American music in the late night hours. Grizzard's show was sponsored for many years by a trio of local record shops who gained national fame thanks to WLAC's powerful night-time signal. Grizzard was also an early baseball broadcaster, announcing play-by-play of minor league teams in Nashville.
Herman Grizzard died in 1971 in Nashville.
Enjoy Herman Grizzard on WLAC (UNSCOPED) here.

Enjoy Herman Grizzard on WLAC (SCOPED) here.

(The John Harrison Collection)
---
Talent: BOB HALE
Station: WLS Chicago
Date: June 8, 1960
Time: 10:06

"Mid-America's Bright New Sound!"
It's not rock 'n' roll, but we still like it.
The Ames Brothers, Nat King Cole, Pat Boone ... even Artie Shaw (!) are featured on this aircheck of Bob Hale's all-night show just a month into the Top 40 format at WLS. Where's the rock? Evidently playing in other day parts. We guess they figured the kids would be in bed at that hour, and it would be best to program to adults.
Hale had his place in history before coming to WLS in May 1960 as one of its original Top 40 jocks. On February 2, 1959, he was the Master of Ceremonies at the infamous last concert of Buddy Holly, Ritchie Valens and the Big Bopper in Clear Lake, Iowa, just hours before the trio died in a plane crash. Hale moved to WMAQ Chicago in 1964 and continued to work in radio and television, mostly in Chicago, until his retirement in 1996.
Hear Bob Hale on WLS here.

(The Don Shuttleworth Collection)
---
Talent: DICK WILLIAMS
Station: KDEO San Diego
Date: July 13, 1960
Time: 36:12 (unscoped)


KDEO holds a special place in Top 40 radio history. On July 3, 1970, the San Diego outlet became the first station to broadcast Casey Kasem's new show American Top 40. It was one of seven AT-40 affiliates that first weekend - American Top 40 went on to become an American institution and re-broadcasts are still heard to this day.
This aircheck of KDEO, from 10 years earlier, showcases a jock who became a legend in London, Ontario, radio. Dick Williams started in radio in 1956 at CKCR Kitchener, Ontario, then jocked south of the border before returning to Canada in 1961 at CFPL London. One of the U.S. stations he appeared on was KDEO San Diego and thanks to Dick Williams and contributor Charlie Ritenburg we have a rare aircheck of The Tall One on Radio K-Deo.
This is a fabulous time capsule of early '60s Top 40 with all the bells and whistles of the era. Not only does Williams entertain as a jock, he also does the news (hear a very sensational newscast with The Tall One at the 26:55 mark.) If you love early '60s Top 40 radio, this aircheck should be a real treat.
Enjoy Dick Williams on KDEO here.

(The Charlie Ritenburg Collection via Dick Williams)
RESTORATION by Charlie Ritenburg



Rock Radio Scrapbook pays
online streaming fees to the
Society of Composers, Authors and Music Publishers of Canada (License 22-F)

---
Talent: JIM TUCKER
Station: KXOL Fort Worth, Tex.
Date: September 8, 1960
Times: 59:31 (unscoped)
35:54 (scoped)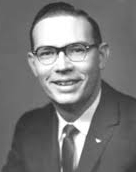 A funny thing happened on the way to KXOL.
TWO funny things actually - George Carlin and Jack Burns. Both are former KXOL jocks who became famous as comedians. They were part of an ever-changing cast of characters who graced the KXIOL mic during its 38 years (1947-85) of existence, including 20 (1956-76) as a Top 40 station. Other famous KXOL alumni include former CBS newsman Bob Schieffer, game show hostsRod Roddy and Jimmy Kaye and singer Kenny Sargent, a featured singer with Glenn Gray and his Casa Loma Orchestra.
Jim Tucker was part of the crew in 1960 where we hear him handling afternoon drive.
Enjoy Jim Tucker on KXOL (UNSCOPED) here.

Enjoy Jim Tucker on KXOL (SCOPED) here.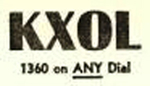 The Joe Fazio Collection)
---
Talent: ALAN FREED
Station: KDAY Los Angeles
Date: November, 1960
Time: 9:05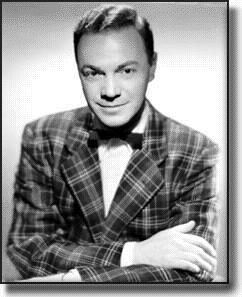 Alan Freed's radio career didn't end with the payola scandals of the late '50s. After leaving his last New York radio gig at WABC in 1959, Freed travelled west and wound up at one of L.A.'s legendary radio stations, KDAY. Holding down the 3-7 p.m. shift there in November 1960, Freed really didn't sound much different than he did in his heyday at WINS New York and WJW Cleveland in the '50s. In fact, the station went from number-22 in a 24-station market to number-three while Freed was there. However, Freed was eventually let go from KDAY for promoting local concerts in conflict with station policy.
After his KDAY gig ended, Freed moved to WQAM Miami in 1962 where spent two months. In 1964 Freed worked briefly as an all-night deejay at KNOB, an FM jazz station in Los Angeles.
Freed died January 20, 1965 in Palm Springs, California, officially of uremia, some say of a broken heart. He was 43.
Freed was part of the Rock and Roll Hall of Fame's first class of inductees in 1986. He was inducted into the National Radio Hall of Fame in 1988.

Enjoy Alan Freed here.

(Scrapbook archives)
---
Talent: JOE O'BRIEN
Station: WMCA New York
Date: December 21, 1960
Times: Various (unscoped)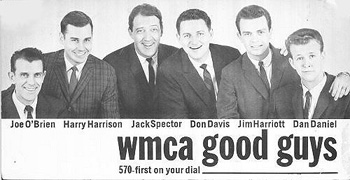 (The first WMCA "Good Guys," circa 1963)
It was Christmas 1960 and radio's exciting new team was at WMCA.
WMCA began a Top 40 format in 1958 but the "team concept" for its deejays didn't come about until late 1960. The team concept - highlighted by use of the term Good Guys beginning in 1963 - had been used before but WMCA program director Ruth Meyer perfected it and made it a success. Everything at WMCA was about "team" - the jocks had the same haircuts, wore the same suits and did record hops and other personal appearances. They even recorded a record album, The Good Guys Sing, and the WMCA theme song We're The Good Guys was sung by the jocks themselves.
In late 1960, the WMCA "team" consisted of Joe O'Brien (6-10 a.m.,) Harry Harrison (10 a.m.-1 p.m.,) Don Davis (1-4 p.m.,) Johnny Dark (4-7 p.m.,) Bob Callan (7-10:30 p.m.) and Burt Sherwood (1-6 a.m.) with Barry Gray doing a talk show from 10:30 p.m. to 1 a.m. The morning show was especially a delight - a mixture of information, easy chatter and the top hits of the day tied together by the personable O'Brien, with help from his sidekick Benny.
Hear Part 1 of Joe O'Brien on WMCA from December 21, 1960 (unscoped) here.

Hear Part 2 of Joe O'Brien on WMCA from December 21, 1960 (unscoped) here.



Hear Part 3 of Joe O'Brien on WMCA from December 21, 1960 (unscoped) here.

(The Sam Ward and Don Shuttleworth Collections)




Rock Radio Scrapbook pays
online streaming fees to the
Society of Composers, Authors and Music Publishers of Canada (License 22-F)

---
Subject: MARK ELLIOT'S OLD TORONTO RADIO COMMERCIALS
Station: Various
Dates: N/A
Time: 4:57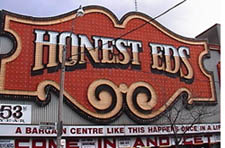 Commercials in radio's heyday did more than sell - they entertained.
This montage of Toronto radio commercials includes unforgettable ads for such long-defunct companies as Knob Hill Farms, Eaton's, Power Supermarkets, Dominion Stores and Ted Davy used cars, and many other for firms and products that are still around. Some national commercials are also included. See how many you remember (our favourite is the one for Honest Ed's).

0:00 - Household Finance
0:17 - Power Supermarkets
0:26 - Wrigley's Chewing Gum
0:35 - Alka-Seltzer
0:42 - Bad Boy
0:46 - Steak & Burger
0:56 - Old Port
1:12 - Knob Hill Farms
1:20 - Eaton's
1:26 - Carnation Instant Breakfast
1:41 - Jello Pudding Pops
1:56 - Dominion Stores
2:01 - Vic Tanny
2:12 - Coorsh Smoked Meat
2:18 - Roy Orbison for Coca-Cola
2:33 - Honest Ed's
4:40 - Ted Davy

Enjoy Mark Elliot's Old Toronto Radio Commercials here.

(The Mark Elliot Collection)
---