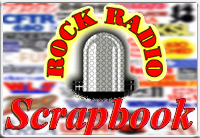 Airchecks: 1978
Talent: MIKE COOPER
Station: CFTR Toronto
Date: January 6, 1978
Time: 7:17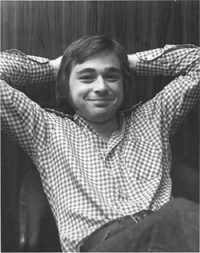 After his wild days at CHUM (see April 1, 1976), Mike Cooper went to CKGM Montreal before returning to Toronto in the late '70s at CFTR.
Rock Radio Scrapbook presents Mike Cooper at CFTR in 1978.
Listen here.

(The Bill Dulmage Collection)
---
Talent: JOHN FARRELL
Station: WBUF Buffalo, New York
Date: January, 1978
Time: 10:32

(Logo courtesy
Bill Dulmage)
"Looks like a good night to stay right where you are..."
It's a cold and snowy night but the radio is keeping us warm.
This aircheck of
John Farrell
on
WBUF
from January, 1978 takes us back to a time when there were live and local deejays on the all-night show. No satellites, no voicetracking, no computers blandly feeding songs programmed from thousands of miles away into an empty studio. No, a real live and local person. What a concept!
WBUF
went on the air in 1947. In the mid'-70s, the station's beautiful music programming was replaced by a progressive rock format. That was succeeded in 1980 by a short-lived call-letter change to
WFXZ
with a Hot AC format. The
WBUF
call-letters were restored the next year with an adult contemporary format that mixed oldies and currents. The station went to smooth jazz in 1995, followed by alternative (1997), rhythmic oldies/disco/classic soul (1999), active rock (2001), FM talk (2004), and Jack (2005).
John Farrell died March 25, 2013 at the age of 63.
Enjoy
John Farrell
on
WBUF
here.

(The Paul Palo Collection)
---
Subject: MIGHTY TACO SPOTS
Station: WBUF Buffalo, New York
Date: 1970s
Time:
1:59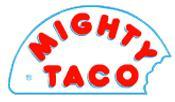 Mighty Taco makes some pretty fine tacos we hear, and they were also the subject of some very creative radio commercials.
Anyone who listened to Buffalo radio in the '70s will remember these. Paul Palo writes:
"W
e used to do Mighty Taco spots all the time that skirted the realms of

bad taste and pushed the creative envelope. Here are two examples of mid-'70s

talent at WBUF.

Bill Pezzimenti

producing from

Dave LaRussa's

stash of gems."
Enjoy a couple of these Mighty Taco spots here.

(The Dave LaRussa Collection via Paul Palo)
---
Talent: THE REAL BOB JAMES
Station: WGAR Cleveland
Date: February 3, 1978
Time: 50:41 (unscoped)
22:48 (scoped)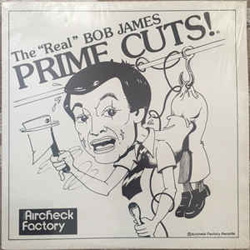 The Real Bob James got his nickname after someone suggested "Bob James" was too plain and needed jazzing up. He did, but Bob James - Real or not - could never be accused being plain.
James started his career at WNIO in Niles, Ohio, but soon moved into the big time in WWDC Washington, D.C., WZMX Hartford, WKIS Orlando, WMIL/WOKY Milwaukee, WNBC New York and the Voice of America. He was outrageous on the air, pushing the limits of comedy and creativity with every show. One of the fun things he did in his time at WGAR Cleveland was the "Parade of the States", where he would ask people to call in and give their location. It was a DXers dream, and just a sample of the off-the-wall stunts James would do.
The WGAR marketing people didn't lack in creativity either. Contributor Dan Haber tells us this fascinating story...
"On the aircheck you sent, there's a bottom of the hour ID in which the stentorian-voiced announcer intones, "1220 WGAR Cleveland. A Ron Whitman station!" And then they jingle into a song. The Ron Whitman one would air for 24 hours and then the next day, it would be replaced by "1220 WGAR, Cleveland. A Dale Patterson station." And the next day, a new name would appear.
They would air a different one of those every single night and when I was a kid listening, I always thought, "wow, how many people own that place anyway?"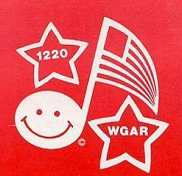 Many years later I got my answer from Bob himself. The station would send their sales reps out to try to sell what was then the #1 rocker in the city and one of the biggest outlets in all of Ohio. But inevitably, they'd run into someone who'd say, "Ah, no one listens to the radio. And it's too expensive. Forget it, I'm not interested."
So they'd go back to the studio and use the guy's name in their bottom of the hour I.D., which would run 24 hours straight. Well, you can guess what happened next. Because 'GAR was such a huge ratings grabber with a 50K signal, family and friends would start calling the guy's wife non-stop at home saying "Hey I just heard your husband mentioned on the radio." She'd tell him about it when he got home.
The kids at his children's school would come up to the offspring and say, "Hey, we just heard your dad's name on the radio!"
And the phone at the would-be customer's place of business would start ringing with people saying, "Hey, I didn't know you owned part of the radio station!"
After 24 hours of this, it was hoped the guy would realize how much reach and influence 1220 had, and the salesmen would go back out the next day and tell him that if they could make that much of an impression on people in a single day, imagine what an entire advertising campaign could do spread over weeks or months.
Enjoy The Real Bob James on WGAR (UNSCOPED) here.

Enjoy The Real Bob James on WGAR (SCOPED) here.

(The Tom Konard Collection/Aircheck Factory)



Rock Radio Scrapbook pays
online streaming fees to the
Society of Composers, Authors and Music Publishers of Canada (License 22-F)

---
Talent: RALPH LOCKWOOD
Station: CKGM Montréal
Date: February 9, 1978
Time: 4:27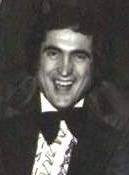 Montréal was the "City of Champions" in more ways than one in the late '70s. Not only did they have winner of a Top 40 station in CKGM, they also had some pretty outstanding sports teams, with the Canadiens, Alouettes and Expos all on a tear during that era.
Waking Montréalers up in 1978 was American-born Ralph Lockwood, the always entertaining morning man at CKGM. Like the sports teams in the city, "Ralphie" was a true winner, and had a great following throughout his nine years (1972-81) as CKGM morning man.
Hear Ralph Lockwood here.




(The Dan Kowal Collection)
---
Talent: DON BERNS
Station: WGR Buffalo, New York
Date: February 24, 1978
Time: 11:54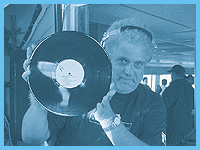 "As I see it, a personality is somebody who has something to say."
- Don Berns, 1983
If anybody had something to say, it was Don Berns. The clever, warm voice of so many North American Top 40 stations over the years has defined the way a personality jock should sound. From his early days at WDRC in Hartford, to stops at WKBW Buffalo, KLIF Dallas, WTAE Pittsburgh and CFNY Toronto, Berns has consistently been a thoroughly engaging and entertaining personality.
Enjoy Don Berns on WGR here .

(Man from Mars Productions)
---
Talent: THE BYRDMAN
Station: WGCL Cleveland
Date: February, 1978
Time: 32:39 (unscoped)
5:27 (scoped)

It was 1978, and even though the term hadn't been invented, "I-Pod Radio" had arrived.
At WGCL the usual elements of the music-first, personality-less format were there in all its glory with longer music sweeps, less jock involvement and a more sterile sound.
We like the music on this 'check and love The Byrdman but he doesn't get to talk enough. Sound familiar?

Who is The Byrdman? His real name is Tim Byrd and from his first radio job in Johnston, S.C., he moved on to Charlotte, N.C., Jacksonville, Fla., Cleveland (WIXY), New York before going into TV at VH-1. He returned to radio in Phoenix and Washington, D.C., before finally settling in south Florida.
Enjoy The Byrdman on WGCL in 1978 (UNSCOPED) here.

Enjoy The Byrdman on WGCL in 1978 (SCOPED) here.

(The Charlie Ritenburg Collection)
---
Talent: TOM KENT
Station: 96X (WMJX) Miami
Date: March 24, 1978
Time: 43:57 (unscoped)
12:48 (scoped)

Many AM Top 40 stations disappeared in the early '80s, but Miami's WMJX was a rare case of an FM Top 40 station vanishing into the ether.
In 1981 - in a rare FCC action - WMJX was told to surrender its license because of a series of fraudulent contests during its days as WMYQ in the early '70s. WMYQ, which originated as WGBS-FM in 1948, became Top 40-formatted WMJX (96X) in October 1975. It switched to a disco format as Disco 96 in 1979 before returning to Top 40 the following year. But on February 15, 1981, deejay Stuart Elliot signed the station off by playing "The Long and Winding Road" and tearfully uttering, "96X is WMJX Miami." Then silence until Top 40 WCJX took over the 96.3 frequency in 1986 and reviving the 96X branding.
Enjoy Tom Kent at 96X (UNSCOPED) here.

Enjoy Tom Kent at 96X (SCOPED) here.

(The Charlie Ritenburg Collection)



Rock Radio Scrapbook pays
online streaming fees to the
Society of Composers, Authors and Music Publishers of Canada (License 22-F)

---
Talent: JEFF MOULTON
Station: WRUN Rome-Utica, N.Y.
Date: March or April, 1978
Time: 3:58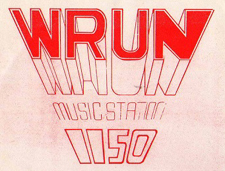 One of the pleasures of maintaining this site over the years has been the contact we've had with people in the radio industry. An added bonus has been the airchecks and historical information we've received from people both in and out of radio.
Long-time Rochester, New York, personality Jeff Moulton was kind enough to send along CD of his best work.
Enjoy Jeff Moulton on WRUN in Rome-Utica in 1978 here.

(The Jeff Moulton Collection)
---
Talent: TOM KELLY
Station: CKSL London, Ontario
Date: April 13, 1978
Time: 12:23

(Logo courtesy Bill Dulmage)
A search of the disc jockey directory 440:Satisfaction found three Tom Kellys.
First, there was the one who has worked at a number of east-coast stations, including WBEN Buffalo, WDRC and WTIC-FM in Hartford and WBIG-FM in Washington (his bio also includes KHOW Denver).
Then there's "Shotgun" Tom Kelly, a west-coast legend whose stops include KGB, KCBQ and KDEO San Diego, KRIZ Phoenix, KFRC San Francisco and KRTH Los Angeles.
There's also a listing for a Tom Kelly who worked for a couple of years at KMZQ Las Vegas.
But there's yet another Tom Kelly, and from north of the border yet. This Tom Kelly worked at CKRC in the late '60s into the '70s and at CKSL London in the '70s and '80s.
Enjoy Tom Kelly on CKSL from 1978 here.

(The Don Shuttleworth Collection)
---
Talent: STEVE SUMMER
Station: CJWA Wawa, Ontario
Date: April 24, 1978
Time: 1:00:12 (unscoped)
25:10 (scoped)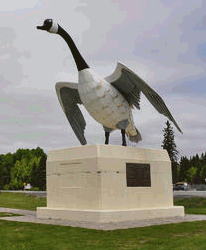 The Wawa Goose
As the song goes, "Video Killed the Radio Star." But that's only part of the story.
On this aircheck, Steve Summer spins the hits on CJWA Wawa in the spring of 1978. Summer is "learning the craft" as many a jock did back in the day when radio jobs were aplenty and stations had live jocks 24/7. One wonders how the aspiring jocks of today "earn their wings." Or maybe they don't, and wind up in other careers but sometimes dreaming what a career in radio would have been like. Who knows how many potential Wolfman Jacks, Cousin Brucies and Tom Rivers are out there never to be heard? But their former learning grounds are now occupied by computer hard drives, and radio is the worse for it.

Enjoy Steve Summer on CJWA (UNSCOPED) here.

Enjoy Steve Summer on CJWA (SCOPED) here.

(The Don Shuttleworth Collection)




Rock Radio Scrapbook pays
online streaming fees to the
Society of Composers, Authors and Music Publishers of Canada (License 22-F)

---
Talent: JACK ARMSTRONG as the THE UNKNOWN DJ
Station: WNBC New York
Date: April 30, 1978
Times: 28:52/46:10 (unscoped)
9:30/13:16 (scoped)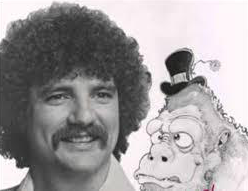 Jackson Armstrong screamed on the airwaves at some two dozen stations throughout North America in many of the major markets. Strangely, he never worked full-time in the New York market. He did make one appearance in the Big Apple, but he didn't use his normal air name! On April 30, 1978, Armstrong appeared one time only as the "Unknown DJ" on WNBC. Filling in on the 6-10 p.m. shift, Armstrong - with his ornery sidekick "The Gorilla" - showed New York audiences the talent that made him one of North America's most popular Top 40 jocks.
Armstrong tells the story behind his one-time appearance at WNBC:
"Bob Pittman was the Program Director at the time at WNBC and he knew me from his days at WPEZ in Pittsburgh when I was at 13Q. He asked me to do this gig as a bit promotion so I agreed. I'd been out of work for awhile so I was a little nervous about the whole thing. I guess it sounded okay but I was never offered a position at WNBC and went to KTNQ (10Q) in L.A. to do mornings. Funny thing though, I turned him on to a few records while I was there and one of them was "Play That Funky Music" by Wild Cherry. He hopped on the tune and it became as it became a national hit. We had already made it a smash in Indianapolis where I had been Music Director at WIFE. Later, Bob became VP at Warner-Ammex and asked me to do the premier episodes of a "clip" show called "Pop Clips" for Nickelodeon...That was such a success that they bought a transponder and started Music Television...which became known as "MTV"....I was offered a position with the first staff on MTV but the money was light and you had to move to NYC so I passed. Funny how things work out. God had other plans.....Rock Steady, Jackson."
Jack Armstrong died March 23, 2008 at his home in High Point, North Carolina.
He was 62.
Note: Buzz Brindle is Armstrong's lead-in on this aircheck.



To hear The Unknown DJ (Part 1 - UNSCOPED) click here.

To hear The Unknown DJ (Part 1 - SCOPED) click here.

To hear The Unknown DJ (Part 2 - UNSCOPED) click here.

To hear The Unknown DJ (Part 2 - SCOPED) click here.

(The Don Shuttleworth Collection)



Rock Radio Scrapbook pays
online streaming fees to the
Society of Composers, Authors and Music Publishers of Canada (License 22-F)

---
Talent: JACK FORSYTHE
Station: 96X (WMJX) Miami
Date: May, 1978
Time: 46:36 (unscoped)
5:07 (scoped)

More of the legendary 96X!
Enjoy Jack Forsythe at 96X (UNSCOPED) here.

Enjoy Jack Forsythe at 96X (SCOPED) here.

(The Charlie Ritenburg Collection)
---
Talent: JEFFERSON STONE
Station: WMJX (96X) Miami
Date: May, 1978
Time: 46:45 (unscoped)
10:05 (scoped)
And even more 96X!
Enjoy Jefferson Stone on WMJX (UNSCOPED) here.

Enjoy Jefferson Stone on WMJX (SCOPED) here.

(The Charlie Ritenburg Collection)
---
Talent: CHRISTIAN THIBAULT
Station: CHRC Quebec City
Date: June 10, 1978 and July, 1979
Time: 9:11/5:33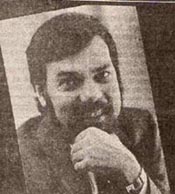 (Description by Michel Gignac)
Cliquez ici pour la description en français
"My heart belongs to only you" Christian Thibault pays a tribute to Bobby Vinton, gets carried away and sings…
The nephew of Gérard Thibault, owner of Chez Gérard cabaret and other night clubs from the Quebec City area, young Christian's keen interest for music dates back to his early days. He was part of a band but radio became his favourite way of expression right from the beginning. He first got in touch with radio at high school before moving to local discos to act as a disc jockey. In 1972 he was instrumental in bringing CKRL-FM to Quebec City, the first French-speaking community radio station in North America. He made plans to have his own program on the station but his project was rejected. His dream came true in 1974 when he sat in for a regular DJ at CJRP-1060.

In 1978, Christian Thibault was the first to introduce a radio show entirely devoted to oldies on the weekend on CHRC-800, then the most listened to radio station in Quebec City. The show was titled the "Million Dollar Oldies Man" and remained on the air for many years. CHRC was a conservative variety radio station with strong emphasis on news and public affairs. The station had rock music programs in the evening and on week-ends.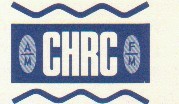 Thibault's aim was to unearth forgotten oldie hits so he did not only want to restrict himself to play the greatest hits of the past. He was an easy-going type of DJ, very communicative and a true music lover. Besides CHRC, he was on the air at CHOI-FM (ex-CHRC-FM).
Thibault left CHRC to get back at CJRP for a short stay and came back to CHRC in the 1980's. Thibault and his friend André Savard own an impressive collection of 45 rpms and many of those records were used on his oldie programs. Thibault is also the co-founder along with his brother of a revolutionary concept called "Tonight we dance French Style" aimed at promoting the use of French rock music in discos.

Thibault was also a reporter at defunct station CKCV and has always been deeply interested in the coverage of urban fires as a journalist. Starting as a pastime, his interest changed to a passion and lead him to create a website dedicated to the coverage of fires in the Quebec area (spiq.ca). He was a valuable contributor as a music and cinema expert at the TQS television network and on the André Arthur show (the king of radio ratings in Quebec for some 35 years). Concurrently to his radio career, Thibault was a teacher and a civil servant.
We have two airchecks of Christian Thibault on CHRC.
To hear Christian Thibault from June 10, 1978, click here.

To hear Christian Thibault from July, 1979, click here.

_____________________________________

To view a CHRC chart from 1964, click here.
To view a CHRC chart from 1979, click here.
_____________________________________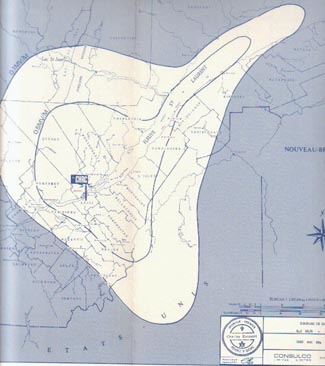 (For larger view, click here.)
(The Pierre Tremblay and Michel Gignac Collections)
---
Talent: JIM BRADY
Station: CFTR Toronto
Date: June, 1978
Time: 10:32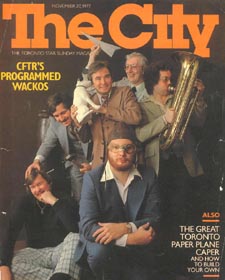 CFTR jocks and managers, November 1977

(Back (1-r): Dan Plouffe (OM), Paul Godfrey (9 a.m.-noon), Chuck Camroux (PD), Dick Joseph (noon-3 p.m.)
Front (l-r): Jim Brady (5:30-9 a.m.), Red Knight (3-7 p.m.)
Sometimes a goodbye really isn't.
In June 1978, Jim Brady said farewell after five years as CFTR morning man, played Glen Campbell's By the Time I Get To Phoenix, and headed into the sunset.
But it proved to be a short-lived departure. After two months at KOPA Phoenix, Brady returned to the CFTR morning show. He would spend another three years at 'TR before departing again, this time for rival Toronto station CJCL.
Enjoy Jim Brady's first CFTR farewell in 1978 here.

(The Bill Dulmage Collection)
---
Talent: RED KNIGHT
Station: CFTR Toronto
Date: June, 1978 (last show)
Time: 7:18
Toronto was truly blessed with great rock radio stations and on-air talent in the '70s. It was a special decade, as those who experienced it will attest to.
The decade started with CHUM and CKFH battling for rock radio ears on the AM band, and ended with CHUM and CFTR going after the same audience. In between, we heard lots of great radio.
One of the most memorable voices from that period was that of Red Knight. You may remember him as Peter Thompson (his real name) at stations like CJBQ Belleville and CKFM Toronto, or Steve Bradley at CKSL London or even as Jack London at CKLW Windsor. But from 1975 to 1978 it was Knight-time in the day-time at CFTR, and nobody quite rocked the Toronto airwaves in afternoon drive as Red Knight. His great pipes, great timing and off-beat sense of humour led to a memorable listening experience. Peter Thompson talks about his years as Red Knight at CFTR, and pays tribute to the "ops"...
"I had a chance to work with Mike Cooper, Big 'G' Walters and many other wonderful and talented people. It was an amazing few years, and I still like that kind of radio. We had some very talented ops in the building too and they were a big part of what made the station happen. Carl Ramprashad, John 'Fuzzy" Howard, Pete Summers, Carlo Raponi, Ted Manning, Dave Grein, and the amazing Zakos brothers and many more. We had a super working relationship and more than a few beverages together."
Rock Radio Scrapbook remembers Red Knight's last CFTR show here.

(The Bill Dulmage Collection)
---
Talent: BOB DAYTON
Station: WCBS-FM New York
Date: June or July, 1978
Time: 11:23

Had he been born a few years later, Bob Dayton might have made a career as a 'shock jock'. He was never afraid to "push the envelope" with regards to taste, in at least one case right over the edge.

On WABC in August 1965, Dayton dedicated the Crest's 16 Candles - which starts Happy Birthday, Happy Birthday, Baby - to the 20th anniversary of the Hiroshima bombing. Even by today's loose standards, this type of comment is totally unacceptable. But in 1965, it was downright shocking and Dayton was dismissed immediately from WABC after the "dedication".

The gaffe didn't seem to hurt his career - he went on to KBLA and KRLA Los Angeles and then back to New York on WCBS-FM and other New York-area stations.

We lost a unique and interesting talent when Dayton died of cancer in 1995. He was anything but bland.
Hear Bob Dayton on WCBS-FM here.

(Man From Mars Productions)
---
Talent: WCBS-FM Snippets
Station: WCBS-FM New York
Date: 1977-78
Time: Various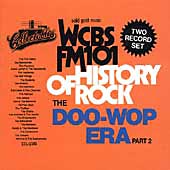 WCBS-FM brought us 33 years of great memories, not just for the music, but from the voices between the records as well.
In 1978, the oldies format at WCBS-FM was six years old, and the morning man (6-10 a.m.) was Jack Miller. He replaced original morning man Johnny Michaels in 1973 and was in turn succeeded by Harry Harrison in 1980.
Bill Brown did middays (10 a.m.-2 p.m.). He arrived at the station in 1969 - back when they called themselves "The Young Sound." Ed Williams did middays at 'CBS-FM when the station went to oldies in 1972. Brown took over middays in 1973 and held that or the early-afternoon shift for 32 years. He was the last jock heard when the oldies format ended in 2005.
Afternoon drive (2-6 p.m.) was the preserve of Dick Heatherton in 1978. He took over the shift from Bobby Wayne in 1973 and held it until 1986, when he was replaced by Bob Shannon.
WABC legend Bob Dayton owned the 6-10 p.m. shift in 1978. He was one of several to hold that time slot in the 1970s (the others included Bill Brown, Bobby Wayne, Norm N. Nite and Jim Harrington).
Don K. Reed was on from 10 p.m.-2 a.m. in 1978. Reed arrived in late nights before the oldies format began in 1972, and was there right to the end in 2005, on overnights. Nobody did more nighttime shifts in the WCBS-FM oldies era than Don K. Reed.
Rounding out the 1978 weekday schedule was Mike Fitzgerald (2-6 a.m.). He was preceded on the all-night show in the 1970s by a number of folks, including John Vidaver, Norm N. Nite, Bob Dayton, Jimmy Nichols and Chuck Collier. In the late 1990s, Fitzgerald resurfaced at 'CBS-FM in the late '90s in evenings, and was co-hosting mornings with Mickey Dolenz when the station said goodbye to oldies on June 3, 2005.
Jim Harrington preceded Dayton in the 6-10 shift at WCBS-FM. He also did weekends as did Jack Spector.
We have a trio of airchecks from 1978:

Dick Heatherton, 1978 (0:54)

Don K. Reed, 1978 (2:19)



Jim Harrington, 1978 (0:54)

(The Bill Dulmage Collection)
---
Talent: TED MICHAELS
Station: CHSC St. Catharines, Ontario
Date: July 18, 1978
Time: 17:08

Robert Earl Redmond is well-known as the man who founded St. Catharines, Ontario,-radio stations CHSC and CHSC-FM (later CHRE) in the late '60s, and several other stations. But one of his biggest contributions to the community had nothing to do with radio.
In 2003, Redmond donated $750,000 for urgently needed patient care equipment in the emergency room of St. Catharines General Hospital. In making the donation, Redmond said...
"Since the start of my broadcasting business in 1967, our community of Niagara has graciously accepted our AM and FM radio stations (CHSC 1220 AM, CHSC-FM, CHRE 105.7 FM). The success of my business was achieved through the listening audience and local business that always supported us. It is because of the tremendous response to all aspects of our broadcast business that I feel I am now in a position to give back to our community. Every family needs health care at one time or another and my family feels very strongly about this donation. We are very proud to be in the position to help the St. Catharines General Hospital Foundation purchase the urgently needed patient care equipment for the ER."
Redmond's broadcasting roots run deep. A native of Cobalt, Ontario, he got into the business in 1946 at the tender age of 16 at CJKL Kirkland Lake. He later moved to Roy Thomson-owned stations in Timmins and Peterborough. In 1958, he became vice-president of CHOW Welland. In the late '60s, Redmond launched CHSC and CHSC-FM (later CHRE) - the first simultaneous launch of an AM-FM combo in Canadian radio history. He later founded CKRY-FM Calgary, CJEZ-FM Toronto, and owned CHNR (now CHCD) Simcoe, Ontario.
Redmond died May 7, 2005 in St. Catharines after a long illness. He was 76.
One of CHSC's long-time on-air mainstays was Ted Michaels (by 2006 he was at CHML Hamilton).
Enjoy an aircheck of Ted Michaels here.

(The Don Shuttleworth Collection)
---
Talent: BRYAN COX
Station: CFQC Saskatoon
Date: July, 1978
Time: 7:10

Remember when every day part was important?
Morning shows get all the promotion and focus these days, but there was a time when every time-slot in the schedule was considered essential.
This aircheck of Bryan Cox takes us back to those times. The first we heard it, we thought it was a morning show. But upon closer inspection, we discovered this was actually a late-evening program that only sounds like a morning show.
Bryan Cox got his start in the promotions department of CJME Regina, where his duties included licking envelopes and cleaning washrooms. From there he moved to the all-night show at CKSA Lloydminster, Alberta, which led to gigs at CKSW Swift Current, Saskatchewan, and CFRY Portage La Prairie, Manitoba. The Edmonton native then moved to CFQC Saskatoon, where a few years earlier as a 12-year-old he had dropped in on the all-night show to see what radio was like. "I was hooked," said Cox, and a radio career was born.
Cox was in radio from 1971 to 1986. After a health scare that took away his ability to speak, Cox returned to broadcasting with a program called "Hey, Get Off My Lawn." As of 2014, it's heard on Sirius satellite radio and ltdradio.com.
Cox had strong words about the state of today's radio in a 2013 interview with Dennis Rimmer of examiner.com. "They have taken creativity out of radio. It all started in the late '80s and early '90s, the death of creative radio. Now all the stations play all the same songs and say all the same things such as "beat the box office" and "live on location. Nobody has had an original thought in years."
Enjoy Bryan Cox on CFQC here.

(Courtesy Ted Wendland, radiowest.ca)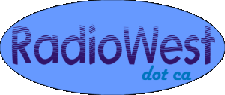 Be sure to visit radiowest.ca, a superb radio site hosted by Ted Wendland. Airchecks, jingles, photos, logos, history and forums - radiowest.ca has it all. Rock Radio Scrapbook says thanks Ted for sharing this aircheck!
---
Talent: BERNIE STAPLETON
Station: CFCB Corner Brook, Newfoundland
Date: July, 1978
Time: 5:12
Some of our greatest radio memories are of driving through the U.S. and Canada and hearing stations and personalities of all kinds. For every big-market 50,000-watt blowtorch, there were hundreds of smaller market stations that were fun to listen to and served their communities well. Every city and town brought new discoveries.
Nowadays we get the same pleasure via airchecks. Thanks to contributor Don Shuttleworth we get to visit Corner Brook, Newfoundland, in the summer of 1978, and enjoy the local Top 40 station.
Enjoy Bernie Stapleton on CFCB here.

(The Don Shuttleworth Collection)
---
Talent: JACK ARMSTRONG
Station: KTNQ Los Angeles
Date: August, 1978
Time: 6:42
After firmly establishing himself a legend in the east for a decade-and-a-half, Jack Armstrong took his act to California in the late '70s. Needless to say, the Golden State warmed to his act - he spent more than a decade there.
First stop in California for Armstrong was KTNQ/KHTZ Los Angeles in 1978 and '79. That was followed by a stint at KFI from 1979 to 1981.
Armstrong spent two years at KFRC San Francisco (1982-84) before returning to Los Angeles at KNX-FM/KKHR (1984-86). The man with the powerful lungs then moved to KBOS in Tulare, California, in 1988 (his last CHR gig), before resurfacing in the east in 1997 in his home state, at WMQX Winston-Salem, North Carolina.
In 2003, Armstrong returned to his old stomping grounds at WWKB Buffalo, New York, with a daily voice-tracked oldies show out of North Carolina.
Armstrong died March 23, 2008 at his home in High Point, North Carolina He was 62.
Hear Jackson Armstrong on KTNQ here.

(Scrapbook archives)
---
Talent: STAN ROBERTS
Station: WGR Buffalo, New York
Date: Summer, 1978
Time: 3:21
Many people have called Clint Buehlman or Dan Neaverth Buffalo's morning mayor. But here's a nomination for Stan Roberts. The man with the corny jokes and warm personality spent seven years as WKBW morning man beginning in 1963 after joining the station from Troy's WTRY. After a couple of years in Boston, he reappeared in Buffalo as WGR's morning man in 1972.
Roberts spent nine years at WGR, in that time telling more corny jokes that most people could in a lifetime. He was perfect for the morning slot there continued in the vein when he took over the morning show at WBUF-FM in 1981. He did an afternoon stint at WBEN later in the decade, and in the '90s he resurfaced in mornings at WSJZ-FM and WECK. All told, he was a Buffalo morning man for nearly four decades.
Hear Stan Roberts here.

(The Bill Dulmage Collection)
---
Talent: MURRAY JOHNSON
Station: CKY Winnipeg
Date: September, 1978
Time: 9:37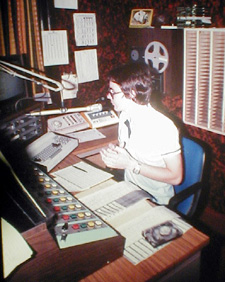 (Photo courtesy Murray Johnson)
CKY was one of Winnipeg's three great AM rockers back in the '70s, the others being CKRC and CFRW. Murray Johnson had the rare privilege of working at two of them during that decade, namely CKY and CKRC. He has some behind-the-scenes reflections from his days at KY 58...
"In the photo you'll notice that there are no turntables. The console had no faders, which made things interesting as you had to second guess the song fades. Everything was auto levelled so all we could do was turn audio on and off (this shows in some of the transitions in the aircheck). You'll see that there's a computer keyboard - Moffat was a pioneer in computer assisted music scheduling and playback (remember this was 1978). You selected a song and hit the keyboard spacebar to start it.

The music was dubbed to cart, re-equalized for consistency and sometimes edited to clean up intros or poorly chopped up radio versions (10CC's I'm Not In Love comes to mind). There were a bunch of 48 slot IGM Instacart machines that held the hits and recurrents and the computer provided access to it according to the MD's rotation. We played the gold off a manual 3 decker. The music sources all had delayed reverb and the mic had very subtle gated reverb. Commercials were manually loaded into a separate 3 decker with no reverb.

(Graphic courtesy Murray Johnson)

CKY was a really good place to learn radio. Our GM and PD's were all former CKLW Big 8 guys, and man did they put you through the wringer! But did you ever learn. CKY had a really big, friendly sound and it was a really fun place to work.

We used to have sessions with US based consultants who would work with all the jocks on various campaigns. I remember one fellow, J. Paul Huddleston - he was a Boss Radio News guy from KHJ. He had us running a campaign called "I Like You". I've included the sticker from that one for your collection - it's quite rare. J. Paul put across that news guys were supposed to be performers, too - and CKY had a very upbeat news style.
George Raymond was the Production Manager and he was an absolute wizard with the four track studio. Joey Gregorash was the madcap Creative Director (yes, THAT Joey Gregorash). We had a group of people at KY58/CITI that played musical instruments and George recorded all sorts of special elements and promos that got woven into the on air presentation. We had stuff nobody else could get - including knock offs of the hits with wildly different lyrics. This all made it really interesting to listen to and we all had a lot of fun.
I rounded out my on-air career doing news for KY58 and CITI-FM in 1978. In 1979 I joined the CBC, where I still work today (as of 2009) in Broadcast Engineering in Toronto."

Enjoy Murray Johnson on CKY here.

Enjoy Murray Johnson on CKY here.

(The Murray Johnson Collection)
---
Talent: ROGER KELLY
Station: CKRC Winnipeg
Date: September 3, 1978
Time: 8:24
The end was near, but CKRC soldiered on.
This aircheck from Labour Day Weekend 1978 captures a pretty-hot sounding CKRC with Roger Kelly. The days of Top 40 would soon be over for the station branded as "The Best of The West" - the next year CKRC would go country. A decade-and-a-half later it would disappear altogether as CKRC moved to the FM dial as CFWM-FM in 1996 and shut down its AM transmitter forever.
Enjoy Roger Kelly on CKRC here.

(The Bill Dulmage Collection)
---
Talent: PETE GRIFFIN
Station: CHUM-FM Toronto
Date: November 2, 1978 (Upgraded 5-24-11)
Time: 4:42
Pete Griffin is remembered as one-half of Pete 'n Geets, but he was a solo act for many years at CHUM-FM.
This aircheck captures Griffin on his own after Geets (David Haydu) left for Q-107 in 1978 (they would reunite at CFNY from 1982 to 1987.) The Pete 'n Geets act started at CHUM-FM in 1972. Prior to that, Griffin did his show solo, first in afternoons when CHUM-FM went to a progressive rock format in 1968, then to mornings in 1970. Griffin was a classical announcer at CHUM-FM before the switch to rock.
Griffin died of cancer May 23, 2011 at the age of 81.
Rock Radio Scrapbook presents Pete Griffin here.

(The Bill Dulmage Collection)
---
Talent: JEFF KAYE
Station: WBEN Buffalo, New York
Date: November 28, 1978
Time: 8:21

Jeff Kaye was a man of many talents. As a program director, he presided over one of the most memorable eras in Top 40 radio history - Buffalo's WKBW of the late '60s and early '70s. As a program host, Kaye is one of only four men to do the wake-up show at Buffalo heritage station WBEN. As a voice-over artist, he is an Emmy Award-winning voice of NFL Films.
The Baltimore-born Kaye started in radio with Armed Forces Radio in Morocco. Bitten by the radio bug, he later worked at WRIB in his wife's hometown of Rumford, Rhode Island. He moved to Top 40-formatted WHIM Providence, Rhode Island, and from there it was on to WBZ Boston when he first did overnights, then afternoon drive.
Kaye arrived at 'KB from WBZ in 1966 and was its program director until 1973. During that time, he assembled one of the greatest lineups ever heard on a Top 40 station. For a time in the early '70s, you could tune in 'KB and hear legendary jocks Dan Neaverth, Fred Klestine, Don Berns, Sandy Beach, Jack Armstrong and Bob McCrae - all on the same day.
Kaye was also the force behind the wonderful 1968 and 1971 adaptations of Orson Welles' War of the Worlds that aired on 'KB. It was during his time at 'KB that he also began producing Buffalo Bills broadcasts, experience that would serve him well later in life.
Kaye arrived at WBEN for afternoon drive in 1974. In 1977, he took over the WBEN morning show from Clint Buehlman, who himself had replaced Jack Paar in 1943. Kaye did morning drive at 'BEN for eight years, leaving in 1985 to be succeeded by Bill Lacy, who held the shift until 2001.
Kaye's voice is permanently immortalized in NFL Films, the Mount Laurel, New Jersey, company that since 1962 has produced commercials, feature films, documentaries and TV programs on the NFL. Kaye spent 10 years with NFL Films after leaving Buffalo radio in the mid-1980s. He retired after developing throat cancer in 1996, which left him with one vocal cord. Kaye was inducted into the Buffalo Broadcasters Hall of Fame in 2002. He died November 12, 2012 at the age of 75.
Enjoy Jeff Kaye on WBEN here.

(The Bill Dulmage Collection)
---
Talent: JACK MINDY
Station: WBEN Buffalo, New York
Date: November 28, 1978
Time: 7:13

The friendly, cheerful voice of Jack Mindy was on the radio on one station or another for more than half a century beginning in 1957. The Ithaca College grad got his start at WGVA Geneva, New York, in 1962, and since then has worked in a variety of stations, markets and formats. His resume includes well-known stations like KMOX and KXOK St. Louis, WJR Detroit, WTIC Hartford, WHAM Rochester, New York, WHEN Syracuse, New York, and WYSL and WWKB Buffalo, New York. His final gig before retiring from on-air work in 2009 was afternoon drive at Rochester jazz outlet WGMC. More at Jack's web site.
We remember Mindy from his days at WBEN. He did a very entertaining afternoon drive show at the Buffalo station from 1978 to 1987.

Enjoy Jack Mindy on WBEN here.

(The Bill Dulmage Collection)
---
Talent: RON ARLAND
Station: WKBW Buffalo, New Yorl
Date: November, 1978
Time: 8:16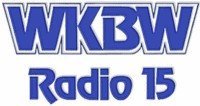 (Logo courtesy Bill Dulmage)
Connecting with the audience was a key part of personality radio. Ron Arland does it well in this aircheck of WKBW from 1978.
'KB's night-time jock of the time congratulates a contest winner, sends out some birthday greetings and fills some record requests as part of a smooth, relaxed presentation.
Arland was part of an outstanding 'KB lineup of the time that included Dan Neaverth (mornings), Jon Summers (middays), Jay Fredericks (afternoon drive) and Hank Nevins (all night).
Hear Ron Arland on 'KB here.

(The Bill Dulmage Collection)
---
Talent: NEIL SANDERSON
Station: CKX Brandon, Manitoba
Date: 1978
Time: 5:20

Neil Sanderson's long and varied media career began in the mid-70s.
Sanderson got his start in 1976 at CKPT Peterborough, Ontario. He then moved to Manitoba for stops at CKX Brandon and CFRW, CKRC and CBC Winnipeg. From 1983 to 1987, he was in Vancouver at CKWX/CJAZ-FM and CKKS-FM. He later moved to New Zealand, where he was editor of nzherald.co.nz, the online edition of the New Zealand Herald from 2000 to 2006. Before that he was at KOOL 93 in Auckland in 1995 and was a broadcasting trainer/consultant in South Pacific and South Africa 1988-99.
Hear Neil Sanderson on CKX here.

(Courtesy Ted Wendland, radiowest.ca)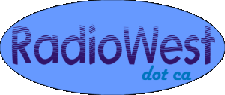 Be sure to visit radiowest.ca, a superb radio site hosted by Ted Wendland. Airchecks, jingles, photos, logos, history and forums - radiowest.ca has it all. Rock Radio Scrapbook says thanks Ted for sharing this aircheck.
---