AIRCHECK OF THE WEEK
Edition #1139
Week of April 11, 2021


Talent: MARK ELLIOTT
Station: KHJ Los Angeles
Date: December 31, 1970
Time: 1:02:04 (unscoped)
12:03 (scoped)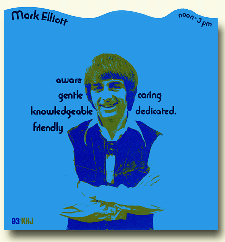 Somewhere along the way you've probably heard Mark Elliott.
The man born John Harrison Frick, Jr., was one of the biggest voice talents of the '70s and '80s. He got his start in 1977 doing promos with "Smokey and the Bandit", "Star Wars" and "The Goodbye Girls", and his career took off from there, eventually landing the spot as production voice for Disney from 1983 to 2008 while also finding time for FOX and CBS. But he honed his craft in radio, starting with a couple of gigs in his hometown of Cedar Rapids, Iowa, then moving to the larger markets of Des Moines (KOIA), Cleveland (WKYC), Windsor-Detroit (CKLW), San Francisco (KFRC) and Los Angeles (KHJ). He filled in for Casey Kasem on American Top 40 and also has his own weekly countdown show from 1979 to 1982.
Elliott gives big credit to radio for his success in voice work. "Radio is a great background because it gave you a sense of time", he told the Hollywood Reporter. "If you had seven seconds at the beginning of a song to talk it up, you learned to know what seven seconds were."
Hear Mark Elliott on KHJ here.

Hear Mark Elliott on KHJ here.

(The Tom Howard Collection)


The Aircheck of the Week PREVIEW!



We're previewing the Aircheck of the Week on Facebook. Every Friday, we post the audio link to the Aircheck of the Week on Facebook with the full feature to follow on Sunday as usual.
---