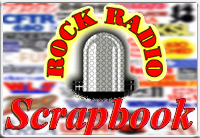 Airchecks: 1970
Talent: FRANK BRODIE
Station: CKLW Windsor, Ont.
Date: January 1, 1970
Time: 12:34
Talent: RON SHERWOOD
Station: WKNR Dearborn, Mich.
Date: January 1, 1970
Time: 15:53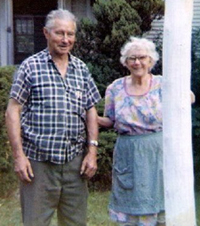 Floyd
and
Naomi Howard
. Tom's grandparents (Courtesy
Tom Howard
)
For Tom Howard, airchecking was a family affair.
When the long-time radio buff moved from Michigan to southern California in 1961, he faced the problem of how to record his favourite Detroit-area stations. The answer: get family members to record it. His grandmother, Naomi Ruth Howard, did much of the recording on a tape recorder. He picks up the story:
"I asked my grandmother if she would record CKLW for me. She had a Concord AM radio built into the tape recorder. I showed her how to feed the tape on the reels. I know it was hard for her to do... Sometimes she would have to wait when my cousins or uncle came over or a friend to help her get the tape started, sometimes she did fine. She would tape in the kitchen, the phone would ring and stop the tape. I said well after you get it ready why not move it in the back bedroom and close the door and forget it's going. That worked she said. She loved music and this was nice doing this for me. I got those tapes from Feb. 68 first one
Mike Rivers
show. The last tape was
Pat Holiday
April 15, 1971."
Other family members also helped out, as Howard explains:
"My uncle ... sometimes would tape CKLW and WKNR for me. When my mother would go to Detroit to visit her mother, I got her to take the cassette radio recorder and she would tape CKLW and WKNR. She would be on the Detroit side of Telegraph (Michigan) and WKNR came in good."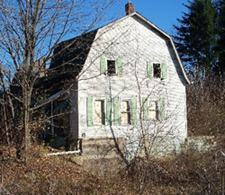 Many of the CKLW airchecks on
Rock Radio Scrapbook
were taped here. (Courtesy Tom Howard)
Howard finishes the story...
"My grandmother I got to see the last time in October 1984. I was back when the Tigers won the World Series. It was one week to the day she passed in October 1984 - she was 89 years old. I thanked her many times and told her I still have all the tapes she made. I said they are super to listen to and that I knew a few of the DJ's on the tapes she recorded and they didn't have anything on the tape other than what she recorded. I said many others in Ca. loved to listen to CKLW, from Michigan and Ohio, I knew out here."
Thanks to Tom's uncle - who was rolling tape at his nephew's request - we have a chance to hear Detroit rivals CKLW and WKNR side-by-side on New Year's Day 1970. On that day, CKLW was counting down the Top 100 of the '60s, while WKNR countered with the Top 113 of 1969.
Enjoy
Frank Brodie
on
CKLW from January 1, 1970
here.

Enjoy
Ron Sherwood

on
WKNR
from January 1, 1970 here.

(The Tom Howard Collection)
---
Talent: DALE DORMAN
Station: WRKO Boston
Date: January 3, 1970
Time: 8:41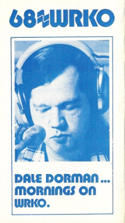 "He was the king."
Boston was Dale Dorman's kind of town.
Dorman spent 40 years on the air in the Hub, starting in 1968 at Top 40 rocker WRKO. In 1978 he moved to WVBF for a couple of years before beginning an 18-year stay at WXKS (KISS 108). Dorman spent his last five years in radio doing weekends at WODS (Oldies 103) ahead of his retirement in 2008.
Dorman got his start in 1964 at WCHN-AM-FM in Norwich, New York, not far from Homer where the future jock was raised. He went to WOLF Syracuse, New York, in 1965 before heading west for late '60s stops in KYNO Fresno, California, KBTR Denver and KFRC San Francisco. Then it was on to Boston where he spent the remainder of his 44-year career.
"Dale was a really smart guy," said Matt Siegel, host of the "Matty in the Morning" show on KISS-108. "His work ethic was tremendous, he was very hardworking and loyal. He was one of those guys that everyone in radio knew of. He was the king."
Dorman was inducted in the Massachusetts Radio Hall of Fame in 2010. He died October 21, 2014 in Tewkesbury, Massachusetts, after a long illness. He was 71.
Hear Dale Dorman at WRKO here.

(The Bill Dulmage Collection)
---
Talent: KEITH HAMPSHIRE
Station: CKFH Toronto
Date: January 15, 1970
Time: 5:46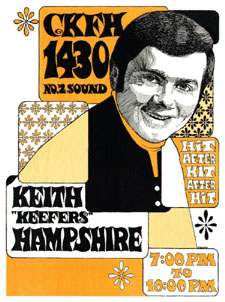 They called themselves number-two radio. But in the hearts of many Toronto radio listeners in the late '60s and early '70s, CKFH was number-one.
For years, starting in 1957, CHUM radio was the dominant Top 40 powerhouse in Toronto radio. Sure CKEY gave them a good run in the early '60s, but they were gone - an MOR station - by 1965. But by 1967, another challenger had appeared, the quirky, unpredictable CKFH. They played the songs CHUM didn't play: British hits, album cuts, rhythm and blues. Their deejay lineup ranged from the offbeat Big G. Walters to one of the masters of the Top 40 format in Toronto - Dan O'Neil. And with all due respect to the legendary CHUM, it was the anti-CHUM.
One of the early on-air personalities at 'FH was Keith Hampshire, who came to the station in 1968 after a stint at Radio Caroline South, the British offshore "pirate" station. Hampshire, who was born in London, England and raised in Calgary, went on to a successful career as a recording artist and has become one of Canada's top commercial voice talents.
Keith Hampshire can be heard here.

(The Keith Hampshire Collection)
For more fabulous CKFH airchecks, visit The Tom Fulton Collection
---
Talent: STEVE O'BRIEN
Station: CKFH Toronto
Date: January, 1970
Time: 2:22

Toronto radio has been blessed with plenty of on-air talent that appeared only briefly in the city. Jim Nettleton, Jackson Armstrong, George Hamberger and Murray the K to name a few made appearances in Toronto radio that simply weren't long enough. One of those on the list of short-term greats is Steve O'Brien, whose long resume includes stops at CKLW, WABC, WYNY and WCBS-FM to name just a few. In 1969-1970, he spent a few months at CKFH, then Toronto's number-two rocker.
Hear Steve O'Brien here.

(Scrapbook archives)
---
Talent: GARY GEARS
Station: WLS Chicago
Date: January 21, 1970
Time: 30:36 (unscoped)
14:03 (scoped)

"For Mid-America, the Chicago Giant"
Two great voices on one aircheck.
First, you'll hear Gary Gears, the long-time jock who spent much of his radio career in Chicago, and also came up to Toronto now and then to do the occasional weekend shift at CHUM while also doing imaging for them. Then you'll hear legendary newsman Jeff Hendrix, who spent 31 years at WLS, 1968 to 1999, covering much of the station's Top 40 years and the first decade of the news-talk era there.
Enjoy Gary Gears on WLS (UNSCOPED) here.

Enjoy Gary Gears on WLS (SCOPED) here.

(The Don Shuttleworth Collection)
---
Talent: BOBBY STEELE
Station: CHLO St. Thomas, Ont.
Date: Early 1970
Time: 8:49
They couldn't go faster than a speeding bullet, weren't more powerful than a locomotive, and couldn't leap tall buildings in a single bound. But they could hit a post They were Top 40 radio's "Men (and Women) of Steele".
Steele was a fairly common surname for jocks during the Top 40 radio era. The deejay listing site 440:Satisfaction lists nine Steeles and one Steel.
The most famous of all the Steeles is The Real Don Steele, one of the original Boss Jocks when KHJ launched the Drake format in 1965. There was also Alison Steele of WNEW-FM New York fame, and CHUM legend Terry Steele.
Top 40 radio listeners in the Ontario locales of St. Thomas, London, Hamilton and Ottawa had their own Steele. Bobby Steele started as a teenager at CHLO in 1968. He spent three years there before leaving for CKOC Hamilton. Bobby Steele also spent time at CKSL and CFPL London as well as CFRA Ottawa before leaving radio in the early 1980s to go into teaching.
Enjoy Bobby Steele at CHLO here.

(The Charlie Ritenburg Collection)
---
Subject: CHLO SWITCHES FROM 680 to 1570
Station: CHLO St. Thomas, Ont.
Date: February 12-13, 1970
Time: 31:40 (unscoped)
12:59 (scoped)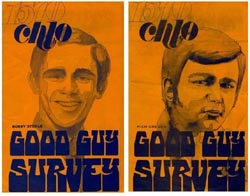 (Bobby Steele (l) and Rich Grevin/Courtesy Bill Nagy)
Money talks, and when CHFI-AM offered to pay to move CHLO from 680 to 1570, the St. Thomas, Ontario, station listened.
Radio historian Bill Dulmage of the Canadian Communications Foundation has the rest of the story...
"1963 - Ted Rogers, owner of CHFI in Toronto was willing to pay CHLO St. Thomas to move from 680 kHz to 1410 kHz so that CHFI could use the 680 frequency and add night-time service. CHFI was limited to daytime-only operation on 1540 kHz because it was an American clear channel and stations such as KXEL in Waterloo, Iowa, had to be protected. CHLO's application to move to 1410 kHz was denied and the frequency was awarded to CKSL 1290 in London. Rogers Broadcasting Ltd. decided to move ahead with its application to use 680 kHz for night-time operation only while continuing to operate on 1540 kHz during the day.

In October, CHFI-AM was given approval to add night-time service, using 680 kHz with a power of 10,000 watts. Daytime operation would continue on 1540 kHz with power of 50,000 watts.

1964 - CHFI-AM was authorized to broadcast on 680 kHz during the day as well as at night.

1965 - Souwesto Broadcasters made it clear that it had no plans to vacate the 680 frequency when rumours continued to circulate on the matter. The company said CHLO had been on 680 kHz since it signed on the air in May of 1948 and was staying there. Engineering research showed that CHLO and CHFI could both operate full-time on 680 kHz.

1966 - On March 28, CHFI Toronto ceased daytime operation on 1540 kHz and began fulltime broadcasting on 680 kHz. CHLO switched to a Top 40 format.



1970 - On February 13, at 12 a.m., CHLO moved from 680 kHz to 1570 kHz, CFPL London's old frequency. Power increased from 1,000 watts full-time (one directional pattern) to 10,000 watts full-time (two directional patterns). CHLO was now operating from a transmitter site located about one mile west of Sparta on Elgin Road 27. Eight 220 foot towers were used. Ted Rogers, owner of CHFI Toronto made two agreements with CHLO. The first was in 1966, allowing CHFI to move from 1540 kHz to 680 kHz, thus causing some interference to CHLO. In the second agreement, Rogers paid for CHLO's move from 680 kHz to 1570 kHz."
CHLO and CHFI-AM took divergent paths after the frequency switch. In 1972, faced with stiff competition from CJOE (later known as CJBK), CHLO switched to an album rock format. Later, it took a country format. By 1994, CHLO moved to FM at 103.1, was renamed CFHK and as "The Hawk", began playing classic rock. Meanwhile, CHFI-AM changed its call-letters to CFTR in 1971, switched from easy-listening to Top 40 and quickly became one of Canada's leading rockers. In 1993, CFTR moved from Top 40 to all-news.
Bobby Steele was the final jock on 680 CHLO and Rich Grevin was the first jock on 1570 CHLO. Doug Hines does the final newscast on 680 CHLO as you'll hear on this aircheck.
Hear how CHLO switched from 680 to 1570 (UNSCOPED) here.

Hear how CHLO switched from 680 to 1570 (SCOPED) here.

(The Charlie Ritenburg Collection)




Rock Radio Scrapbook pays
online streaming fees to the
Society of Composers, Authors and Music Publishers of Canada (License 22-F)

---
Talent: CHARLIE TUNA
Station: KHJ Los Angeles
Date: March 13, 1970
Time: 8:23
The great wit and charm of Charlie Tuna is on full display on this Friday the 13th aircheck about halfway through his first stay at KHJ. Tuna shows the stuff that would get him named to the National Radio Hall of Fame in 2008. Tuna never lets up cracking wise as he fills in, first for Robert W. Morgan and then for Bill Wade. Charlie Tuna for Robert W. on KHJ? Those really were the days.
Charlie Tuna died February 19, 2016. He was 71.
Enjoy Charlie Tuna on KHJ here.

(The Don Shuttleworth Collection)
---
Talent: GARY GRANGER
Station: WKNR Dearborn, Mich.
Date: March 17, 1970
Time: 29:24 (unscoped)
WKNR tightened its playlist and took off for the top.
On October 31, 1963, WKNR launched with 24 hours of Halloween programming, followed by "The Battle of the Giants", where listeners were invited to request their favourite songs. Motown's interest peaked, "Keener 13" moved into the next phase - a short playlist (31 songs plus one "key" song of the week and a few oldies). With competitors WJBK, WXYZ and CKLW going with much longer playlists (80-100 songs at times), listeners opted for the familiar. By the end of the year - despite a weak signal that missed most of Detroit's east side - WKNR had vaulted to the number-one spot among Detroit-Windsor Top 40 stations.
Keener 13 sailed along at the top until April, 1967, when ironically it was beaten by its own formula. CKLW adopted the super-tight Drake format and, with its powerful 50,000-watt signal, moved past WKNR into the top spot. Keener battled on for the few more years but fading ratings brought an end to the WKNR era on April 25, 1972.
Keener was about more than just music - it was about great personalities. Jocks like Mort Crowley, Robin Seymour, Jerry Goodwin, Gary Stevens, Bob Green, Dick Purtan, Scott Regen, Tom Near (later Tom Rivers), J. Michael Wilson, Pat St. John, Jim Jeffries and others all played key roles in WKNR's success. Another reason to listen was Gary Granger, who did evenings on Keener in 1969 and 1970. Granger, who was previously at WQXI Atlanta, left WKNR to put WSHE Miami on the air in 1971 and later served as president of Brill Media in Richmond, Virginia.
Enjoy Gary Granger on WKNR here.

(The Tom Howard Collection)



Rock Radio Scrapbook pays
online streaming fees to the
Society of Composers, Authors and Music Publishers of Canada (License 22-F)

---
Talent: RICK HONEY
Station: CKLG Vancouver
Date: March 20, 1970
Time: 6:34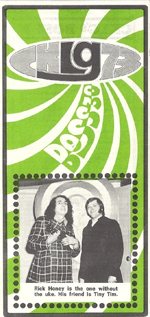 Saturday, August 22, 1964 provided a double dose of excitement for fans of hit music in Vancouver. Not only did the Beatles play their first (and as it turns out only) B.C.'s largest city, they also got a new Top 40 station, as CKLG became the third outlet in the city's history to adopt the format following CKWX and CFUN.
CKLG began in 1955 with a middle-of-the-road format. Since the "LG" in the call letters stood for "Lions Gate" it made sense to call the station "Lion Radio" when it went Top 40. Naturally, the jocks were called "Top Cats." In September 1966, following the Drake radio example in the U.S., CKLG started calling itself "Boss Radio" with the "Boss Jocks." The Boss designation disappeared around mid-1971.
Rick Honey began a three-decade Vancouver radio career at CKLG in 1970. He had previously been in Sydney, Nova Scotia, Thunder Bay, Ontario, and Winnipeg. Honey left CKLG in 1973 for a 24-year run at CKNW. He also appeared on CKSR-FM (STAR-FM) in Chilliwack, B.C., and CKBD Vancouver before his death on February 24, 2001 at the age of 53.
Enjoy Rick Honey on CKLG from March 20, 1970 here.

(Courtesy Ted Wendland, radiowest.ca)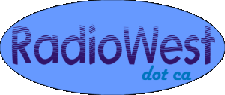 Be sure to visit radiowest.ca, a superb radio site hosted by Ted Wendland. Airchecks, jingles, photos, logos, history and forums - radiowest.ca has it all. Rock Radio Scrapbook says thanks Ted for sharing this aircheck.
---
Talent: JACK ARMSTRONG
Station: WNTC Potsdam, N.Y.
Date: April, 1970
Time: 4:33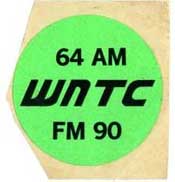 Never wait.
That was the lesson we learned in March, 2008 following the death of Top 40 radio superstar Jack Armstrong. You see, on the 21st of that month we were wondering what Armstrong had to say about his one-off appearance at WNTC Potsdam, New York, in April, 1970. We were going to e-mail him about it, but decided to do it later.
Well, there was no later. On March 24 we and many others learned of the passing of Armstrong at his home in High Point, North Carolina. Like many we were saddened but also regretful that we had not contacted him about WNTC and more of his other radio experiences over the years. After all, he was always quick to respond to our queries in the past.
WNTC was the campus station at State University College in Potsdam. In April, 1970, Armstrong was in Denver doing evenings at KTLK. At the invitation of Jon Wolfert (later of PAMS and JAM Creative Productions), Armstrong agreed to tape a show for WNTC (yes, a college radio station!) doing so one night after finishing one of his KTLK programs. You can hear the result below.

Hear Jack Armstrong on WNTC here.

(Scrapbook archives)
---
Talent: TERRY MANN
Station: CKLB-CKQS Oshawa, Ont.
Date: 1970-72
Times: Various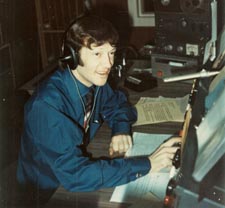 (Terry Mann at the WNDR mike - his favourite photo! Courtesy: Guy Henning)
Quick, who was the only deejay to jock at all three of CHUM, CKFH and WKBW?
If you answered Terry Mann, go to the head of the line.
Born Bill Henning in Wingham, Ontario, December 21, 1936, Mann had a stellar radio career. In addition to the aforementioned stations, he also worked at WNDR in Syracuse, New York, and CKLB in Oshawa, Ontario. (he also did spots for its FM station CKQS). All the time he never stopped cheering for his favourite team, the Cleveland Indians. His son, Guy Henning, told Rock Radio Scrapbook Mann used to drive to the west end of Toronto just so he could hear the radio broadcasts of his beloved Indians (from 1950 to 1972 the flagship station of the Indians was WERE 1300 in Cleveland). Now that's a fan!
Sadly, Terry Mann left us too soon, passing away in June, 1973 of diabetes-related complications. He was only 36.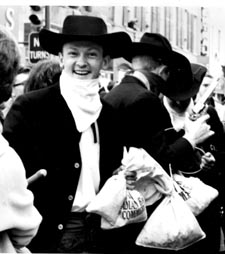 (Photo courtesy Guy Henning)
We have some very entertaining commercials and promos Terry Mann did back in his CKLB-CKQS days:

Hear Terry Mann's Dodsworth Printing Super Printer commercial #1 here. (1:12)



Hear Terry Mann's Dodsworth Printing Super Printer commercial #2 here. (1:15)



Hear Terry Mann's promo for The Last Goon Show of All here. (0:59)



Hear four Terry Mann commercials for Seigneur's Sportswear here. (2:24)


(The David Lennick Collection)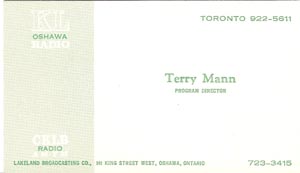 (Graphic courtesy Guy Henning)
---
Talent: J. MICHAEL WILSON
Station: CHUM Toronto
Date: June 9, 1970
Time: 51:50 (unscoped)
16:22 (scoped)

CHUM had a mouse long before personal computers came along, but this was the kind that eats cheese. And that particular "rodent" was all the creation of one CHUM's most entertaining jocks of the late '70s and early '70s, J. Michael Wilson.
Wilson had big shoes to fill when he arrived at CHUM in the afternoon drive shift in the fall of 1968. After all, he was replacing one of southern Ontario's most popular deejays, Bob McAdorey. But Wilson won 'em over with his corny jokes and his trusty sidekick, Rodney The Rodent, during his two-and-a-half-year stay at CHUM
Hear J. Michael Wilson on CHUM (UNSCOPED) here.

Hear J. Michael Wilson on CHUM (SCOPED) here.




(The Bill Dulmage Collection)
---
Talent: TOM RIVERS
Station: CHUM Toronto
Date: July 29, 1970
Time: 59:59 (unscoped)
11:20 (scoped)
A new golden era at CHUM had dawned by 1970. Gone were 1960s stars like Brian Skinner, Bob McAdorey and Mike Darow. Replacing them was another memorable bunch that as the '70s progressed would include the likes of Terry Steele, Scott Carpenter, Mike Cooper, Jim Van Horne, John Majhor, John Rode, Roger Ashby, Mark Edwards and Duke Roberts. It was a special era of high-energy radio.
One of the most remembered CHUM jocks from this period was Shotgun Tom Rivers, who arrived at 1050 CHUM in the early evening shift in 1970. He left in 1971, then came back from 1972 to 1975. He later would host CHUM's morning show in the early 1980s. After a stop in Edmonton, he returned to the Toronto airwaves in the 1990s at CKFM, CJEZ and CHOG. He died of cancer November 20, 2004 after yet another return to CHUM.
Enjoy this classic aircheck of Tom Rivers (UNSCOPED) here.

Enjoy this classic aircheck of Tom Rivers (SCOPED) here.

(The Bill Dulmage Collection)
---
Talent: TOM RIVERS (a.k.a. ROCKETMAN)
Station: X-100
Date: Unknown (believed to be 1970s)
Time: 7:46
Tom Rivers tells the story behind one of Top 40 radio's greatest parody airchecks here.
Hear X-100 with Tom Rivers as Rocketman here.

(The Charlie Ritenburg Collection)
---
Talent: JOHN RODE
Station: CHUM Toronto
Date: July 30, 1970
Time: 10:46
John Rode is living proof that you can have fun on the radio within the tight confines of the Top 40 format. It is a task not easily done but Rode has played the format to fit his personality like a maestro.
Arriving in Toronto in 1969 after a stint at WRKO Boston, Rode first entertained Toronto audiences at CKFH "The Big 143" in morning drive. It was a memorable show. After that it was on to CHUM, where the Mensa Society member spent much of the '70s mostly in daytime slots. By the late 1980s, Rode was at KEY-590 Toronto where he did a well-received morning show. The 1990s found Rode back at CHUM as the regular fill-in on the morning show.
Rock Radio Scrapbook presents John Rode here.

(The Bill Dulmage Collection)
---
Talent: ROGER ASHBY
Station: CHUM Toronto
Date: August, 1970
Time: 23:03 (unscoped)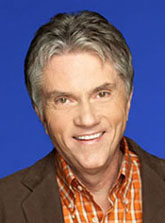 It's difficult to say what is Roger Ashby's greatest radio legacy. After all, he has had so many of them.
Is it be the Sunday Morning Oldies Show? Ashby debuted this wonderful program November 20, 1980 and it remained on the air in one form or another - on CHUM or CHUM-FM at different times - until the demise of CHUM-AM as a music station in March, 2009.
Or perhaps it's his role in Roger, Rick (later Darren) and Marilyn. The CHUM-FM morning show began just after Labour Day 1985 with Ashby as the sole host. Rick Hodge (replaced by Darren Lamb in 2007) and Marilyn Denis both joined within a year and the show went on to become of the most popular and longest-running morning shows in the history of Toronto radio.
Then again, maybe Ashby's best legacy is his early years as a jock on CHUM-AM. Ashby came to CHUM September 2, 1969 from CKOC Hamilton. He spent two-and-a-half years on the all-night show at CHUM before moving to the coveted midday shift in 1972 where he stayed until moving into programming later in the decade.
Ashby's passion for radio goes back to his childhood. His father built a mock studio in his basement, and from the ages of 10 to 17 young Roger broadcast to the radios in his parent's house. Ashby, who spent his early years in the southern Ontario communities of Brantford, Orangeville and Waterloo, got his first paying job as an operator at CKKW Waterloo. He got his first on-air gig in 1967 when CKKW-FM was launched. In November, 1968, Ashby moved to CKOC where he stayed until the move to CHUM in the late summer of 1969.
Enjoy Roger Ashby on CHUM here.

(The Gary J. Peterson and Donald Major Collections)
---
Talent: CHUCK McCOY
Station: CHUM Toronto
Date: August, 1970
Time: 31:04 (unscoped)
6:46 (scoped)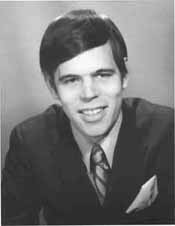 How do you replace a legend? That was the question Chuck McCoy faced in February, 1969 when he took over from Jack Armstrong in the coveted 7-11 p.m. shift at CHUM. Not only that, but McCoy was stepping into a time slot that had previously been occupied by Brian Skinner, Dave Johnson and for a time, Dick Clark. But McCoy did just fine, to say the least, staying in evenings at CHUM for several years until departing for a very successful career in radio management.
The Chucker started in radio in 1965 as a jock at CKY Winnipeg. He was Merv Clark at CKY, but changed his name to Chuck McCoy when he moved to CJME Regina in 1966 (Chuck came from deejay Chuck Dann, McCoy came from the group that had the hit Hang on Sloopy).
McCoy went CJRN Niagara Falls, Ontario, later in 1966, then to CHLO London, Ontario, in 1966 and 1967. He was at Toronto's CKFH in 1968 before moving to CHUM and taking over Armstrong's shift. After leaving CHUM, he headed to CFUN Vancouver in 1973 where as PD he helped that station to the top spot in the market. From there he moved to Winnipeg, where in 1979 he began a seven-year stint as National Program Director for Moffat Communications. After, four years as a partner with McCoy Bohn Media, McCoy began a long career in management for Rogers Communications in the early '90s.
In his tenure at Rogers, McCoy has been general manager for Vancouver stations CKWX and 97 KISS FM, VP and GM for CHFI, KISS 92, 680 News and the Fan 590 in Toronto, and executive VP, programming and marketing for all the Rogers radio stations. In addition, McCoy has served on the board of several industry stations. In 2009, McCoy received the Lifetime Achievement Award in the Canadian Music Week Hall of Fame. He was also inducted into the Canadian Music Industry Hall of Fame.
Enjoy Chuck McCoy (UNSCOPED) here.

Enjoy Chuck McCoy (SCOPED) here.

(The Gary J. Peterson and Donald Major Collections)
---
Talent: WALT "BABY" LOVE
Station: CKLW Windsor, Ont.
Date: August 29, 1970
Time: 8:11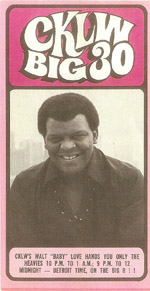 (Chart scan courtesy Tom Howard)

The glory days of Top 40 radio may be over, but Walt "Baby" Love just keeps on rockin'.
Love entertained at many of the biggest stations in Top 40 radio history, including CKLW, KHJ, KFI, KILT, WNBC, WXLO and WOR-FM. Along the way, he became the first African-American to work for both Lin Broadcasting in the south and the RKO chain. But in 1983, Love went into a new direction as he began hosting The Countdown with Walt "Baby" Love. The show has gone on to become the longest-running syndicated R&B show in radio and has won Billboard's Best R&B Syndicated Radio Show award multiple times. He also hosts the syndicated shows Gospel Traxx, The Urban AC Countdown and African-Americans Making It Happen. In addition to his radio work, Love was Urban Radio and Music editor at Radio and Records for 21 years.
While he calls himself Walt "Baby" Love on air, the Pennsylvania native is known off-air as Reverend Walter Shaw. In 1997, he was ordained in the ministry at the First House of Prayer in Chicago. Later he was ordained as a Deacon in the African Methodist Episcopal (AME) denomination at FAME, First African Methodist Episcopal Church of Los Angeles. He earned the designation of local elder in the AME Church in 2003 and is now an associate minister at FAME.
Hear Walt "Baby" Love on CKLW here.

(The Tom Howard Collection)
For more great 'CK airchecks, visit The CKLW Years
---
Talent: FRED KLESTINE
Station: WKBW Buffalo, N.Y.
Date: October 12, 1970
Time: 9:36

"If you're good, you'll always work somewhere." - Fred Klestine
Fred Klestine was good, and for 40 years he always had a radio station to work at. He started in the 1950s at WWOL in his hometown of Lackawanna, New York, where he had been working at a steel mill. The authoritative-sounding Klestine - he had a newsman's voice and delivery - went to WBNY before winding up ay WKBW in the 1960s. Klestine was a steady midday presence at 'KB during its golden years of the '60s and early '70s.
Strait-laced on the air, but funny off of it, Klestine left 'KB in the early '70s only to soon wind up at jazz-centric WADV. This was perfect for Klestine, a jazz buff who knew many of its performers personally. He worked there until the early '80s when he signed on with WBUF, a very successful adult contemporary/oldies outlet in the '80s and early '90s. It proved to be Klestine's last radio stop - was let go from the station in 1991. Klestine died May 24, 1992, one week after suffering a stroke that left him in a coma. He was 68.
Enjoy Fred Klestine on WKBW here.

(The Mark Yurko Collection)
---
Talent: JOHNNY ONN
Station: CJME Regina
Date: October 16, 1970
Time: 19:36
Wanted poster from the "October Crisis"
It was one of the darkest periods in Canadian history, a time of terror and tension. It has come to be known as the "October Crisis."
The nightmare began October 5, 1970 when armed gunmen burst into the Montreal home of senior British trade commissioner James Cross and kidnapped him. It was the first political kidnapping by the FLQ (Front de Libération du Québec), a radical separatist group that first made headlines in the 1960s with a campaign of violence to promote their cause of separation of the province of Quebec from Canada. They left a ransom note demanding the release of 23 so-called political prisoners, $500,000 in gold and safe transport out of the country.
On October 10, another FLQ cell kidnapped Quebec labour minister Pierre Laporte from in front of his home in Saint-Lambert, Quebec. Prime Minister Pierre Trudeau responded by declaring the War Measures Act, which outlawed the FLQ and gave police sweeping powers to search, arrest and detain without warrant. But on October 17 there was shocking news from the FLQ: they had murdered Laporte and left his body in a trunk of a car near a military base in St. Hubert, Quebec.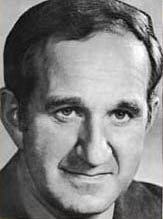 Pierre Laporte (1921-1970)
Cross avoided a similar fate when he was released December 4 after negotiations with his captors, who were given safe passage to Cuba. They later returned to Canada to serve relatively light jail sentences. Laporte's kidnappers were tracked down and jailed but all were free by the early 1980s.
This aircheck of CJME Regina was made on the day the War Measures Act was declared. You'll hear Bruce Northum with the news and Johnny Onn spinning the hits on his midday Top 40 radio show.
Hear CJME from October 16, 1970 here.

(The Don Shuttleworth Collection)
---
Talent: DON BURNS
Station: KRLA Los Angeles
Date: November 11, 1970
Time: 26:44 (unscoped)
5:41 (scoped)
Don Burns was born into southern California radio.
The Santa Monica-born Burns spent most of his career in southern California, with stops at major Los Angeles stations like KRLA, KISS, KIQQ, KOST, KUTE and KTWV. Burns, whose career began in 1963, jocked at KKUA Honolulu and KOL and KJR Seattle before settling in Los Angeles in 1970. He's not be confused with the Don Berns of WKBW and CFNY fame, or Donny Burns of CHUM and CKGM.
Enjoy Don Burns on KRLA (UNSCOPED) here.

Enjoy Don Burns on KRLA (SCOPED) here.

(The Tom Howard Collection)
---
Talent: JOHN R.
Station: WLAC Nashville
Date: December, 1970
Time: 40:35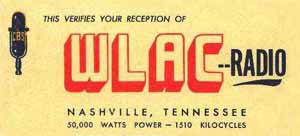 John R. was a man of principle.
When management at WLAC started to interfere with the programming of his late-night R&B show. John R. quit rather than surrender that control. His 1973 resignation ended a 27-year run as a jock at WLAC, where along with Gene Nobles, Herm Grizzard and Bill "Hoss" Allen formed an amazing quartet of jocks who blasted out the best of R&B via the Nashville station's 50,000-watt signal.
John R. died February 15, 1986 at the age of 75.
Hear John R. here.

(The Don Shuttleworth Collection)



Rock Radio Scrapbook pays
online streaming fees to the
Society of Composers, Authors and Music Publishers of Canada (License 22-F)

---
Talent: JACK ARMSTRONG
Station: WKBW Buffalo, N.Y.
Date: December 22, 1970
Time: 1:01:06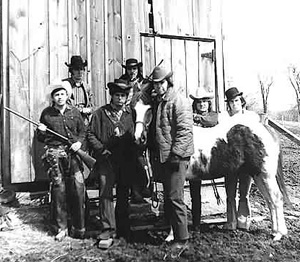 The WKBW jocks are shown in this 1971 photo
(l-r) Casey Piotrowski*, Jack Sheridan**, Don Berns, Bob MacRae, Sandy Beach, Jack Armstrong, Dan Neaverth
*Piotrowski was a weekend jock
**Sheridan replaced Klestine in late 1971
(Thanks to Don Berns for identifying the jocks!)
"One of America's two great radio stations ... despite all this."
One of the great convergences of Top 40 radio talent took place at WKBW in the early '70s.
The 'KB weekday lineup from October 1970 to late 1971 included three future Buffalo Broadcasting Hall of Fame members and a couple who should be there.
Waking listeners up was Dan Neaverth. In 1970, the Buffalo-born Neaverth took over the 6-9 a.m. slot at 'KB, a post he would hold for the next 18 years before leaving for WHTT in 1988. He came to 'KB from WBNY Buffalo in 1961, originally in afternoon drive. Neaverth, who would reprise his morning role at 'KB from 2003 to 2006, was inducted into the Buffalo Broadcasting Hall of Fame in 2002.
Following Neaverth was Fred Klestine. A native of the Buffalo suburb of Lackawanna, Klestine was 'KB's 9 a.m.-noon jock for about a decade ending in late 1971. He died of a stroke at age 68 in 1992, about a year after ending a nine-year stint at WBUF Buffalo. In 2009, Klestine was inducted posthumously into the Buffalo Broadcasting Hall of Fame.
Don Berns joined 'KB in the noon-3 p.m. shift in October 1970. The son of a West Hartford, Connecticut, dentist came to 'KB from WTRY in Ocober, 1970 after previously jocking at WDRC Hartford. Berns left 'KB in the mid-'70s, later jocking in Dallas, San Diego, Kansas City, Pittsburgh and Toronto.

This aircheck of Jack Armstrong from December 22, 1970 is from the early days of this lineup, about two months after Armstrong and Berns started together on the same day. Armstrong displays the wit, timing and energy made him a Top 40 legend. Veteran WKBW newsman and Buffalo Broadcasting Hall of Famer Henry Brach is also heard - note how he talks up to the vocal on the songs following his newscast! Also, you'll notice Jack makes frequent reference to Jeff Kaye, the legendary WKBW program director who played such a big part in 'KB's success and was inducted into the Buffalo Broadcasting Hall of Fame in 2002.

Sandy Beach began doing the 3-7 shift at 'KB in 1970 when Dan Neaverth took over from Stan Roberts on the morning show. The native of Lunenburg, Massachusetts, arrived at 'KB in evenings in 1968 from WDRC Hartford. Beach was gone from 'KB in the mid-'70s, but returned in the 80s and 2000s between stints in San Francisco and Milwaukee and other Buffalo stations including WBEN. He was inducted into the Buffalo Broadcasting Hall of Fame in 2003.
Jack Armstrong came from KTLK Denver to do the 7 p.m.-midnight shift at 'KB beginning in October 1970 (he started the same day as Don Berns.) The North Carolina native left 'KB in February, 1973. Armstrong jocked at some two dozen stations in his more than four-decade career, capped by a voicetracked stint at 'KB from 2003 to 2006. Armstrong died March 23, 2008 at the age of 62 after a fall at his High Point, North Carolina., home.
Bob MacRae followed Jack Armstrong in the midnight-6 a.m. shift in the early '70s. The Buffalo-born MacRae also jocked at Buffalo stations WBNY, WGRF-FM, WBEN and WZIR. He died December 4, 2007 in Vesper, New York., at the age of 58.

Hear Jack Armstrong on WKBW here.

(The Peter Kanze Collection)
---
Talent: MARK ELLIOTT
Station: KHJ Los Angeles
Date: December 31, 1970
Time: 1:02:04 (unscoped)
12:03 (scoped)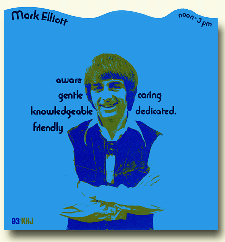 Somewhere along the way you've heard Mark Elliott.
The man born John Harrison Frick, Jr., was one of the biggest voice talents of the '70s and '80s. He got his start in 1977 doing promos with "Smokey and the Bandit", "Star Wars" and "The Goodbye Girls", and his career took off from there, eventually landing the spot as production voice for Disney from 1983 to 2008 while also finding time for FOX and CBS. But he honed his craft in radio, starting with a couple of gigs in his hometown of Cedar Rapids, Iowa, then moving to the larger markets of Des Moines (KOIA), Cleveland (WKYC), Windsor-Detroit (CKLW), San Francisco (KFRC) and Los Angeles (KHJ). He filled in for Casey Kasem on American Top 40 and also has his own weekly countdown show from 1979 to 1982.
Elliott gives big credit to radio for his success in voice work. "Radio is a great background because it gave you a sense of time", he told the Hollywood Reporter. "If you had seven seconds at the beginning of a song to talk it up, you learned to know what seven seconds were."
Hear Mark Elliott on KHJ here.

Hear Mark Elliott on KHJ here.

(The Tom Howard Collection)
---
Talent: THE REAL DON STEELE
Station: KHJ Los Angeles
Date: December 31, 1970
Time: 9:23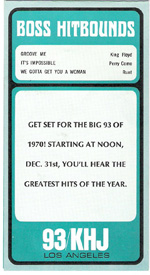 (KHJ Chart, Dec. 30, 1970/Courtesy Tom Howard)
Remember regional hits?
Time was when Top 40 stations were programmed for the communities they served, including the music. The cookie-cutter/one size-fits-all/focus group approach for music programming was years away.
Case in point: this aircheck of The Real Don Steele counting down the Big 93 of 1970. Check out what came in at #9 - Viva Tirado - Part 1 by El Chicano. It wasn't a national hit - peaking at #28 on Billboard - but they loved it in El Chicano's hometown of Los Angeles where it went to number-one.
Nowadays it's tougher for a song to break out regionally, as many stations are not programmed locally. So how does a local artist get played if the local station - and for that matter the audience - has no say in the playlist? The answer is they don't, and that's unfortunate. It's one of the things we really miss about Top 40 radio.
The Real Don Steele has the Top 10 of KHJ's Big 93 countdown of 1970 here.

(The Tom Howard Collection)
---
Talent: JAMES WATT
Station: AMERICAN FORCES VIETNAM NETWORK (AFVN), Saigon, via WHAS Louisville, Ky.
Date: 1970
Time: 10:30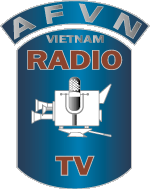 The first time we heard this aircheck - on Joe Donovan's all-night show on WHAS Louisville in 1987 - we couldn't believe it. Here was a deejay mixing every format in the book and sounding like he'd just fallen out of bed. First a Robert Goulet song, then Linda Ronstadt, then Red Sovine followed by Christie and even a Spike Jones record. Then the deejay, Army Specialist James Watt, sounding like - well - he'd rather be somewhere else.
This is certainly an offbeat recording - there's something surreal about the thought of On A Clear Night You Can See Forever being played at eight o'clock in the morning while the Vietnam War rages.
James Watt can be heard here.

(The Dale R. Patterson Collection)
---
Subject: THE CRUISIN' MEDLEY
Station: Various
Time: 11:58 (upgraded 1-14-15)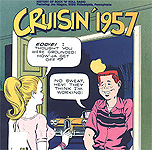 For many, it was their introduction to classic Top 40 radio. It was the Cruisin' series, a collection of records that re-created the sound of several of the great Top 40 radio stations of the past. The brainchild of KHJ programming legend Ron Jacobs, each record featured a deejay from a particular year. The re-created albums contained jingles, commercials and music from the featured year.
Among those featured in the original albums released in the early '70s were Joe Niagara on WIBG (Cruisin' 1957), Dick Biondi on WKBW (Cruisin' 1960), B. Mitchell Reed on WMCA (Cruisin' 1963) and Robert W. Morgan on KHJ (Cruisin' 1965.)
The first series of albums were released in 1970 and encompassed the years 1956 to 1962. In 1972, the years 1955 and 1963 were added and the following year Cruisin' albums for 1964 through 1967 were added. That marked the end of Jacobs' involvement. Albums for 1968 and 1969 were released in the late '80s. A special Porky Chedwick Cruisin' CD came out in 1993 (the only one not attached to a year). Cruisin' 1970 - the last in the series and featuring Kris Erik Stevens on WLS - was released in 1995.
This medley covers the Cruisin' 1955 to Cruisin' 1969 albums.
Hear it here.

We have a short interview with Ron Jacobs here.
View some of the great cover art on the Cruisin' series here.
(The Dale Patterson Collection)
---