Talent: BRYAN COX
Station: CFQC Saskatoon
Date: July 12, 1978
Time: 30:08 (unscoped)
6:03 (scoped)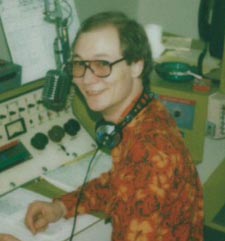 Remember when every day part was important?
Morning shows get all the promotion and focus these days, but there was a time when every time-slot in the schedule was considered essential.
This aircheck of Bryan Cox takes us back to those times. The first we heard it, we thought it was a morning show. But upon closer inspection, we discovered this was actually a late-evening program that only sounds like a morning show.
Bryan Cox got his start in the promotions department of CJME Regina, where his duties included licking envelopes and cleaning washrooms. From there he moved to the all-night show at CKSA Lloydminster, Alberta, which led to gigs at CKSW Swift Current, Saskatchewan, and CFRY Portage La Prairie, Manitoba. Next stop for the Edmonton native was CFQC Saskatoon, where a few years earlier as a 12-year-old he had dropped in on the all-night show to see what radio was like. "I was hooked," said Cox, and a radio career was born.
Cox was in radio from 1971 to 1986. After a health scare that took away his ability to speak, Cox returned to broadcasting with a program called "Hey, Get Off My Lawn."
Cox had strong words about the state of today's radio in a 2013 interview with Dennis Rimmer of examiner.com. "They have taken creativity out of radio. It all started in the late '80s and early '90s, the death of creative radio. Now all the stations play all the same songs and say all the same things such as "beat the box office" and "live on location. Nobody has had an original thought in years."
Enjoy Bryan Cox on CFQC (UNSCOPED) here.

Enjoy Bryan Cox on CFQC (SCOPED) here.

(The Don Shuttleworth Collection)

(Original scoped version courtesy Ted Wendland, radiowest.ca)