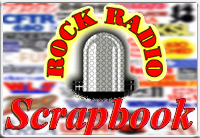 Rock Radio Heaven (G)


BILL GABLE
Died: September 18, 2018, Windsor, Ontario
Also known as: Brother Bill, birth name was Lawrence Earl Gable, Junior
Stations: WAEB Allentown, Pennsylvania, WRAW Reading, Pennsylvania, WEAM Washington, D.C., CKLW Windsor, Ontario, KHJ Los Angeles, WHBQ Memphis, WLW Cincinnati, WMAG Greensboro, North Carolina, WGRV (The Groove), WOCL Detroit, WMMO Orlando, CFTR, CHFI, CHWO/CFZM (AM 740) Toronto
Notes: A three-time nominee for Billboard's Air Personality of the Year Award, Gable also won the CLIO award for Best Conceived Radio, one of radio's top advertising citations, for his work in Los Angeles, Washington, D.C., and Memphis. Retired in 2014 after a 46-year career. Died at age 69 after a battle with COPD.
---
BOBBY GALE
Died: April 12, 2019
Stations: CBE, CJOM Windsor, Ontario, CSRW University of Windsor, CHIQ-FM Winnipeg, WWWW-FM Detroit, CHOM-FM Montreal, Q-107 (CILQ) Toronto, CJPE Picton, Ontario
Notes: Spent a decade as PolyGram promotions and publicity rep for Ontario and Manitoba beginning in 1980. Started a his own independent radio promotions company plug (MUSIC) Inc. in 1992 and later Global Live Artist Direction, providing artist management, media relations and bookings. The native of Windsor, Ontario, died in a car accident while returning to his home in Prince Edward Country from a concert in Montreal.
---
JACK GALE
Born: 1925, Baltimore
Died: January 24, 2018, Sebring, Florida
Stations: WSRS Cleveland, WTMA Baltimore, WITH Baltimore, WMEX Boston, WAYS Charlotte, North Carolina, WAPE Jacksonville, Florida (PD), KFTW Fredericton, Missouri. (owner), KGPA Pisno Beach, California (owner)
Notes: Won the Bill Gavin Award for Program Director of the Year in 1969. He was Billboard's first Disc Jockey of the Year in 1970. Managed the career of Johnny Cymbal (Mr. Bass Man) in the '60s, and managed and produced many other artists in the country music field. His book Same Time, Same Station looks back at his life and radio career. Died at the age of 92.
---
GARY GEARS
Died: February 17, 1991
Stations: KQV Pittsburgh, WCFL, WLS, WDIA, WIND, WJJD, WMAQ, WKQX, WJEZ, WRQX Chicago, CHUM Toronto, KISN Portland, Oregon, AFVN Vietnam.
Notes: Did voice-overs for ABC-TV and many commercials (he was the voice of the "ho-ho-hos" in the Jolly Green Giant commercial.) Inducted into the Nebraska Radio Personalities Hall of Fame as a Legendary Performer in 2001. Died of a heart attack at age 46.
---
RUSS GIBB
Born: June 15, 1931
Died: April 30, 2019, Garden City, Michigan
Stations: Mutual Broadcasting Network, WKNR-FM Dearborn, Michigan, WCSX Birmingham, Michigan,
Notes: Started the "Paul is Dead" hysteria in 1969. Operated the Grande Ballroom in Detroit and played a key role in the Detroit music scene in the '60s and early '70s. The Who's first performance of the rock opera Tommy was at the Grande Ballroom, which operated from 1966 to 1972 and has earned a spot on the National Register of Historic Places. Later became an acclaimed media arts teacher, and was an early adaptor of local cable access television. National director of Youth and Education in the Ford Administration.
---
JOHN GILBERT
Died: September 14, 1998, Streetsville, Ontario
Stations: CHEX Peterborough, Ontario, CFBC Saint John, New Brunswick, CJCH Halifax, CHUM, CKFH, CKEY, CKO Toronto, CKTB St. Catharines, Ontario, CKOY Ottawa, CFCN Calgary, CKGL Kitchener, Ontario, CKSF Cornwall, Ontario
Notes: Succeeded Larry Solway as talk show host at CHUM in 1970. Died on his 68th birthday.
---
BOB GILLIES
Born: September 4, 1934, Vancouver

Died: December 15, 2018, Atlanta

Stations: CKWX, CJOR Vancouver, CFCF, CKGM, CFCF 12-TV Montreal NBC, WTBS Atlanta, WAVE Norfolk, Virgina

Notes: Passed away of cancer, at age 84 in Atlanta. Enjoyed a successful career as a writer and singer of commercial jingles for radio and television and wrote and performed songs for motion pictures in Los Angelese. Recorded singles as a crooner for RCA and was an actor and comedy writer for many Hollywood television shows, most notably for Rowan and Martin's Laugh-In in the late 60s. Was one of the first on-air personalities on CFCF 12 television in Montreal when the station signed on in January 1961. Gillies was the co-host of the CFCF 12 teen program "Like Young" along side Jim McKenna and June Mack during a couple of the early seasons of the program. Following a stint at CFCF 600 in the late 1950s, Bob Gillies returned to radio on early evenings at CKGM Montreal, from 1962 to 1966. His son Gord Gillies is a long-time radio and television journalist in Calgary.
---
JOHN GILLIS
Born: September 24, 1947, San Antonio, Texas
Died: November 9, 2012, Broad Ripple, Indiana
Also known as: Big John Gillis
Stations: WNAP, WIBC, RTV6 Indianapolis, WVBF Boston, WIBG Philadelphia
Notes: Was a helicopter reporter at WIBC and boasted that he'd spent over 26,000 hours in the air. Died after experiencing breathing problems.
---
ARNIE "WOO WOO" GINSBURG
Born: August 5, 1926, Brookline, Massachusetts
Died: June 26, 2020, Framington, Masssachusetts
Also known as: Woo Woo, Old Leather Lungs, Old Achin' Adenoids

Stations: WORL, WBOS, WMEX, WRKO, WWEL/WXKS, WBCN (general manager), WBZ, WVJV-TV (co-owner) Boston
Notes: Recreated his WMEX "Night Train" show from 1961 on the record album Cruisin' 1961. Known for his sound effects - including a cow bell, a horn, a squeaking carrot and train whistle that sounded like a train going "woo woo" - and cornball humour. Inducted into the Massachusetts Radio Hall of Fame in 2008.
---
PAUL GODFREY
Died: September 25, 2007
Also known as: Full name was Robert Paul Godfrey
Stations: CFTR Toronto, CHAM Hamilton, CHEX Peterborough, Ontario, CKLY Lindsay, Ontario, CKWS Kingston, Ontario, CFCO Chatham, Ontario, CHYM Kitchener, Ontario, CKJD, CHOK Sarnia, Ontario (the latter as operations manager), CHCH Halifax, CFBC Saint John, New Brunswick
Notes: Hosted CITY-TV's Boogie Dance Show and was a popular MC. Referred to himself on-air at CFTR as "Your Metro Music Chairman" (the Toronto chairman of the time had the same name). The native of Peterborough, Ontario, was 61 when he died.
---
ROCKIN' RAY GOODEN
Died: May 13, 2007
Stations: WGIV, WBT, WWMG (Magic 96.1) Charlotte, North Carolina
Notes: Influential in the South Carolina Beach Music movement. Did the "Sunday Night Hall of Fame" for two decades on WBT then did the "Sunday Night Memory Lane" at Magic 96.1, ending in 2004.
---
GUS GOSSERT
Born: June 4, 1943
Died: August 10, 1976
Also known as: Full name was Robert Charles Gossert III, Mr. Doo Wop
Stations: WCBS-FM, WNEW-FM, WPIX New York, KMPX San Francisco, KKUA Honolulu, WOKI-FM Knoxville, Tennessee
Notes: His oldies show on WCBS-FM in the early '70s was a forerunner of that station's oldies format. Victim of a still-unsolved shooting.
---
NEVIN GRANT
Born: January 3, 1940
Died: May 6, 2020
Stations: CKOC, CKLH, CHAM Hamilton
Notes: Program director at CKOC for 35 years (1968-2003), before that he was creative director, music director, assistant program director and program director. Two-time chairman of the Maple Leaf System, which aimed to get more Canadian music on Canadian radio, and a strong proponent of the Canadian content regulations which came in during the early '70s. The year before he died, Grant learned he had been named to the Canadian Broadcast Industry Hall of Fame and would receive the Allan Waters Lifetime Achievement Award. However, he never got to make an acceptance speech as he died before the ceremony was held. Suffered from Parkinson's Disease.
---
LEE GRAY
Born: March 17, 1936, Oklahoma City, Oklahoma
Died: March 8, 1996, Houston
Also known as: Birth name was Royce Lee Darling; used Lee Darling at KGOL and KSBJ
Stations: Armed Forces Network, WKRG Mobile, Alabama, WOKY Milwaukee, WIND Chicago, WTRY Albany, WHK Cleveland, WMCA New York, WAKY, WKLO Louisville, Kentucky, KGOL Houston, KSBJ Houston-Humble, Texas
Notes: A Korean War veteran, also served as a Military Policeman in Germany.
---
BOB GREEN
Born: June 13, 1931, The Bronx, New York
Died: January 26, 2012, Miami Beach, Florida
Also known as: Birth name was Robert Einar Green
Stations: WINZ Miami
Stations: Married pop singer and former Miss Oklahoma Anita Bryant in 1960. Green also served as Bryant's manager and in 1977 followed her into anti-gay activism, which destroyed both of their careers (Bryant filed for divorce in 1980). Suffered from heart problems and was on dialysis at the time of his death.
---
LARRY GREEN
Died: January 2, 2021
Stations: CHVC Niagara Falls, Ontario, CHUM-FM, CFNY, CJRT (Jazz FM) Toronto, CBC Radio, also worked in Vancouver, Winnipeg, Guelph, Ontario and Penticton, B.C.
Notes: Hosted a music show on CITY-TV in Toronto, and co-hosted a national CBC-TV children's show, After Four, with Jan Tennant. Worked in music business at GRT Records, then National Promotion Manager for WEA Music. Also did a stint in program management at Telemedia, and taught at the Humber College Broadcasting Program. Did online show on theiceberg.com. Died at the age of 80.
---
MICHAEL GREEN
Died: July 1, 1989
Also known as: His real name was Joseph Jorgensen
Stations: WTIX New Orleans
---
CHARLIE GREER
Born: August 21, 1923
Died: September 30, 1996, Akron, Ohio
Stations: WAKR Akron, Ohio, WABC, WRKL New York, WHAM Rochester, New York, WIP Philadelphia
Notes: Legendary overnight man at WABC in the late '60s, he actually started on midday shift (a reverse of the norm). When Greer died in October, 1996 (aged 73), he became the fifth former WABC all-night man to pass away, following Jay Reynolds (1996), Bob Cruz and Bob Dayton (1995) and Bob Lewis (1987). Died of lung cancer.
---
ENOCH GREGORY
Born: December 13, 1936, Hertford, North Carolina
Died: April 30, 2000
Also known as: The Dixie Drifter
Stations: WWRL New York, WNJR Newark, New Jersey
Notes: Did morning show at WWRL in the 1970s. Died of diabetes and kidney failure. Ended show with phrase "walk tall and stay loose."
---
PETE GRIFFIN
Died: May 23, 2011, Smiths Falls, Ontario
Stations: CJAD Montreal, CFOR Orillia, Ontario, CKFH, CHUM-FM, CFNY Toronto, CFGM Richmond Hill, Ontario, CFMO Smiths Falls, Ontario
Notes: Joined CHUM-FM when it signed on in 1963 as a classical music announcer. Stayed on when it switched to progressive rock in 1968. Morning man at CHUM-FM from 1970 to 1980. Mornings at CFNY from 1980 to 1987. The popular duo of Pete & Geets (Geets Romo a.k.a. David Haydu) teamed at CHUM-FM from 1972 to 1978 and on CFNY from 1982 to 1987. Griffin went to CFGM in 1987 then left the Toronto market and was later heard on CFMO. Griffin started in radio as CFOR in 1948, moved to CKFH in 1951 and spent a year at CJAD in 1966. Died of prostate cancer at the age of 81.
---
RONN GRIMSTER
Died: September 9, 2003, Hamilton, Ontario
Also known as: Birth name was Ronald Fernley Grimster; nicknames included "The Beard", "The Grim Rooster" and "The Grimster"
Stations: CHOW Welland, CFUN, CHQM Vancouver, CHFI Toronto
Notes: Died at the age of 78, a few days after a CHOW reunion.
---
DENIS GRONDIN
Born: December 11, 1950
Died: March 8, 2017, Montreal
Stations: CKVL, CKGM-FM/CHOM-FM, CKOI, CHMP, CIRA-FM Montreal
Notes: Grondin joined CKGM-FM Montreal in 1971 and became the first Francophone deejay to work on the English language free-form AOR station, which became CHOM-FM later that year. He is the father of Quebec actors Mathieu and Marc Andre Grondin. Son Marc played the character of "Xavier Laflamme" in the hockey sports comedy flick "Goon." Died at the age of 66.
---