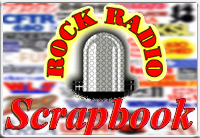 Rock Radio Heaven (L)

STEVE LABUNSKI
Died: March 21, 2011, Poland
Stations: WMCA New York
Notes: Was general manager of WMCA during the "Good Guys" era in the 1960s, having arrived there in 1958 from Kansas City where he had been working for the Todd Storz organization. Later became president of NBC Radio and was executive director of the International Radio and Television Society. Also a founder of the Broadcasting and Cable Hall of Fame. Died of natural causes at the age of 86.
---
JACK LACY
Born: November 11, 1916
Died: June 9, 1996, San Sebastian, Spain
Stations: WNBC (WONS) New Britain, Connecticut, WBAL Baltimore, WINS, WCBS-AM New York, KIQQ Los Angeles
Notes: The Hartford, Connecticut-raised Lacy was part of the legendary WINS lineup of the late '50s that included Irv Smith, Stan Z. Burns and Alan Freed. His WINS show was called "Listen to Lacy". His wife Agnes was a WINS personality in her own right who sometimes filled in for her husband.
---
BOB LAINE
Born: October 18, 1938
Died: August 31, 2011, Toronto
Also known as: Bobbo; birth name was Bob Shlanger
Stations: CFRS Simcoe, Ontario, CFGM Richmond Hill, Ontario, CHUM Toronto
Notes: Spent 10 years on the all-night show at CHUM before moving to middays in 1968 (was briefly at CFGM in mornings in 1962). Moved into management in 1970 as program director at CHUM-FM. Managed CHUM properties in Winnipeg from 1975 to 1990. Retired as corporate vice-president in 2003 after 45 years with the CHUM organization but continued with a new project organizing the CHUM archives. Taught broadcasting at Seneca College in Toronto.
---
RON LANDRY
Born: October 24, 1934, Monroe, Louisiana
Died: September 16, 2002
Stations: WJMA Orange, Virginia, WSLS Roanoke, Virginia, WBTM Danville, Virginia., Armed Forces Radio, WDRC Hartford, WBZ Boston, KGBS, KFI Los Angeles
Notes: The Louisiana native partnered on-air in Los Angeles with Bob Hudson and the two even had a charted comedy 45, "Ajax Liquor Store."
---
JIM LANGE
Born: August 15, 1932, St. Paul, Minnesota
Died: February 25, 2014, Mill Valley, California
Also known as: Gentleman Jim. Birth name was James John Lange.
Stations: KGO, KSFO, KFRC, KABL San Francisco, KMPC Los Angeles, KKSJ San Jose, California
Notes: Original host of The Dating Game on ABC-TV from 1965-80. Hosted several other TV game shows, including $100,000 Name That Tune, The $1,000,000 Chance of a Lifetime, Hollywood Connection, and ABC-TV's version of The New Newlywed Game. Was married to Nancy Fleming, Miss America 1961.
---
MOOSE LATRECK
Died: June 22, 2006
Also known as: Birth name was Fred Snyder
Stations: Canadian Armed Forces Radio (Nelson, B.C.), CJAD Montreal, CKCO-TV Kitchener, Ont.ario, CHUM, CHIN Toronto
Notes: Hosted a late-night country music show at CHUM in the 1960s, which spawned a weekly country music chart called The Moose Parade. This appeared as part of the CHUM Chart, which featured much of Snyder's artwork. After his CHUM years, he went to CHIN where he spent 33 years as production manager. Native of Spiritwood, Saskatchewan. Retired from radio in 2000 at the age of 70 after about a half-century in the business.
---
FRED LATREMOUILLE
Born: October 21, 1945, Namaino, B.C,
Died: March 5, 2015, Scottsdale, Arizona
Also known as: Fred Latrimo
Stations: CKYL Peace River, Alberta, CFAX Victoria, CJOR, CFUN/CKVN, CKLG, KISS-FM (CKKS), Clear-FM (CKCL), CBC radio and television Vancouver
Notes: Hosted CBC-TV's Let's Go, a music show aimed at teens, from 1964 to 1966. Hosted New Sounds on CBC Vancouver 1968-70. Later hosted suppertime news package Hourglass at CBC-TV Vancouver. Hosted Fred and Friends CBC-TV 1977. Was weatherman at BCTV. He and traffic reporter Cathy Balduzzi hosted the morning show at CFUN in the '80s. They later got married and took their act to KISS-FM (CKKS-FM) and Clear-FM (CKCL-FM). Inducted into Canadian Association Broadcasters Hall of Fame in 2007. Died at age 69.
---
AL BRADY LAW
Born: September 27, 1943
Died: July 30, 2012, Manchester, New Hampshire
Also known as: Big Al Law (WUBE)
Stations: WUBE Cincinnati, WINZ Miami, WHDH/WZOU Boston, WOR-FM, WXLO, WNBC, WABC, WYNY New York, WWDJ Hackensack, N.J., KLAC, KABC/KMPC Los Angeles, KKBQ Houston, KXKL Denver, KQAI Dallas, WRQX Washington, WQFM Milwaukee, KTRS St. Louis, WSPD Toledo, Ohio, Sports Fan Network
Notes: As program director presided over the so-called "Thanksgiving Massacre" at WABC in 1979, which saw the departures of Harry Harrison, Chuck Leonard and George Michael. It was a controversial move, but one he always defended as the right thing to do. Held many management positions including VP of programming at NBC Radio. Died of brain tumour.
---
MARK LEE
Born: November 14, 1947, Montreal
Died: November 19, 2016
Also known as: The Mississippi Hippie, birth name was Mark Lee Keffler
Stations: CFBC, CIOK Saint John, New Brunswick
Notes: Did an oldies show called "Jukebox Jive" on CFBC. Worked as a concert promoter during his radio days, bringing in such acts as Tom Jones, Dolly Parton, Kenny Rogers, Rush, April Wine, Trooper and the Beach Boys. Died of a heart attack just a few days after his 60th birthday.
---
TERRY LEE
Born: August 27, 1942, Monongahela, Pa.
Died: July 30, 2013, Bellville, Pa.
Also known as: Birth name was Terry Lee Trunzo
Stations: WESA Charleroi, Pennsylvania, WZUM Carnegie, Pennsylvania, WARO Canonsburg, Pennsylvania, WMCK/WIXY, WLSW, WJAS Pittsburgh, WLSW Scottsdale, Arizona, WRUA Monroeville, Pennsylvania
Notes: Noted for his "TL" sound and "Music for Young Lovers", a mix of northern soul, rhythm and blues and '50s and '60s rock, heard on the KOOL GOLD syndicated shows out of Phoenix from 1988 to 1990. As a music entrepreneur prmoted teen dances around Pittsburgh and also owned the Nite Train dance club. Managed numerous Pittsburgh-area bands. Hosted the popular TV dance show "Come Alive" on Pittsburgh's Channel 11 and the Terry Lee show on WPGH-TV and KDKA-TV.
---
CHUCK LEONARD
Born: March 30, 1937, Chicago
Died: August 12, 2004, New York
Stations worked at: WEBB Baltimore, WWRL, WABC, WXLO, WRKS, WBLS, WQEW New York, WJUX Monticello, New York, Sirius Satellite Radio
Notes: The first African-American deejay on New York's legendary WABC, he held down the late evening shift there from 1965 to 1979. Fellow WABC jock Harry Harrison may have summed it up best when he said of Leonard: "He was a super talent, a super human being and a classy man." Leonard, a golden gloves boxing champion in his younger days, died of lung cancer.
---
BOB LEWIS
Born: March 16, 1937
Died: January 23, 1987
Also known as: Bob-a-lou
Stations: WMGM, WABC, WABC-FM, WNEW-FM, WCBS-FM New York
Notes: Was WABC's overnight voice before Charlie Greer. Also was a pioneer in the progressive radio movement with his late-'60s show on WABC-FM, "Some Trust in Chariots". Died of pneumonia as a result of AIDS.
---
CUZZIN' LINNIE/COUSIN LINNIE
Died: June 30, 2011
Also known as: Birth name was Linwood Henderson
Stations: KLIF, KXXK, KNON Dallas, KKDA-AM Grande Prairie, Texas
Notes: Kansas City native all-night show at KLIF from 1969 to 1974 and again from 1977 to 1979. First African-American deejay in Dallas radio. Was 74 when he died from complications of a stroke.
---
HY LIT
Born: May 20, 1934, South Philadelphia
Died: November 17, 2007, Philadelphia
Also known as: Hyski, Hyski O'Rooney McVoutie O'Zoot; Birth name was Hyman Aaron Lit
Stations: WHAT, WRCV, WIBG, WDAS-AM, WDAS-FM, WIFI, WKXW, WPGR, WSNI, WOGL, WKBS-TV Philadelphia, KPOL Los Angeles
Notes: One of the biggest stars in the history of Philadelphia Top 40 radio. His nighttime show on WIBG attracted an amazing three-quarters of the listening audience. Signature tunes were "Quarter to Three" by Gary U.S. Bonds and the instrumental "A Night with Daddy G" by the Church Street Five. Hosted TV dance shows on stations in Philadelphia and New York including the "Hy Lit Show" on WKBS-TV. Had musical streaming web site www.hylitradio.com. Radio and Records Oldies Personality of the Year for 1999. Inducted into the Broadcast Pioneers of Philadelphia Hall of Fame in 2003. Died of complications after a knee injury.
---
RALPH LOCKWOOD
Born: December 10, 1939, Hazelton, Pennsylvania
Died: January 12, 2020, Dallastown, Pennsylvania
Also known as: The Birdman
Stations: WARM Hazelton, Pennsylvania, WHLO Akron, Ohio, WPOM West Palm Beach, Florida, CFOX, CKGM (twice), CJAD, CFCF-TV Montreal, WSBA York, Pensylvania
Notes: Got his start in the business hosting a nightly polka show on WARM. Made Montreal debut in 1968-1971 at CFOX. Joined CKGM 1972-81 on mornings, later hosting a lifestyles Noon Hour Show on CFCF 12 television mid-'80s, concluding in Montreal as part of the play-by-play team for the Montreal Concordes on CJAD late-'80s. Returned to his native Pennsylvania in 1988 for a final radio stop, mornings at WSBA, York, PA. Known for his radio tag-line "How's Your Bird." Fictional side-kicks included Professor Frydock, Dorion Smith, Rhymin' Sam and a caracature of Mad Dog Vachon.
---
TOM LODGE
Born: April 16, 1936, Forest Green, Surrey, England
Died: March 25, 2012, Santa Cruz, California
Also known as: Birth name was Thomas Oduard Marshall Lodge
Stations: CFYK Yellowknife, CBXH Fort Smith, N.W.T., Radio Caroline, Radio One (BBC), CHLO London, Ontario
Notes: Founded creative program at Fanshawe College in London, Ontario, called "Creative Electronics" in 1970. It became Music Industry Arts, a training program for recording engineers and record producers. Began programming Radio Caroline in October, 1965, and steered the station into the spontaneous format it became famous for. Authored several books. Began practising Zen in the mid-70s and later started using the name Umi Satsang, or, alternately, Umi Tom Lodge, in 1998. Was the Zen Master of the Stillpoint Zen Community at Santa Cruz, California. His father was the writer Oliver W.F. Lodge and his grandfather was the physicist Oliver Lodge, who broadcast a radio signal between two buildings in 1894 in one of the earliest demonstrations of the technology. Suffered from cancer.
---
AL LOHMAN
Born: January 15, 1933, Sergeant Bluff, Iowa
Died: October 14, 2002, Rancho Mirage, Calif.
Stations: KIMN Denver, WABC New York, KLAC, KFI, KRLA Los Angeles, KWNK Simi Valley, California, KPCM, KCMJ Palm Springs, California
Notes: One-half of one of radio's great duos - his on-air partner for 25 years at KFI was the late Roger Barkley. Died of cancer.
---
BRIAN LORD
Born: March 15, 1934
Died: January 19, 2012, Philippines
Also known as: Baby Blue (at CFUN)
Stations: CFUN, CJOR, CKWX/CKKS-FM, CHRX/CJJR-FM Vancouver, CFCR-TV Kamloops, B.C., KMEN San Bernadino, California, KLIV San Jose, CJJC Langley, B.C., CKDA Victoria, Metro Broadcasting (Hong Kong)
Notes: A one-time divinity student, Lord started his deejay career doing all nights at CFUN in 1959. After a short TV stint, he moved to middays at CFUN as one of the original "Good Guys" in 1960, then went south of the border to KMEN in 1962. Returned to Canada at CJJC in 1968. While in the U.S., played a major role in promoting "Psychotic Reaction", a 1966 hit for the Count Five. Served as news director at CKDA, and also did news at CKWX/CKKS-FM, CHRX/CJJR-FM and Metro Broadcasting. Served as assistant to B.C. Minister of Health Bob McClelland from 1979 to 1981. Retired in 2001 and moved to the Philippines. Died at the age of 77.
---
GEORGE LORENZ
Born: October 22, 1919
Died: May 29, 1972
Also known as: The Hound, Ol' Man Lorenz
Stations: WWOL, WXRA, WUFO, WKBW, WINE, WBLK-FM Buffalo, WJJL, WHLD Niagara Falls, New York, WBTA Batavia, New York, WSRS Cleveland, WNJR-AM Newark, New Jersey
Notes: Founded one of America's top rhythm and blues stations, WBLK-FM, in 1964 long before FM radio became "cutting edge". Is considered the Alan Freed of Buffalo radio and is mentioned in the same breath as many of the legendary Top 40 pioneers. Died less than a month before his daughter Jean was to be married. Member of the Buffalo Broadcast Pioneers Hall of Fame.
---
BILL LOWELL
Born: May 15, 1942, Reading, Massachusetts
Died: July 25, 2019, Cape Cod, Massachusetts
Stations: WBZ Boston, WLYN Lynn, Massachusetts, WHAV Haverhill, Massachusetts, WPTR Albany, New York, WAEB Allentown, Pennsylvania, WKLX Porstmouth, Virginia, WRKO Boston, CFOX Montreal, WRKO Boston, Fox 93.5 online Antigonish, Nova Scotia, Cool 102 Cape Cod, Massachusetts
Notes: Also worked as a harbour master, dog catcher, volunteer fireman and as part of his local paramedic team in Massachusetts. Died at the age of 77.
---
LARRY LUJACK
Born: June 6, 1940, Quasqueton, Iowa
Died: December 18, 2013, Santa Fe, New Mexico
Also known as: Superjock, Uncle Lar, Johnny Lujack (at WMEX); Birth name was Larry Lee Blankenburg
Stations: KRPL Moscow, Idaho, KCID, KGEM Boise, Idaho, KNEW/KJRB, KPEG Spokane, Washington, KFXM San Bernardino, California, KJR Seattle, WMEX Boston, WLS AM/FM, WCFL, WUBT, WRRL Chicago
Notes: Made a career out of his his sarcastic style, as displayed in his "Klunk Letter of the Day" and "Animal Stories." Did two tours of duty at both WLS and WCFL. Got his air name from Notre Dame quarterback Johnny Lujack. Named to National Radio Hall of Fame in 2004. Died of esophageal cancer.
---
STEVE LUNDY
Born: November 3, 1942, Tyler, Texas
Died: April, 1999, Houston
Also known as: Birth name was Jack Foshee
Stations: KDOK Tyler, Texas, WLS Chicago, KILT Houston, KFRC San Francisco, WNBC New York, KROQ Los Angeles
---
RON LUNDY
Born: June 25, 1934, Memphis, Tenn.
Died: March 15, 2010, Oxford, Miss.
Also known as: The Wil' Child (at WIL); The Swingin' Nightwalker (while on the all-night show on WABC); birth name was Fred Ronald Lundy
Stations: WHHM Memphis, WDDT Greenville, Mississippi, WLCS Baton Rouge, Louisiana, WIL St. Louis, WCBS-FM New York
Notes: Signature line was "Hello, Love." Started at WABC in September, 1965 on the all-night show, but switched to middays in May, 1966 where he stayed until his departure in 1982. He and Dan Ingram co-hosted the final music show on WABC Musicradio on May 10, 1982. Went to WCBS-FM in February, 1984 where he spent 13 years in the 9 a.m.-noon spot before retiring from radio on September 18, 1997 and moving back to the South in Bruce, Mississippi. Inducted into the St. Louis Radio Hall of Fame in 2006. Was heard in the 1969 movie "Midnight Cowboy." Died of a heart attack.
---