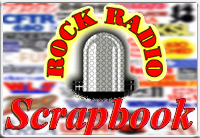 Rock Radio Heaven (U-V-W)

TOMMY VANCE
Born: July 11, 1941, Oxford, England
Died: March 6, 2005, Dartford, England
Also known as: His birth name was Richard Anthony Crispian Francis Prew Hope-Weston; called himself Rick West on-air when he first arrived in the U.S.
Stations: KOL Seattle, KHJ Los Angeles, Radio London, Radio Caroline, Radio Luxembourg, BBC Radio 1, Capitol Radio, Greater London Radio (GLR), Virgin Radio, VH-1 in the U.K.
Notes: Got his air name at KOL after taking the Tommy Vance name that had been intended for another jock. Interviewed an estimated 10,000 guests in his career, including Prince Charles and the Rolling Stones. Died of a heart attack.
---
BOB VERNON
Born: 1942, Ohio
Died: September 30, 2012, Parker, Colo.
Also known as: Vernon with a "V" at WNBC Birth name was Robert Vernon Cosart, Jr.
Stations: WNBC New York, WGAR Cleveland, WRAL-TV, WLFL-TV Raleigh, North Carolina
Notes: News anchor at WRAL-TV from 1989 to 1995, then at WLFL-TV, which became WB-22, from 1995 to 2006. Grew up in Ohio. Died at the age of 70.
---
JOHN VIDAVER
Died: May 7, 2018, Ridgewood, New York
Also known as: John Robertson (WQXR)
Stations: WCBS-FM, WNEW-FM, WYNY-FM, WNCN-FM, WQCD, WQXR-FM, (92.9) WKTU New York, WTFM Lake Success, New York, WPAT AM-FM Paterson, New York, A-F, WHLI Hempstead, New York, WBAB Babylon, New York, WRNW Briarcliff Manor, New York, WRCR Rampano, New York, WBUD-AM Trenton, New York.
Notes: Did the last show of the album rock format at WCBS-FM and was the first all-night jock in the oldies format there. This versatile jock did many formats, including rock, light rock and classical.
---
JACK VINCENT
Born: November 7, 1917, Youngstown, Ohio
Died: January 29, 2017, Santee, California
Stations: KXO San Centro, California, KFXM San Bernadino, California, KCBQ San Diego.
Notes: Helped build the Boulder Dam - now the Hoover Dam as a construction worker. Later went into the U.S. Marines. On-air at KCBQ from 1955 to 1970. Broadcast his show from the former transmitter site at Santee, and people would come to watch. He transferred to engineering in 1970, staying at KCBQ until his retirement in 1982.
---
LEE VOGEL
Born: March 3, 1927, Pittsburgh
Died: August 28, 2013, Charlotte, North Carolina
Also known as: Birth name is Leo Francis Vogel
Stations: WMAQ Chicago, KQV, WJAS Pittsburgh, WDRC Hartford, CKEY Toronto, WKBW, WBNY Buffalo, New York
Notes: Taught in Pittsburgh before going into radio. Earned a gold medal for South Carolina in basketball at the 1998 Senior Olympics. Huge history buff including anything on the Civil War.
---
LONG JOHN WADE
Born: December 31, 1939
Died: May 15, 2006, Cape Cod, Massachusetts
Also known as: The Love Leader, His birth name was Carl Wehde
Stations: WDRC Hartford, WFIL, WIBG, WIFI, WCAU AM/FM Philadelphia, WSPR-AM Springfield, Massachusetts, WHIL Medford, Massachusetts, WAAB Worcester, Massachusetts, WHAV Haverville, Massachusetts, WORL, WTAO Boston, WCBS-FM New York
Notes: Was the only deejay to accompany the Beatles for their entire 1964 tour, some 35 days, 26 cities and 15,000 miles. His brother, Don Wade, worked at WDRC at the same time he did. Ran the American Academy of Broadcasting from 1970 to 1979. Was Jerry Blavat's announcer on his syndicated TV show. Gave up his school and broadcasting after being diagnosed with bipolar disorder. Settled in Cape Cod in 1993 but suffered a stroke in 1995 which left with speech problems and loss of the use of his right hand. Died of a heart attack at the age of 66.
---
PAUL WAINWRIGHT
Born: December 2, 1957
Died: July 15, 2014
Stations: CKGL Kitchener, Ontario, CHOG, CISS-FM Toronto, CKOC, CHAM, CKLH (K-Lite) Hamilton, GIANT-FM (CIXL) Welland, Ontario
Notes: Spent nearly 19 years at CKOC-CHAM-CKLH beginning in 1986. Actor and extra for films like "Man on the Train", "Mr. Viral", "1-800-MISSING", "My Babysitter's a Vampire" and the TV show "The Border." Worked as a corporate head-hunter after his radio days and also drove a truck. Died of a heart attack.
---
DUDE WALKER
Died: March 14, 2019
Also known as: Dude Walker, birth name was John Dougherty
Stations: WGMN Millington, Tennessee, WTUP Tupelo, Mississippi, KWOC Poplar Bluff, Missouri, WDXB Chattanooga, Tennessee, WMPS, WLVS, KIX-106 Memphis, CHUM Toronto, WAKY Louisville, WMAQ, WJJD Chicago
Notes: Introduced Memphis to the Beatles and was a major part of the 1960s rock and soul scene in Memphis. Native of Jackson, Tennessee, died four days after undergoing heart surgery after a stroke.
---
RHETT HAMILTON WALKER I
Died: December 18, 2012, Victoria, Australia
Stations: KUTY Palmdale, California, KOL Seattle, KYNO Fresno, California, KFXM San Bernadino, California, KRLA Los Angeles, KRUX Phoenix, 2UW Sydney, Australia, 3DB, 3AK, FOX FM Melbourne, Australia, 6PR Perth, Australia
Notes: Born in New Zealand to an American mother and a British father, Walker came to the U.S. in the mid-'60s when hiring British-sounding jocks was the thing to do (his New Zealand accent was considered close enough). Left the U.S. in 1969 and moved to Australia where he worked at various AM stations and helped establish FM radio. Was first GM at FOX-FM in Melbourne when that station launched in 1980. Left radio to become professor of business at Latrobe University in Victoria.
---
DON WADE
Born: 1941, New York
Died: September 6, 2013, Florida
Also known as: Birth name was Donald Wehde. His on-air nicknames included "The Swinging Six Plus One", "Don Juan", "Long Don Wade" and "Long John's Other Brother"
Stations: WTID Norfolk, Virgina, WHAV Haverhill, Massachusetts, WORL Boston, WUPY Lynn, Massachusetts, WDRC Hartford, WNOE New Orleans, WKBW Buffalo, New York, CHAM Hamilton, KLIF Dallas, WIBG Philadelphia, KOL Seattle, KTAC Tacoma, Washington, WUSN-FM, WLS Chicago
Notes: Spent 55 years in broadcasting. He and his wife Roma entertained at WLS for 27 years ending in 2012 (they kept the fact they were married a secret until 1998). Brother of Long John Wade. Died of a brain tumour at age 72.
---
JACK WALKER
Also known as: The Pear Shape
Stations: WADO, WLIB New York
Notes: Shot to death in 1970.
---
GLENN WALTERS
Born: 1937
Died: December 9, 1999, Thunder Bay, Ontario
Also known as: Big G
Stations: CKEY, CKFH, CFTR Toronto; WBAB Babylon, New York, KODS Duluth, Minnesota, CJLB Thunder Bay, Ontario
Notes: Did "The Whole Bag" show at CKFH, one of Canada's first progressive rock music shows. Worked in 14 radio markets during 40-year career, including New York, Los Angeles and Honolulu. Nickname "Big G" came from General Foods, a sponsor of one of his early shows. Had voice part in the movie "Jaws". Died at age 62.
---
BILL WARD
Born: January 29, 1930, Italy, Texas
Died: July 30, 2004, Sherman Oaks, California
Also known as: Birth name was Billy John Wardlaw, Nickname was "Butch"
Stations: KBEC Waxahachie, Texas, WAKY Louisville, Kentucky, WRR Arlington, Texas, WPKO Providence, Rhode Island, WPLO Atlanta, KBOX Dallas, KBLA-KBBQ, KRLA, KLAC, KMPC, KUTE-KMPC/FM-KEDG-KLIT-KSCA Los Angeles
Notes: Started in radio at age 15 in Waxahachi, Texas, near his hometown. Programmed WPLO and KBOX. Also programmed KBLA, helping that station transition to a country format as KBBQ. Later became station manager at KBBQ, then at KLAC and went on to become executive VP and then president of Metromedia. Left Metromedia in the early '80s to become president of Gene Autry's Golden West Broadcasters, where he became VP-GM of KMPC. In 1985, Ward bought KUTE for Golden West and a few call-letter changes later it became the first AAA station in Los Angeles as KSCA. Ward retired after the station was sold in 1997 and made into a Spanish-language station. Died of an apparent heart attack at the age of 65.
---
EARL WARREN
Born: October 10, 1933, Regina
Died: October 19, 2002, Toronto
Also known as: Birth name was Earl Warren Segal
Stations: CKCK Regina, CKY, CJOB Winnipeg, CFRN Edmonton, CFRB Toronto, CING-FM Burlington, Ontario, CHWO Oakville, Ontario
Notes: His midday program "The House of Warren" was an institution at CFRB for 22 years. Spent 52 years in broadcasting. Died of cancer.
---
ALLAN WATERS
Born: August 21, 1921, Toronto
Died: December 3, 2005, Toronto
Stations: Best known for making CHUM Toronto the first 24-hour Top 40 station in Canada.
Notes: Waters was selling patent medicine in 1954 when his boss offered to sell one of his properties to him. The property he wound up with was CHUM, a low-rated dawn-to-dusk station that didn't seem to have much of a future. Under Waters leadership, CHUM became one of the leading Top 40 stations of all time, and CHUM Limited became one of Canada's leading broadcasting companies.
---
BOBBY WAYNE
Died: 1990
Also known as: Wizard, as in Wizard Bobby Wayne; Birth name was Wayne Satterfield.
Stations: WITH Baltimore, WGKV Charleston, West Virginia, WWHY Huntington, West Virginia, WSAI Cincinnati, KDWB Minneapolis, KCBQ San Diego, WUBE Cincinnati, WCBS-FM, WYNY, WHN New York, WSRZ, WAMR Sarasota, Florida
---
HAL WEAVER
Died: December 31, 1971, Surrey, B.C.
Also known as: Birth name was Harold Douglas Weaver
Stations: CKRD Red Deer, Alberta., CJCA Edmonton, CHLO London, Ontario, CKOC Hamilton, Ontario, CHUM Toronto, CFUN-CKVN, CJOR Vancouver
Notes: One of the many notable afternoon drive men CKOC has had (others include Roger Ashby, Dave Charles, Dave Smith and Jason Farr.) Died of cancer at age 28.
---
CLARK WEBER
Born: November 24, 1930, Wauwatosa, Wisconsin
Died: March 7, 2020, Evanston, Illinois
Also known as: Mother Weber's Oldest Son
Stations: WAUX Wauwatosa, Wisconsin, WBKV West Bend, Wisconsin, WRIT Milwaukee, WLS, WCFL, WMAQ, WIND, WJJD-AM, WAIT Chicago
Notes: Introduced the Beatles at Comiskey Park in 1965. Program director at WLS. Later in life Hosted daily one-minute commentaries on aging called, A Senior Moment with Clark Weber. Retired in 2015, the same year he was inducted into the Illinois Broadcasters Association Hall of Fame.
---
GENE WEED
Born: April 12, 1935
Died: August 5, 1999
Also known as: "The Weedy One"
Stations: KFWB, KLAC, Los Angeles, WQAM Miami, Armed Forces Radio, also worked in Texas and Omaha radio
Notes: Did last music show on KFWB on March 10, 1968. Voted top all-night deejay by Billboard Magazine in 1966. Produced "song films" well before they became known as "music videos". Also produced many television programs, including the Golden Globe Awards. Died of lung cancer.
---
JIM WEIR
Died: March 16, 2017, London, Ontario
Stations: CFPL London, Ontario, CHOK AM-FM Sarnia, Ontario, CFOX, CKGM (as Dave Cannon) Montreal
Notes: Most of his 30-year career was spent at CFPL. His brother is CFL Hall of Famer and two-time Montreal Alouettes Grey Cup champ Glen Weir (1974 and 1977). Jim Weir died at the age of 69.
---
WEIRD BEARD
Died: November 22, 1995, Pewee Valley, Kentucky.
Also known as: Birth name was Carl Burton Markert
Stations: WPDF Coryton, Indiana, WINN, WAKY Louisville, WBBF Rochester, New York
Notes: Diagnosed with MS as a young man, but that did not stop from from becoming a great career in broadcasting and law enforcement. Went into law enforcement with the Rochester Police Department after his stay as PD at WBBF. Sometimes played his father's old bugle on the air. Died of complications due to MS.
---
BOB WELLS
Died: December 7, 1989
Stations: WEBR, WGR, WKBW-TV, WGR-TV Buffalo, New York, WBTA Batavia, New York
Notes: Did famous Saturday morning "Hi-Teen Show" in the fifties; some say it was a forerunner to American Bandstand. Did "Pick-a-Polka" show on WGR-TV in 1950s. The Niagara Falls, New York, native died at age 68.
---
DARYL WELLS
Born: December 10, 1922, Victoria, B.C.
Died: December 12, 2003, Niagara Falls, Ontario
Also known as: Birth name was Daryl Wille
Stations: CHML, CHCH-TV Hamilton, Ontario, CFRB Toronto
Notes: Best-known as the "Voice of Racing" at Woodbine and Fort Erie race tracks in southern Ontario from 1956-1986. Worked as a deejay, sportscaster, big-band announcer and host of "Bandstand"-style TV show from Hamilton, Ontario, in late '50s. Was voice of the Hamilton Tiger-Cats (football) and Hamilton Red Wings (hockey). Son Daryl, Jr., followed in his footsteps as a track announcer. Died of heart disease.
---
CACTUS JACK WELLS
Born: May 13, 1911, Moose Jaw, Saskatchewan
Died: Mar 26, 1999
Stations: CJAT Trail, B.C., CFRW, CKY, CKRC, CJOB Winnipeg
Notes: Did mornings at CKY. Father of TSN's John Wells. Well-known football and curling announcer. Turned down the play-by-play job on Hockey Night in Canada that eventually went to Danny Gallivan.
---
KENNY WELLS
Died: May 25, 2003
Stations: CKFH Toronto, CING-FM Burlington, Ontario
Notes: Wells was part of the first year rock lineup of a CKFH, part of an on-air staff that included Tom Fulton, Big G. Walters, Norman B., and Mike Williams, also deceased. Died in boating accident near Honey Harbour, Ontario.
---
MARK WHEELER
Died: October 28, 2001
Stations: WONN Lakeland, Florida., WLCY, WINQ Tampa Bay, Florida, WYSE-WWAB Lakeland, Florida
Notes: Started in radio at age 14 in Rock City, South Carolina, His great voice enabled him to do much production work on his side with his company Wheeler Productions. Was PD and air personality at both WYSE-WWAB and WONN. Operations director at WLCY. Died in his sleep of a massive heart attack.
---
BIG JIM WILLIAMS
Died: 1974
Stations: KDKA, KDKA-TV, WWSW Pittsburgh
Notes: Originally from Uniontown, Pennsylvania. Williams did weekly countdown show on Monday nights during his 1960-69 stay at KDKA. He did the last-ever all-night music show at KDKA in the summer of 1969. After leaving KDKA, Williams managed an ice cream parlour in the South Hills section of Pittsburgh. Died of a heart attack at the age of 51.
---
CHUCK WILLIAMS
Born: October 7, 1949
Died: July 23, 2015, San Diego
Also known as: Birth name was Gregory Van Aust, was also Chuck Williams (at WHNC, WLS and CKLW), Chuck McKay (at CKLW) and Greg Austin (after CKLW)
Stations: KEWI Topeka, Kansas, WNHC New Haven, Connecticut, WLS, WMAQ Chicago, CKLW Windsor, Ontario, (more than once), WMID Atlantic City, New Jersey, KFRC, K-101-FM San Francisco, KOPA Phoenix, KVI Seattle, KWFM Tucson, Arizona, KLLS San Antonio, KSR Bryan College Station, Texas, KOMO, KLSI Kansas City, KFI Los Angeles, KMEN San Bernardino, California
Notes: Earned everlasting Top 40 fame for his on-air meltdown on CKLW in 1975 http://rockradioscrapbook.ca/cklw-chuckmckay.ram. His complete story can be found at this link: https://www.pugetsound.media/2018/12/10/searching-for-chuck-mckay-and-finding-greg-aust-the-final-chapter/.
---
JOHNNY WILLIAMS
Died: April 16, 2020
Also known as: Birth name was Thomas DeAngelo
Stations: WTRX Flint, Michigan, WOHO Toledo, Ohio, WYSL-FM Buffalo, New York, WQXL-FM Cleveland, CKLW Windsor, Ontario, WNIC Detroit, Sirius Satellite Radio
Notes: Joined the Big 8 in 1968 and stayed 15 years. Hosted "Pillow Talk" on WNIC. Managed local band Tim Tam and the Turn Ons and supported his son's band "The Phoenix Theory." Died of complications from COVID-19.
---
MIKE WILLIAMS
Born: 1941
Died: December 30, 1985
Also known as: Mysterious Mike Williams; Birth name was Ken Clarke which he used at CJSB
Stations: CKFH Toronto, CFOX, CKGM, CJAD Montreal, CJED Edmonton, CJSB Ottawa
Notes: Originally from the Vancouver area. His brother is Terry Clarke, jazz drummer with the Jim Hall Trio and Oscar Peterson among others. Williams was killed in an auto accident while driving between Ottawa and Montreal on December 30, 1985.
---
NAT D. WILLIAMS
Born: October 19, 1907
Died: October 27, 1983
Stations: WDIA Memphis
Notes: Williams broke the colour barrier in the south with his "Tan Town Jubilee" program on WDIA from 1948 to 1972. For more on Williams, click here.
---
BIG WILSON
Died: October, 1989, Selma, South Carolina
Also known as: Birth name was Malcolm John Wilson, Jr.
Stations: WNEW-AM, WNBC, WHN New York, WKAY, WIOD, WCIX-TV Miami, KYW Cleveland (among others)
Notes: Spent 11 years at WNBC before leaving in 1974. TV voice of the PBS program Star Hustler. Was a movie host at WCIX-TV. Was 6 feet, six inches tall and weighed over 300 pounds. Died on 65th birthday.
---
GERRY WILSON
Born: July 10, 1924, Hamilton, Ont.
Died: June 27, 1998, New York
Stations: CKFH/CJCL Toronto
Also known as: Birth name was Gerald Allan Wilson
Notes: Chief Engineer throughout CKFH's 30 years of existence and continued in that role when the station became CJCL in 1981. Produced Toronto Maple Leaf and Toronto Blue Jay broadcasts for many years. Had his own company, Wilson Sports Productions. Of trivial importance is the fact that he hired this site's webmaster for his first radio job in 1974. Died of cancer.
---
LARRY WILSON
Died: January 5, 1997
Stations: CHUM, CHUM-FM Toronto
Notes: Wilson worked as a newsman deejay at both CHUM and CHUM-FM and also did sports at CHUM. Broke news of John Lennon's death on CHUM-FM. Left radio and moved to Dominican Republic after three decades at CHUM.
---
VERNON WINSLOW
Born: April 1, 1911
Died: December 13, 1993
Stations: WJMR, WYLD, WMRY, WWEZ, WJBW New Orleans
Notes: Doctor Daddy O; wrote column under the name Poppa Stoppa and tutored many white deejays who used the Poppa Stoppa nickname. Was fired from WJMR for talking into the mic when a white deejay was a no-show. He then moved to WWEZ, but had to ride a freight train to the studios because of his colour. Billed as "New Orleans First Coloured Disc Jockey". His show - called Jivin' with Jax (it was sponsored by Jax beer) - was the top-rated in New Orleans. Taught art at the Chicago Art Institute prior to moving to New Orleans.
---
JACK WINTER
Born: July 29, 1950, Toronto
Died: April 7, 2004, Toronto
Stations: CKFH Toronto
Notes: Was music director at CKFH in the 1970s, overseeing the station's transition from oldies to country in 1975. Owned a personal collection of 100,000 records (he needed two houses to store them all!) Died of ALS.
---
BILL WINTERS
Died: November 26, 1975, New York
Stations: WCEC, WFMA, WEED Rocky Mountain, North Carolina, WGAI Elizabeth City, North Carolina, WFBS Spring Lake, North Carolina, WHAP Hopewell, Virginia, WLCY, WALT Tampa, Flprida, WQAM Miami, KYW, WKYC Cleveland, WIBG Philadelphia, CKLW Windsor, Ontario, WPOP Hartford, WCAO Baltimore, WBZ Boston, WCBS-FM New York
Notes: Had WPOP's highest-ratings for the morning in the late '60s. CKLW morning man in the early '70s. Died of a heart attack right after finishing his midday show at WCBS-FM. He was 35.
---
JIM WOOD
Born: 1932, Tyler, Texas
Died: 1990
Also known as: Big Jim Wood; The Vanilla Gorilla
Stations: KBLA, KGFJ, KRLA, KFFJ, KROQ Los Angeles, XEPRS Playas de Rosanto, Mexico, KILT Houston, WIBG Philadelphia, KONO San Antonio
Notes: Won Billboard's Leading Soul Music Air Personality in 1970, 1971 and 1972. Was dubbed the "Vanilla Gorilla" when he was one of only two white d.j.'s on r&b KGFJ. Worked as a security guard after his radio days. Died of complications from emphysema. He was 58.
---
GEORGIE WOODS
Born: May 11, 1927, Georgia
Died: June 18, 2005, Boynton Beach, Florida
Also known as: The Guy with the Goods, The Man with the Goods
Stations: WWRL New York, WHAT, WDAS, WPGR, WPHL-TV, WIBF-TV Philadelphia
Notes: Spent more than 40 years on the air. Hosted TV dance show in the '60s. Made the Philadelphia charts in the 1960's with "Potato Salad", a novelty song about his on-air patter. Gave Jerry Butler his nickname "The Ice Man" (because he was so cool on stage) and in 1964 coined the phrase "blue-eyed soul" in reference to the Righteous Brothers. Program director at WDAS. Inducted into the Broadcast Pioneers of Philadelphia Hall of Fame in 2005. Was a prominent voice in the U.S. civil rights movement. Participated in civil rights marches on Selma, Ala., and Washington, D.C. The City of Philadelphia declared May 14, 1993 "Georgie Woods Day". Died of an apparent heart attack.
---
DON WRIGHT
Died: June 1, 1997
Also known as: Dandy
Stations: WMJX, WFUN Miami, WRMF West Palm Beach, Florida
---