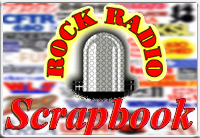 Airchecks: 1986

Subject: NEW YORK, ROCK MY RADIO
Station: WCBS-FM New York
Date: 1986
Times: 4:34/3:59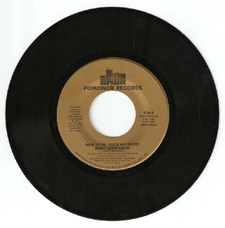 (Larger view here)
Listeners to the WCBS-FM Radio Greats Reunion over the years are no doubt familiar with this musical tribute to New York radio.
Co-written by Al Stark and Gerry Dieffenbach, New York, Rock My Radio was played during the 1989 Radio Greats Reunion and also appeared on subsequent WCBS-FM reunion weekends in the '90s.
Al Stark, who co-wrote New York, Rock My Radio, tells Rock Radio Scrapbook about the song...
"The song was an off shoot for a book proposal on the History of New York Rock 'n' Roll radio from the 50's to the then present (80's). I had a list of Dee Jays that I interviewed for the book proposal and the lyrics came to me as I was reading the names on the paper. I got together with Gerry Dieffenbach through a mutual friend and we collaborated on the tune. I wrote the lyrics and he did the music and vocals. I sent a copy to Joe McCoy at WCBS-FM and he featured it on their Dee Jay reunion weekend at that time. It was fun hearing the various Jocks talk about the song."
Enjoy the long version of "New York, Rock My Radio" here. (4:34)

A shorter version of "New York, Rock My Radio" can be heard here. (3:59)


DJs featured on "New York, Rock My Radio (long version)
- Alan Freed
- Jack Lacy
- Murray the K
- Mad Daddy
- Peter Tripp
- Frankie Crocker
- Dr. Jive
- Paul Sherman
- Hal Jackson
- Rocky G.
- Jack Spector
- Dan Daniel
- B. Mitchel Reed (BMR)
- Joe O'Brien (JOB)
- Gary Stevens
- Dean Anthony
- Scott Muni
- Dan Ingram
- Herb Oscar Anderson (HOA)
- Bob Lewis
- Bob Dayton
- Charlie Greer
- Harry Harrison
- Ron Lundy
- Cousin Brucie
- Roscoe (Mercer)
- Alison Steele
- Vin Scelsa
- John Zacherle
- Pete Fornatale
- Dave Herman
- Tony Pigg
- Jimmy Fink
- Gus Gossert
- George Michael
- Wolfman Jack
- Peter Bush
- Dick Heatherton
- Bobby "Wizard" Wayne
- Alex Bennett
- Roby Yonge
- Paco
- Jim Kerr
- Pat St. John
- Don Imus
- Scott Shannon
- Howard Stern
- JJ Kennedy
- Sergio Dean
- Ken "Spider" Webb
- Chuck Leonard
- Carol Miller
- Meg Griffin
- Mary Thomas
- Hollywood Hamilton
- Jack Da Wack
- Norm N. Nite
- Don K. Reed
- Bob Shannon
- Max Kinkle
- Bobby Jay
- Bill Brown
- Cousin Brucie (again)
In order, these are the radio stations mentioned
- WINS
- WMCA
- WABC
- WNEW-FM
- WPLJ
- WNBC
- WXRK (K-ROCK)
- WBLS
- WRKS (KISS-FM)
- Z-100
- WQHT (Hot 103)
- WCBS-FM
- WMGM
- WKTU
- WWRL

"New York, Rock My Radio"
© 1986 Pomonok Records
Lyrics: Al Stark; Music: Gerry Dieffenbach
(The Al Stark Collection)
---
Talent: LARRY MAXWELL
Station: CKBB Barrie, Ont./CKCB Collingwood, Ontario
Date: March 4, 1986
Time: 9:19


(Logos courtesy Bill Dulmage)
It seems like a long time ago, doesn't it? The days when a budding radio announcer could learn his trade by doing the all-night show on a small or medium market station, then move on to better things.
Larry Maxwell was such an announcer. He started his radio career by doing overnights at CKBB-CKCB Barrie-Collingwood from 1985 to 1986. In '86, he moved to country-formatted BX-93 in London, Ontario, where he did a swing shift. Then, in 1988, Maxwell began a five-year stint as announcer and music director of The Coast to Coast Network. His Telemedia satellite show was carried on more than 50 stations across Canada.
In 1993 and 1994 Maxwell did middays at Magic 94.9 in Oshawa, Ontario, then in '94 it was on to MIX 99.9 Toronto as a swing announcer covering evenings, weekends and overnights.
Maxwell left the Mix in 1999 for a six-year stint at one of Canada's highest-rated stations, CHFI. He was a swing announcer at CHFI, while also producing spots for the Rogers cluster that included CHFI, The Fan 590, Jack-FM and 680 News. Maxwell was also a promo voice for 680 News and was Music Assistant to the Music Director at CHFI.
Maxwell returned to the Mix in the winter of 2005-06 before moving to The Canadian Press in 2006 as National Audio Editor.
It has been quite a career for Maxwell, and it all started the old-fashioned way - with the all-night show.
This aircheck starts with the end of the Jim Lundy show, then enjoy Larry Maxwell on CKBB-CKCB here.

(The Larry Maxwell Collection)
---
Talent: CANDI CLARK
Station: WPXY-FM Rochester, New York
Date: March or April 1986
Time: 7:04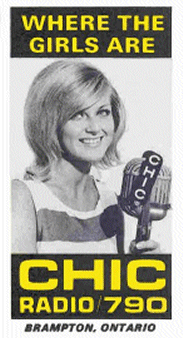 (Logo courtesy Bill Dulmage)
Female voices are commonly heard on radio now, but it wasn't always so. Radio was very male dominated in the early years of the medium, including the fledgling years of rock 'n' roll radio in the 1950s and '60s.
The trend began to change in the '70s, with deejays like Yvonne Daniels, Raechel Donahue, Carol Miller and Ellie Dylan hitting the airwaves. But two stations of note were way ahead of the curve, experimenting with an all-female lineup in the late '60s. In 1966-67, New York's WNEW-FM put together a lineup that included Peggy Cass, Pam McKissick, Alison Steele, Nell Bassett, Dolly Holiday and Anne Clements. The only male hosts were in morning drive, with Gene Klaven and Dee Finch simulcast from WNEW-AM. Only Steele survived WNEW-FM's move to progressive rock in late 1967, and she went on to become one of the true legends of the album rock format.
CHIC-AM in Brampton, Ontario, also had an all-female lineup in the late '60s, which tied in very neatly with the call-letters. It was one of many formats for the station that later became CKMW and is now known as CIAO.
One of the best female jocks we've heard is Candi Clark, who was at WPXY-FM in the 1980s.
Hear Candi Clark here.

(The Stephen MacLeod Collection)
---
Subject: LOOKIN' BACK AGAIN INTRO with DON DAYNARD
Station: CKFM Toronto
Date: June 21, 1986
Time: 0:55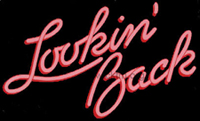 It was one of Toronto's most popular oldies shows and a perfect showcase for the wit and wisdom of
Don Daynard
.
Dazzlin' Don
tells us the story behind "Lookin' Back"...
"As far as the oldies show starting at
CKFM
, I was single at the time and would go to my place in Oliphant, on the Bruce Peninsula every weekend and driving home on Sunday night, across Highway 89 to the 400, I'd pick up a station in Buffalo that had an oldies show ... forget the name of the station, but either
Craig Smith
would likely remember. After a month or two, it came up in a conversation with the original
Craig Smith
who said he listened to the show too, and we both suggested that it was the kind of show we'd like to do. Craig has an incredible collection of oldies and that's what we used, rarely going into the station's material.
We approached
Bill Ballentine
and he said to do a one-hour pilot, which we did and they sat on it for two or three weeks and then said "let's do it" and to do a two-hour show every Saturday night from 7:00 'til 9:00.
CKFM
was getting clobbered by
CHFI
in that time period with something called "In Concert" where they ran an entire album with applause between each cut so it sounded live. Anyway, we edited the one hour pilot slightly ... I should say Craig edited it as he did all the work, programming, editing, all that .. and did a second hour and debuted the show and within weeks it took off and was huge for the rest of the run, eventually expanded to three hours. All done on tape, reel-to-reel, and Craig edited it and ran from that (there was a guy in Mississauga who had copies of every show we did ... I visited his place once and the entire back wall of his den was reel-to-reel tapes of "Lookin' Back"). Unfortunately, I don't recall his name. Would be interesting to know if he still has them and what shape they are in!) The theme for the show was "Kinda Easy Like" by Booker T and the Whatevers. Always called them Booker T and the Mugwumps!!
When I went to
CHFI
I took the show with me but we couldn't call it "Lookin' Back" as the Slaights had copyrighted the name before we could. I wanted them to hire both Craig Smith and Jeremy Brown but they passed on both of them. Anyway it started lamely with interviews and crap like that - we did do interviews on the original "Lookin' Back" show but I recall them being much more interesting. I mean, we once interviewed some ballet dancer who was an oldies fan! Jesus Murphy! Of course, we also interviewed
Wolfman Jack
about three days before he went back home and died in his driveway! I hope it wasn't our fault! But then we eventually settled into a pretty good run except for the past year or so when they cut back on the playlist. When I retired from the morning show in December of '99 I continued on doing the oldies show, even though they had cut back the playlist even more. It was terrible. In the fall of '03 I had cancer surgery and although I had agreed to come back, I got out of the contract and haven't had anything much to do about radio ever since..."
Don also tells us that it was
Craig Smith
who chose the introductory theme by
Booker T and the MG's
.

Kinda Easy Like

was on the album
Melting Pot, released in December, 1970.
Daynard's intro to Lookin' Back can be heard here.

(The Bill Dulmage Collection)
---
Talent: DICK BARTLEY with SOLID GOLD SATURDAY NIGHT
Station: WBUF Buffalo, New York
Date: June 7, 1986
Time: 46:11 (unscoped)
16:35 (scoped)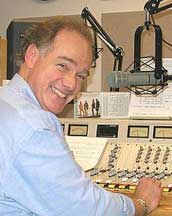 Making the oldies sound alive and fresh is a tricky business. One deejay who does it right is Dick Bartley.
Bartley, by then an 11-year veteran of the business, introduced Solid Gold Saturday Night to Chicago's WFYR in April 1980. The show went national via satellite in January 1982 on the RKO/United Stations Radio Networks. Bartley's show, America's first live nationally syndicated oldies program, soon became a weekend staple on many stations in the U.S. and Canada. His up-beat, personable style and his policy of playing some lesser-known hits made Solid Gold Saturday Night and Solid Gold Scrapbook a weekend staple.
Bartley moved to Westwood One in 1988 where he created, produced and hosted the Rock and Roll Oldies Show and New Gold on CD. In 1991, Bartley moved to the ABC Radio Networks where he continued his Saturday night show with Rock & Roll's Greatest Hits while also hosting American Gold. In 2009, Rock & Roll's Greatest Hits moved to the United Stations Radio Network where he introduced The Classic Countdown Show.
Bartley, who began his radio career at WMOD Lynchburg, Virginia, in 1969, was named to the Radio Hall of Fame in 2000. He joined WELK Charlottesville in 1973 and programmed and did middays at WBBM-FM Chicago beginning in 1975 before moving to WFYR in afternoon drive in 1978. He also did mornings at WNSR-FM New York in 1986.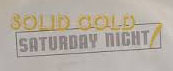 To hear Solid Gold Saturday Night - and Summertime's Greatest Hits with Dick Bartley in 1986 (UNSCOPED) - click here.



To hear Solid Gold Saturday Night - and Summertime's Greatest Hits with Dick Bartley in 1986 (SCOPED) - click here.

(Scrapbook archives)
---
Talent: J. MICHAEL WILSON
Station: WGCL Cleveland
Date: October 12, 1986
Time: 5:57
Ever wonder what happened to your favourite deejay?
If you weren't in the business and didn't subscribe to the trades, you rarely knew where a jock you liked went to after he left your local station. But thanks to the magic of the Internet, many years later you can find out.
In the case of J. Michael Wilson, his whereabouts were a mystery to us after he left WGR Buffalo in 1971 after two years at CHUM and a brief stint at Toronto rival CKFH. But now we know that he went to WMEX Boston in 1972, followed by stints at Washington, D.C., stations WRC, WEAM and WWDC and WWWE Cleveland to finish up the '70s. Wilson moved to WYST Baltimore in 1982, WRQC Cleveland in 1984 and then WGCL Cleveland in 1985. His last radio stop, according to 440:Satisfaction, was WCPZ Sandusky, Ohio, from 1987 to 1993.
Now retired from radio, Wilson is a professional cyclist who won four medals at the Ohio Senior Olympics in 2002 and qualified for the National Senior Games the following year. Not much money, he reports, but lots of fun and fitness.
Enjoy J. Michael Wilson (and Rodney the Rodent) at WGCL here.




(The Bill Dulmage Collection)
---
Talent: LIVE EARL JIVE
Station: CHOM-FM Montréal (15th anniversary special)
Date: October 19, 1986
Time: 12:57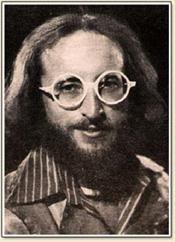 Pour la description en français, cliquez ici

On the evening of October 28, 1969, Montréal's 'Beautiful Music' CKGM 97.7 underwent a complete metamorphosis as it got off the 'elevators' for good and became 97.7 CKGM-FM, "Tribal Rock".
There was no mistaking the new format for Frédéric Chopin, James Last or especially the Top 40 genre of the city's AM big sister station, 980 CKGM. Almost overnight and led by the company's maverick owner Geoff Stirling, CKGM-FM became rock album-oriented, spaced-out and irreverent with an 'anything-goes' hippie attitude fuelled by such on-air luminaries as Doug Pringle, Angus MacKay, Tim Forsythe, David Marsden and the Live Earl Jive, to name but a few.

It wasn't until October of 1971 that the CKGM-FM moniker was finally dropped in favour of the new call letters, CHOM-FM and the slogan 'L'Esprit de Montréal', with a few years of controversial bilingual radio still ahead on the horizon. With the later addition of French-speaking FM deejays such as Robert "Bobby" Boulanger, Benoît Dufresne, Denis Grondin, Claude Rajotte, Bob Beauchamp and Marc Carpentier (the latter the former ''Scott'' Carpentier of 980 CKGM-AM La ''Connection'' Française fame) in the mid-seventies, the 'bilingual commune' at 1355 Greene Avenue in Westmount Qc. was well on its merry way.
Enjoy Live Earl Jive (with a cameo appearance from colleague 'Too Tall') on CHOM, 'L'Esprit de Montréal', as Earl returned for CHOM's 15th Anniversary Special on October 19, 1986 here.



(The Brian Wolofsky Collection)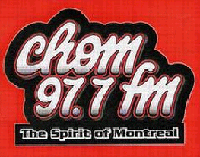 Aircheck editing & description: Marc Denis
For more Montréal bilingual radio memories, visit the Mais Oui Files here on Rock Radio Scrapbook and Marc Denis' 980 CKGM Super 70s Tribute Page
---
Talent: BARRY ROGERS
Station: CFCY Charlottetown
Date: 1986
Time: 8:24
Small in size, but large in entertainment value could be the radio motto of Canada's Island province, Prince Edward Island.
Enjoy Barry Rogers here.

(The Mark Young Collection)
---