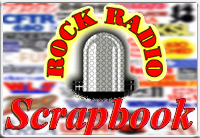 AIRCHECK OF THE WEEK
Edition #1089
Week of April 26, 2020


Talent: ROGER CHRISTIAN
Station: KHJ Los Angeles
Date: April 29, 1965
Time: 32:40 (unscoped)
15:01 (scoped)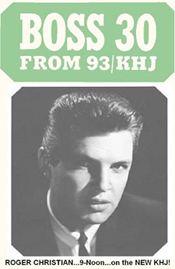 Roger Christian broke into radio by saving a life.
The native of Buffalo, New York, got his first radio gig after rescuing a radio executive's wife from drowning, while working as a lifeguard.
The station was WSAY Rochester, New York, and before long Christian had moved west to Buffalo and WWOL. But Christian would soon find fame and fortune much further west.
Christian - not to be confused with the Roger Christian who spent 43 years at 102.5 FM in Buffalo - moved to California in 1959 for a gig at KFXM San Bernardino. From there, it was on to Los Angeles where - after stops at KRLA and KFWB - Christian landed at KHJ Los Angeles where he was one of the original "Boss Jocks. Around this time, he co-wrote "The Little Old Lady (From Pasadena)" for Jan & Dean and "Don't Worry Baby" and "Little Deuce Coupe" for the Beach Boys. He also appeared in 17 movies, including "The Carpetbaggers."
Christian - who also jocked in Los Angeles at KBLA and KIQQ-FM and a few others (some more than once) - retired from radio in the mid-'70s. He died in 1991 of complications from kidney and liver failure. He was 57.
Enjoy Roger Christian on KHJ (UNSCOPED) here.

Enjoy Roger Christian on KHJ (SCOPED) here.

(The Joe Fazio Collection)




Rock Radio Scrapbook pays
music licensing fees to the
Society of Composers, Authors and Music Publishers of Canada (License 22-F)


The Aircheck of the Week PREVIEW!



We're previewing the Aircheck of the Week on Facebook. Every Friday, we post the audio link to the Aircheck of the Week on Facebook with the full feature to follow on Sunday as usual.
---