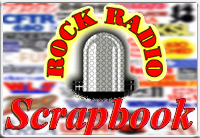 AIRCHECK OF THE WEEK
Edition #1104
Week of August 9, 2020

Talent: PAT O'DAY
Station: KJR Seatlle
Date: November 28, 1966
Time: 21:28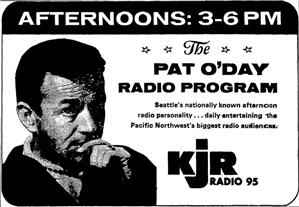 He was a program director, general manager, station owner, concert promoter and hydroplane announcer, among many other things. But Pat O'Day is best remembered as the afternoon drive jock at KJR.
Born Paul William Berg in Norfolk, Nebraska, O'Day worked a several stations in Washington state before landing the big fish - a job jocking at KJR Seattle in 1959. It was there O'Day established his legendary status, in the afternoon drive shift, at the popular Seattle station. This led to work as a concert promoter, with acts as diverse as Jimi Hendrix, the Beach Boys, Frank Sinatra and Elvis. He was elevated to program director at KJR - twice winning the award for top PD in the U.S. - and became general manager in 1968. He left the station in 1974 but not before gaining another level of fame with a re-creation of his show for the Cruisin' 1966 album. Later he would be included in the disc jockey exhibit at the Rock and Roll Hall of Fame, and be featured in the documentary "I Am What I Play." O'Day announced the annual Seafair hydroplane race telecast on Lake Washington from 1967 until 2013. He also got into station ownership at KKMI, KYYX and KXA Seattle plus KORL Honolulu.
Jason Remington, founder and creator of Puget Sound Media, a website that focuses on local radio and TV, is effusive in his praise: "Pat O'Day was the creator of the greatest rock 'n' roll radio station in the Northwest. He did what others couldn't do. He was a genius at hiring talent. He knew what sounds he wanted. That's what made KJR."
Enjoy Pat O'Day at KJR here.

(The Red Robinson Collection via Ted Wendland, radiowest.ca)

---
Talent: COUSIN BRUCIE
Station: SiriusXM
Date: August 1, 2020
Time: 51:54 (unscoped)
12:40 (scoped)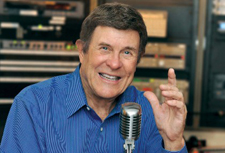 It was "Good Night" but not "Goodbye."
Cousin Brucie - a.k.a. Bruce Morrow - ended a 15-year-run at SiriusXM when he signed off for the final time on the "60s on 6." It marked -at least for the moment - the end of a 63-year career in radio that started in 1957 at ZBM Bermuda. Brucie is best remembered for his 14-year (1960-74) stay at WABC, though he actually started in New York radio in 1959 at WINS. After WABC, Brucie went to rival WNBC, then dabbled in station ownership and was at WCBS-FM from 1982 until the switch to the Jack format in 2005. He joined SiriusXM the same year and appeared regularly on Wednesdays and Saturdays until his departure in 2020.
Enjoy Cousin Brucie's last SiriusXM show (UNSCOPED) here.

Enjoy Cousin Brucie's last SiriusXM show (SCOPED) here.

(The Dan Haber Collection)




Rock Radio Scrapbook pays
music licensing fees to the
Society of Composers, Authors and Music Publishers of Canada (License 22-F)


The Aircheck of the Week PREVIEW!



We're previewing the Aircheck of the Week on Facebook. Every Friday, we post the audio link to the Aircheck of the Week on Facebook with the full feature to follow on Sunday as usual.
---