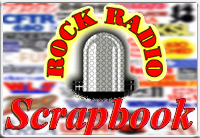 AIRCHECK OF THE WEEK
Edition #1079
Week of February 16, 2020

Talent: JEFFERSON KAYE
Station: WBZ Boston
Date: February 17, 1966
Time: 1:00:16 (unscoped)
25:10 (scoped)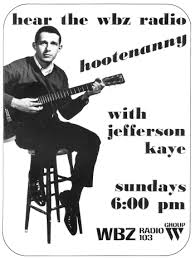 Before he came to WKBW, Jefferson Kaye literally had a hootenanny at WBZ.
The man born Martin Krimski, who started his broadcasting career in the late '50s at Providence, Rhode Island stations WHIM and WRIB, broke into the big time in 1961 at WBZ Boston. He started on the all-night show, then moved to afternoon drive as the station transitioned from a middle-of-the-road to a Top 40 format. He also hosted a Sunday night program called Hootenanny, which showcased folk music.
This aircheck was recorded shortly before Kaye left for WKBW. It's a great capture of WBZ's Top 40 format and contains lots of songs that you probably haven't heard since they came out, and some that you may have never heard.
Also on this aircheck: a full newscast with long-time WBZ newsman Streeter Stuart.
Hear Jefferson Kaye on WBZ (UNSCOPED) here.

Hear Jefferson Kaye on WBZ (SCOPED) here.

(The Joe Fazio Collection)




Rock Radio Scrapbook pays
music licensing fees to the
Society of Composers, Authors and Music Publishers of Canada (License 22-F)


The Aircheck of the Week PREVIEW!



We're previewing the Aircheck of the Week on Facebook. Every Friday, we post the audio link to the Aircheck of the Week on Facebook with the full feature to follow on Sunday as usual.
---