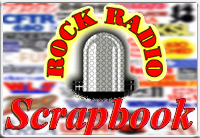 AIRCHECK OF THE WEEK
Edition #1076
Week of January 26, 2020

Talent: DAVE SHAFER
Station: CKLW Windsor, Ont.
Date: 1965 (composite)
Time: 57:44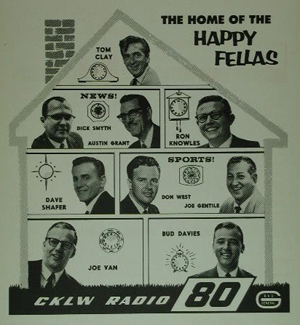 Dave Shafer was a mainstay at CKLW, working at the station on-and-off for some 30 years. He also had the rare privilege of deejaying on 'CK in both the pre-Big 8 and Big 8 days.
Shafer arrived in Detroit radio in 1961 after previous stops in Dover, Delaware, and Tucson, Arizona. His first Motown gig was record librarian at WJBK. But by the fall of '61, Shafer was the night-time jock at WJBK as Jack the Bellboy. His mixture of comedy, drop-ins, voices and on-air friendliness helped make his show a smash hit. He also became known for his fabulous record hops, which featured future superstars Stevie Wonder, the Supremes and Martha and The Vandellas.
By 1964, Shafer was doing afternoon drive at CKLW, part of a lineup that included Bud Davies, Joe Van, Ron Knowles, Tom Shannon and Don Zee. Shafer was gone from CKLW by late 1967-early '68. He returned to the Big 8 as a jock in 1971, eventually taking over mornings before leaving again by 1974.
Shafer later served as program director at WCAR, WOMC, WCZY, as well as CKLW. He moved to Florida in his later years, and died May 7, 2006 of complications from out-patient surgery. He was 73.

Hear Dave Shafer on CKLW from here.

Hear Dave Shafer on CKLW from here.

(The Charlie Ritenburg Collection)

More from The CKLW Years here!



Rock Radio Scrapbook pays
music licensing fees to the
Society of Composers, Authors and Music Publishers of Canada (License 22-F)


The Aircheck of the Week PREVIEW!



We're previewing the Aircheck of the Week on Facebook. Every Friday, we post the audio link to the Aircheck of the Week on Facebook with the full feature to follow on Sunday as usual.
---