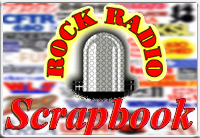 AIRCHECK OF THE WEEK
Edition #1100
Week of July 12, 2020

Talent: JOHNNY MORGAN
Station: CKLW Windsor, Ont.
Date: July 12, 1967
Time: 58:08 (unscoped)
22:20 (scoped)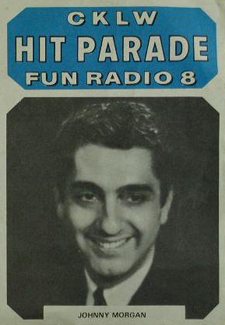 The Drake format arrived at CKLW in 1967 and it hit the station - and Detroit radio - like a hurricane. With consultant Bill Drake and program director Paul Drew calling the shots, a new, streamlined sound flowed. It was tight and bright and it shot CKLW to the top of the ratings before the other stations knew what hit them.
Under the Drake system, everything was tightly formatted, from music scheduling, to placement of ads and jingles, to what the jock said and how he said it. To some, it was the beginning of the end of the fun, personality era of rock radio. To others, it was the launch of a new, exciting time, and some memorable radio followed.
The Drake-formatted CKLW launched the week of April 1, 1967. As was his custom, Bill Drake himself did the imaging, with hourly station breaks like "And the hits just keep on comin'" or "Ladies and gentlemen, the beat goes on." As for the jocks, Tom Shannon and Dave Shafer remained from the pre-Drake era, and new voices like Johnny Morgan, Gary Mitchell, Bob Todd, Mike Rivers, Billy Mack (Kris Erik Stevens) and Jim Edwards joined. In addition, there was the high-powered CKLW 20-20 news - at 20 minutes past and 20 minutes before the hour - with authoritative voices like Dick Smyth, Byron MacGregor, Grant Hudson, Don Patrick, Don West and Joe Donovan.
Known in the early months of the format in 1967 as Radio 8 and Fun Radio, CKLW was called The Big 8 by mid-summer. It became one of the most famous monikers in rock radio history. This was recorded just before the change to the Big 8.
Enjoy Johnny Morgan on CKLW (UNSCOPED) here.

Enjoy Johnny Morgan on CKLW (SCOPED) here.

(The Tom Howard and Joe Fazio Collections)

More from the CKLW Years here!





Rock Radio Scrapbook pays
music licensing fees to the
Society of Composers, Authors and Music Publishers of Canada (License 22-F)


The Aircheck of the Week PREVIEW!



We're previewing the Aircheck of the Week on Facebook. Every Friday, we post the audio link to the Aircheck of the Week on Facebook with the full feature to follow on Sunday as usual.
---