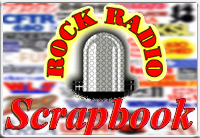 AIRCHECK OF THE WEEK
Edition #1083
Week of March 15, 2020


Talent: CLARK WEBER
Station: WLS Chicago
Date: September 2, 1966
Time: 46:36 (unscoped)
19:23 (scoped)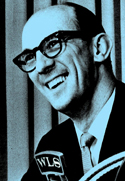 Clark Weber spent his entire radio career in Chicago and Wisconsin, highlighted by a nine-year stay at Windy City giant WLS in the '60s.
The man who called himself "Mother Weber's Oldest Son" got his first radio job in 1954 at WAUX in Waukesha, Wisconsin. After stops at WBKV West Bend, Wisconsin, and WRIT Milwaukee, Weber arrived at WLS in 1961 where he started on the all-night show. By 1963, he was doing the mornings and for a time served as program director before leaving for rival WCFL in 1969.
After leaving WCFL in 1971, Weber moved to WMAQ for a couple of years then spent 13 years (1973 to 1986) at WIND. His next stop was WJJD, where he entertained from 1986 to 1996. His final radio job before moving full-time into consulting was at WAIT, from 1996-2001.
One of Weber's claims to fame at WLS was that he was the first to play the Beatles in Chicago, doing so in 1963 well before Beatlemania. "I put that record on the playlist, Please, Please Me and Love Me Do, and they were awful, they were terrible songs. We played them for three weeks, took them off the air."
WLS is clearly dayparting in this fascinating aircheck from the late summer of 1966. The music is aimed at adults - he even plays a Benny Goodman record from 1938. Lots of PSA's for radio too.
Weber died March 7, 2020 at the age of 89.
Enjoy Clark Weber on WLS (UNSCOPED) here.

Enjoy Clark Weber on WLS (jSCOPED) here.

(The Don Shuttleworth Collection)



Rock Radio Scrapbook pays
music licensing fees to the
Society of Composers, Authors and Music Publishers of Canada (License 22-F)


The Aircheck of the Week PREVIEW!



We're previewing the Aircheck of the Week on Facebook. Every Friday, we post the audio link to the Aircheck of the Week on Facebook with the full feature to follow on Sunday as usual.
---