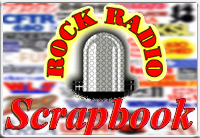 AIRCHECK OF THE WEEK
Edition #1157
Week of August 15, 2021


Talent: BILL WRIGHT SR.
Station: WIBG Philadelphia
Date: September 6, 1960
Time: 30:22 (unscoped)
16:34 (scoped)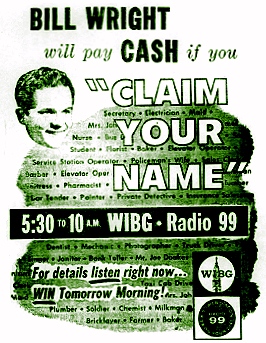 A childhood illness led to Bill Wright, Sr.'s, spectacular radio career.
In 1938 at age 10, Wright suffered an inflammation in his legs that lasted five years, and left him dependent on wheelchairs, canes, crutches and a prosthetic boot for the rest of his life. His mother gave him a bedside radio during his convalescence and he listened to it constantly. By 1943 he was on the radio as part of a youth choir in his hometown of Birmingham, Alabama - as part of a youth choir. He joined WSGN in 1950 and spent six years at the Birmingham outlet.
Wright's biggest break came in 1957 when he joined the staff at WIBG Philadelphia. "The Rebel Wright" established his legend at WIBBAGE doing the morning show for 11 years as part of a legendary lineup that included Jerry Stevens, Hi Lit, Joe Niagara and Frank X. Feller. At one time it was estimated half of Philadelphia listened to Wright's folksy morning drive show.
Wright left WIBG in 1968 and established broadcasting schools in Providence, Rhode Island and Philadelphia, while also doing public relations work. But you can't keep a radio guy away from the mic forever - in 1986 he joined standards-formatted WPEN in a part-time role, rejoining WIBG alumni like Joe Niagara and Jerry Stevens.
Wright was inducted into the Broadcast Pioneers of Philadelphia Hall of Fame in 2005. He died August 8, 2021 at the age of 92.
Hear Bill Wright, Sr., on WIBG (UNSCOPED) here.

Hear Bill Wright, Sr., on WIBG (SCOPED) here.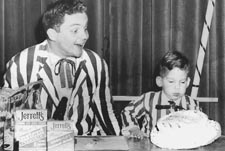 (Bill Wright, Sr. & Bill Wright Jr., 1955)
(The Don Shuttleworth Collection)



More 1960 airchecks here!

The Aircheck of the Week PREVIEW!



We're previewing the Aircheck of the Week on Facebook. Every Friday, we post the audio link to the Aircheck of the Week on Facebook with the full feature to follow on Sunday as usual.
---