It was known as "The House That The Hound Built." And for the last eight years of his life, George "Hound Dog" Lorenz put his heart and soul into it.
Lorenz, who championed rhythm and blues throughout his three-decade radio career, applied for and got the final available FM signal in Buffalo in 1962. On December 10, 1964, WBLK went on the air at 93.7 (the call letters stood for Benjamin L. Kulick, an early financial backer of the station). From the beginning, WBLK played rhythm and blues, an oddity on an FM dial that was at the time mostly classical, jazz or easy listening fare. But the Hound wanted to rock!
Lorenz got his start in radio in the mid-40s at Buffalo's WXRA. He moved to mornings at WJJL Niagara Falls, New York, in 1948, originally using the moniker 'Ol Man Lorenz. He started calling himself Hound Dog Lorenz in 1951, getting the name from the expression "doggin' around." As he explains it, "One of the jive expressions at the time was if you were hangin' around the corner, you were doggin' around. So I'd come on and say ' Here I am to dog around for another hour.' That's how they got to call me the hound dog."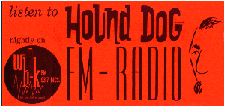 Lorenz went to WKBW in 1955, where he gained a massive following thanks to the station's huge 50,000-watt signal. He left three years later with the station about to switch to a Top 40 format. The Hound was no fan of Top 40, claiming it "is hurting the record industry, is lowering radio listening, and is decreasing a new artists chance to make it."
In 1960 Lorenz moved to suburban Buffalo station WINE, which ironically became the city's first R&B outlet later that decade as WUFO. After WINE, he began syndicating his show via World Wide Programming. The next stop was WBLK, where he stayed until his death on May 29, 1972 at age 53. And all these years later WBLK is still playing rhythm and blues, though nowadays the format is referred to as urban contemporary. The Hound would be proud.
Enjoy Hound Dog Lorenz on WBLK (UNSCOPED) here.

Enjoy Hound Dog Lorenz on WBLK (SCOPED) here.




(The Don Shuttleworth Collection)