"I just want to say thank you, and goodbye."
He arrived in a blaze of publicity and left the same way.
Jay Nelson debuted as CHUM's morning man in December, 1963, and did his final show on the Toronto station on Christmas Eve 1980. In both instances it was major news. Nelson had big shows to fill when he replaced Al Boliska, who had been CHUM morning personality since 1957 and was departing for rival CKEY. Nelson had come over from Buffalo, New York,-blowtorch WKBW, after previously jocking at WRIT Milwaukee, WARM Scranton, Pennsylvania, WHLO Akron, Ohio and WBNY Buffalo. His arrival was trumpeted on the CHUM Chart for weeks and Nelson didn't disappoint once he got to CHUM, commanding high ratings throughout his amazing 17-year stay on the morning show.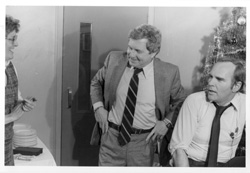 Jay Nelson with Dick Smyth (The CHUM Archives)
CHUM gave Nelson a great farewell when the popular jock departed the station in December, 1980. Former CHUM jocks Bob McAdorey and Duff Roman made live appearances, as did former CHUM sportscaster Brian Williams. Ottawa newscaster Hal Anthony and CHUM jock Mike Holland participated by phone. Numerous TV and print journalists were on hand to record the end of a broadcast era and Nelson's emotional farewell.
After CHUM, Nelson went on to become the weatherman at CHUM-owned CITY-TV in Toronto. He jocked at Toronto stations CKFM, CHFI, CKEY and CJEZ in the '80s and early '90s before passing away February 18, 1994 at the age of 57. But he'll always be best remembered for his many years at CHUM.
Hear the last hour of Jay Nelson's final CHUM show (UNSCOPED) here.

Hear the last hour of Jay Nelson's final CHUM show (SCOPED) here.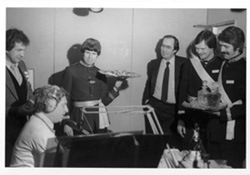 Jay Nelson with Duff Roman (centre right) (The CHUM Archives)