Machine Gun Kelly always aimed higher.
The man born Gary Sinclair got his start in 1970 in his hometown of Ada, Oklahoma at KTEN (he got his air name from the notorious 1930's gangster, Machine Gun Kelly). The following year, Kelly moved to 50,000-watt monster KOMA in Oklahoma City. Radio mogul Lee Abrams took notice and brought him to WGCL-FM Cleveland in 1972.
After a stop at KSTP-FM in Minneapolis where he helped bring the station from 16th to second in the ratings, the Gunner moved to KHJ Los Angeles in 1974. He soon moved into TV and film, starring as a DJ in "A Star Is Born", then acting as a priest in Clint Eastwood's "The Enforcer." He was also cast in 50 prime-time TV roles.
Kelly moved to KTNQ in 1977, and was named Billboard National Radio Personality of the Year the following year. He was also enjoying a successful voice-over career and adding more TV roles to his resume.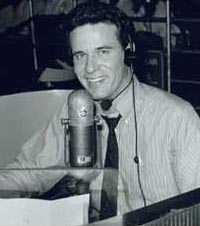 After a two-year stay at CBS in New York, Kelly returned to Los Angeles at KIIS-FM while also starting the "Live From the '60s" syndicated radio show with host The Real Don Steele. Next stop, in 1989, was KODJ, where he joined Steele, Charlie Tuna, Humble Harv and Rich Fields. Moves to KCBS-FM Los Angeles and KOOL-FM in Phoenix followed.
In 1995, Kelly travelled across the pond with his wife Molly for "Capitol Gold" in London as "M.G. and Molly" (he had dropped the Machine Gun moniker years earlier after a spate of shootings in Los Angeles). He was later heard on KGBO Las Vegas and Mix 96 in Calgary.
Since 1998, Kelly's large body of work has included "American Hit List", "The Amazing '80s", "Back to the '70s", "Classic Hit List", "Your '90s Rewind" and a relaunch of "Live From the '60s with The Real Don Steele." He celebrated a half-century in the business in 2020.
Enjoy Machine Gun Kelly on KHJ (UNSCOPED) here.

Enjoy Machine Gun Kelly on KHJ (SCOPED) here.