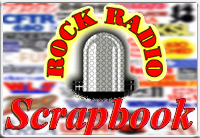 AIRCHECK OF THE WEEK
Edition #1252
Week of July 2, 2023


Talent: BOB SHANNON
Station: WCBS-FM New York
Date: July 7, 1997
Time: 23:12

When Bob Shannon joined WCBS-FM as a part-timer in 1982, it was the latest addition to a lineup already teeming with talent.
Already on board were WABC legends Harry Harrison and Ron Lundy, WCBS-FM veterans Bob Brown and Don K. Reed plus "Mr. Music" himself, Norm N. Nite and WMCA great Jack Spector.
WABC stalwarts Cousin Brucie and Dan Ingram would join later in the decade as would CKLW legend Max Kinkel.
It was a collection of talent that will never be repeated, but we can still relive via airchecks.
Enjoy Bob Shannon on WCBS-FM here.

(The Bill Dulmage Collection)



The Aircheck of the Week PREVIEW!



We're previewing the Aircheck of the Week on Facebook. Every Friday, we post the audio link to the Aircheck of the Week on Facebook with the full feature to follow on Sunday as usual.
---