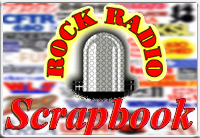 AIRCHECK OF THE WEEK
Edition #1169
Week of November 7, 2021


Talent: RON RILEY
Station: WHK Cleveland
Date: November 2, 1962
Time: 28:51 (unscoped)
16:02 (scoped)

Doing double-duty helped vault Ron Riley into radio stardom.
Riley started in professional radio at WAPL Appleton, Wisconsin (as Smiley Riley) He moved to WOKY Milwaukee in 1960, then made stops at WRIT Milwaukee, KXOX St. Louis before arriving at WJJD Chicago in 1961. When the WJJD gig ended in 1962, Riley took a vacation relief job back at WOKY. But literally minutes later he was offered the all-night show at WLS Chicago for five weeks.
Having committed to WOKY, Riley decided to work at both stations. He did afternoons at WOKY before driving the 160 kilometres (100 miles) or so to Chicago, taking a short nap, then doing the all-night show on WLS before driving back again.

Riley's next stop was WHK Cleveland, then in early 1963 was offered the early evening show at WLS. He took it and stayed at the station until 1970. Riley then moved to cross-town rival WCFL, before landing on on air/PD job at WCAO Baltimore in 1971. After a few years of that, Riley moved into TV weather forecasting, spending 16 years at WTOP-TV in Washington before retiring from full-time broadcasting in 2009.
Enjoy Ron Riley at WHK (UNSCOPED) here.

Enjoy Ron Riley at WHK (SCOPED) here.

(

The Don Shuttleworth Collection)

The Aircheck of the Week PREVIEW!



We're previewing the Aircheck of the Week on Facebook. Every Friday, we post the audio link to the Aircheck of the Week on Facebook with the full feature to follow on Sunday as usual.
---