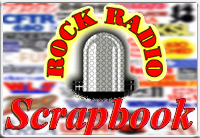 AIRCHECK OF THE WEEK
Edition #1263
Week of September 24, 2023


Talent: JIM BRADY
Station: CFTR Toronto
Date: August 15, 1977
Time: 54:06 (unscoped)
32:16 (scoped)

The new kid in town was about to take over.
In 1978, CFTR finally surpassed long-time rival CHUM in the Toronto BBMs.
The following year, TR's Jim Brady went ahead of CHUM's Jay Nelson for morning show honours.
But Brady wasn't the only reason for CFTR's success.
. A listen to this aircheck displays the talent of news director Robert Holiday, sports director John Hinnen and traffic specialists Russ Holden and Daryl Dahmer.
And that was just morning drive!
Brady left CFTR in 1981, worked at a number of stations on both sides of the border before retiring in 2008, saying radip had become "a soulless, corporate, entity." He died of cancer just six years later, aged 67.
Enjoy Jim Brady on CFTR (UNSCOPED) here.

Enjoy Jim Brady on CFTR (SCOPED) here.

(The Bill Dulmage Collection)

The Aircheck of the Week PREVIEW!



We're previewing the Aircheck of the Week on Facebook. Every Friday, we post the audio link to the Aircheck of the Week on Facebook with the full feature to follow on Sunday as usual.
---