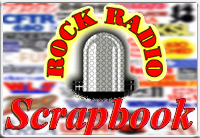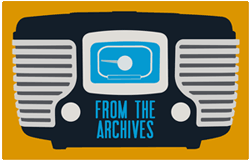 Talent: ROBERT W. MORGAN
Station: KHJ Los Angeles
Date: October 18, 1968
Time: 1:01:51 (unscoped)
30:14 (scoped)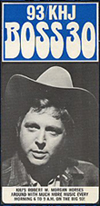 "Zap ... you're Morganized!"
Millions of Los Angelenos woke up to those words during Robert W. Morgan's time at KHJ in the '60s and early '70s. It was the cornerstone of a long and successful career that made Morgan one of radio's biggest stars. He was named Billboard Air Personality of the Year, got a star on the Hollywood Walk of Fame and is a member of the National Broadcasters Hall of Fame and the Radio Hall of Fame. His narration of the 48-Hour History of Rock and Roll in 1969 is considered a classic.
Born July 23, 1937 in Galion, Ohio, Morgan got his start at WWST at Wooster College. Originally he thought about becoming a lawyer, but the radio bug bit him early and he worked at California stations like KACY Oxnard, KMBY Monterey, KMAK Fresno and KROY Sacramento under the air name Bob Morgan. He started using Robert W. Morgan at KEWB Oakland in 1964.
Morgan was one of the original Boss Jocks when 93/KHJ began its Top 40 Drake format in April, 1965. His morning show commanded sensational ratings, and his "Morganization" of listeners on the air became the stuff of legend. His sharp wit and smooth delivery would provide southern Californians with more than a few "Good Morgans" over the years.
After five-and-a-half years at KHJ, Morgan left the Los Angeles station in October 1970. He then moved to WIND Chicago but returned to KHJ in January 1972. Morgan then left KHJ for the second and last time in June 1973. After a six-month non-compete hiatus, Morgan moved to the FM dial in December 1973 for a stint at L.A.'s K-100. In October 1975, he achieved a long-standing dream when he started at full-service KMPC in Los Angeles. Originally Morgan worked weekends and swing, but in August 1979 he succeeded KMPC veteran Dick Whittinghill in the morning spot.
Morgan left KMPC in 1982 for three years at Magic 106 (KMGG), returning to KMPC for seven more years beginning in 1985. In August 1992, Morgan moved into mornings at oldies-formatted K-EARTH (KRTH), playing many of the songs his listeners had first enjoyed so many years ago at KHJ. In May 1997, Morgan announced he was taking time off to fight lung cancer. He died - at the age of 60 - on May 22, 1998.
Morgan, who hosted numerous television shows and was a top voiceover talent, was also an avid bass fisherman, chess player, collector of Americana and a fan of the vocal group The Four Freshmen. But we remember him as one of the greatest jocks in the history of Top 40 radio.
Enjoy Robert W. Morgan on KHJ (UNSCOPED) here.

Enjoy Robert W. Morgan on KHJ (SCOPED) here.

(Scrapbook archives)
---