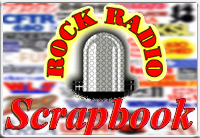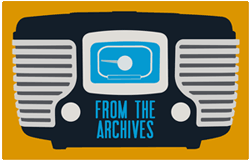 Talent: JOHN SPRAGGE and DUFF ROMAN
Station: CHUM Toronto
Date: November 15, 1967
Time: 21:32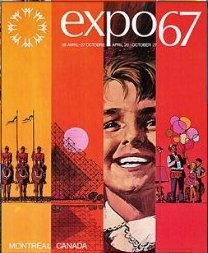 Ninety-sixty-seven is remembered for the Summer of Love, flower-power and the emergence of album rock. But for Canadians it was something extra special - it was Centennial Year.
The Dominion of Canada was formed on July 1, 1867 when three colonies - Canada (Ontario and Quebec), New Brunswick and Nova Scotia - were granted a constitution by the United Kingdom. A hundred years later, Canada stretched from sea-to-sea with 10 provinces and two territories - the second-largest country in total area in the world. It was time for a celebration!
That celebration was Expo 67 - formally called the 1967 International and Universal Exposition. It opened to the public April 28, 1967 on the site which encompassed Saint Helen's Island and the artificial island of Ile Notre Dame in Montreal. By the time it closed on October 27, more than 50 million people had passed through its gates - still a record for a World's Fair. Among the notables who visited: Queen Elizabeth II, U.S. President Lyndon Johnson, Princess Grace of Monaco and French President Charles de Gaulle.
Built in less than three years, Expo 67 was a tremendous achievement. There were 90 pavilions for various nations, regions, corporations and industries. Some of the architecture was stunning, from the Buckminster Fuller-designed U.S. pavilion to the imaginative Canadian pavilion (see below). The site continued as Man and His World for several years (the last of the original exhibits closed in 1982), and is currently home to the Montreal Casino, the amusement park La Ronde and several acres of parkland and bicycle paths. The old U.S. pavilion still stands; it now houses a science museum.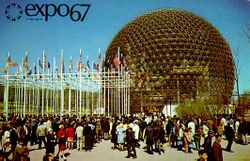 U.S. pavilion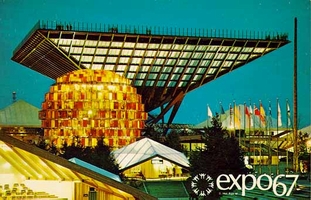 Canadian pavilion
We haven't found a lot of Canadian Top 40 airchecks from 1967, but we do have this one from CHUM. On it, you'll hear midday jocks John Spragge and Duff Roman along with newsman Gene Scott. They were part an impressive on-air staff that also included jocks Jay Nelson, Bob McAdorey, Brian Skinner and Bob Laine and talk show host Larry Solway.
Enjoy this CHUM aircheck here.

(Scrapbook archives)
---