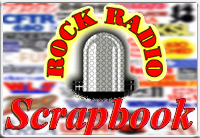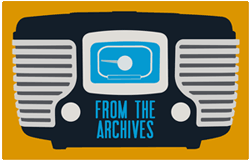 Talent: CHARLIE GREER
Station: WAKR Akron, Ohio
Date: June 5, 1959
Time: 32:41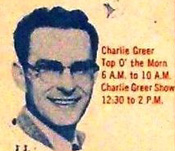 Three of the Big Apple's biggest radio personalities all got there via the Rubber City.
Alan Freed, Scott Muni and Charlie Greer worked at WAKR in Akron, Ohio prior to moving on to North America's biggest radio market. Freed jocked at WAKR from 1945 to 1949 before starring at WINS and WABC in New York in the '50s. Muni replaced Freed at WAKR in 1955 and later followed Freed to New York, beginning a nearly 50-year radio career in the Big Apple at WMCA in 1958 (he also worked in New York at WABC, WOR-FM, WNEW-FM and WAXR).
Greer was at WAKR before becoming one of WABC's "Swingin' Seven on '77" when the station became a full-time Top 40 outlet in December, 1960. He was at WABC until August, 1969, spending the bulk of his time on the all-night show but also serving two stints in middays.
If you like 1950s radio, you'll love this aircheck. Lots of classic '50s commercials (Tetley Tea, RC Cola, Sunoco, Pall Mall, Firestone, Rayco, Camel, Goodyear, Vaseline Hair Tonic) together with the personality and fun that is sadly lacking in today's radio.
Enjoy Charlie Greer on WAKR here.

(The Don Shuttleworth Collection)

More from The Best of Don Shuttleworth here!





Rock Radio Scrapbook pays
music licensing fees to the
Society of Composers, Authors and Music Publishers of Canada (License 22-F)


The Aircheck of the Week PREVIEW!



We're previewing the Aircheck of the Week on Facebook. Every Friday, we post the audio link to the Aircheck of the Week on Facebook with the full feature to follow on Sunday as usual.
---