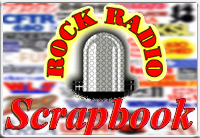 AIRCHECK OF THE WEEK
Edition #1148
Week of June 20, 2021


Talent: DONNY BURNS
Station: CKGM Montreal
Date: June 16, 1975
Time: 43:58 (unscoped)
14:25 (scoped)
Donny Burns did an impressive tour of some of Canada's biggest radio stations during his lengthy career.
Burns - not to be confused with late Don Berns of WKBW and CFNY-FM fame - got on the radio map in 1968 when he spent a few months at CHUM in Toronto. It was only his second radio gig. He had been with the Winnipeg group "The Jury" before that. CHUM management didn't think he was quite ready for the Big Time, so they sent him to CJCH Halifax for some seasoning.
Burns did AM Drive in 1971 for CKXL Calgary, then did mornings in 1971-72 at CKGM Montreal before the arrival of Ralph Lockwood. Burns did afternoon drive at CKGM from 1974 to 1976. His next stop was CKLG Vancouver, where he jocked from 1976 to 1977. Then Burns returned to Toronto at easy-listening CHFI-FM in the late '70s into the '80s. By 2001 was at CKPR in Thunder Bay (if any one knows what happened to him between CHFI-FM and CKPR, please let us know).

Hear Donny Burns on CKGM (UNSCOPED) here.

Hear Donny Burns on CKGM (SCOPED) here.

(The Don Shuttleworth Collection)


The Aircheck of the Week PREVIEW!



We're previewing the Aircheck of the Week on Facebook. Every Friday, we post the audio link to the Aircheck of the Week on Facebook with the full feature to follow on Sunday as usual.
---