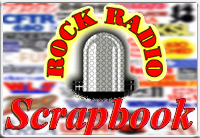 AIRCHECK OF THE WEEK
Edition #1142
Week of May 2, 2021


Talent: DR. DON ROSE
Station: KFRC San Francisco
Date: May 30, 1977
Time: 24:25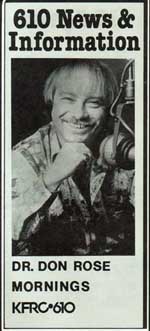 "I'm married to radio, and I'm thinking about suing it for non-support."
He smiled through the pain.
Donald Dwayne Rosenberg - known to his listeners as Dr. Don Rose - suffered with debilitating pain throughout most of his life. A botched heart surgery in 1972 led to chronic knee problems and 11 surgeries. It led to him having his kneecap removed and, after a fall in 1984, he had his leg amputated.
But these problems, Dr. Don was one of the brightest, happiest sounding people on the air. A native of North Platte, Nebraska, Rose got his professional radio start in 1955 at KWDE in Beatrice, Nebraska. He worked his way up the bigs, finally making it in 1967 with the morning show at WQXI Atlanta. The next year, he took over AM Drive at WFIL Philadelphia, and Billboard named him Disc Jockey of the Year in 1973. That same year, after a chance encounter with RKO programming chief Paul Drew, he moved to San Francisco for the morning show at KFRC. He was hugely popular there, leaving only after the station went to a Big Band format in 1986.
Rose suffered further personal tragedy when he suffered a heart attack while on the air at K-101 in San Francisco. He never returned to full-time broadcasting again, passing away in 2005 after a bout with pneumonia. He was 70.
Rose was elected to the Bay Area Radio Hall of Fame in 2006, and the Broadcast Pioneers of Philadelphia into their Hall of Fame two years later. His work was also immortalized on the Cruisin' record series with a re-creation of his WQXI morning show in 1967.
Enjoy Dr. Don Rose on KFRC from May 30, 1977 here.
Enjoy Dr. Don Rose on KFRC here.

(The Joe Fazio Collection)


The Aircheck of the Week PREVIEW!



We're previewing the Aircheck of the Week on Facebook. Every Friday, we post the audio link to the Aircheck of the Week on Facebook with the full feature to follow on Sunday as usual.
---