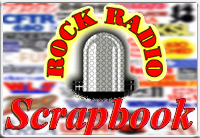 Airchecks: 1969
Talent: CLARK WEBER
Station: WLS Chicago
Date: January 3, 1969
Time: 46:38 (unscoped)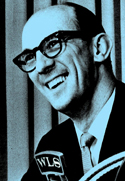 Clark Weber spent his entire radio career in Chicago and Wisconsin, highlighted by a nine-year stay at Windy City giant WLS in the '60s.
The man who called himself "Mother Weber's Oldest Son" got his first radio job in 1954 at WAUX in Waukesha, Wisconsin. After stops at WBKV West Bend, Wisconsin, and WRIT Milwaukee, Weber arrived at WLS in 1961 where he started on the all-night show. By 1963, he was doing the morning show and for a time served as program director before leaving for rival WCFL in 1969.
After leaving WCFL in 1971, Weber moved to WMAQ for a couple of years then spent 13 years (1973 to 1986) at WIND. His next stop was WJJD, where he entertained from 1986 to 1996. His final radio job before moving full-time into consulting was at WAIT, from 1996-2001.
One of Weber's claims to fame at WLS was that he was the first to play the Beatles in Chicago, doing so in 1963 well before Beatlemania. "I put that record on the playlist, Please, Please Me and Love Me Do, and they were awful, they were terrible songs. We played them for three weeks, took them off the air."
Enjoy Clark Weber on WLS here.

(The Don Shuttleworth Collection)
---
Talent: MIKE WILLIAMS
Station: CKFH Toronto
Date: February 1, 1969
Time: 2:51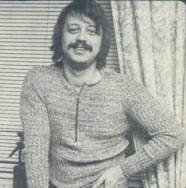 Any history of Toronto and Montreal Top 40 radio would be incomplete without mention of Mike Williams. Williams - not to be confused with the MuchMusic veejay of the same name - was one of the first deejays when CKFH went to a rock format on January 2, 1967. He started as a weekender, working a very unusual 6:30 p.m.-1 a.m. shift in '67. He soon moved to a full-time shift and by 1972 was the morning show host.
Williams left CKFH in 1973 and by 1974 was the late-morning host at another of Canada's great rock stations, CKGM.
We contacted Marc Denis for more information and he picks up the story from here:
"When I arrived at CKGM in early 1974, Mike was hosting mid-mornings (9-Noon) and was Ralph Lockwood's designated 'sit-in' on the morning show whenever Ralphie was away. Following a short stint at 1470 CFOX Montreal post-CKGM, Mike then landed a spot doing midday-hosting and occasional 'talk' on CJAD in that slick and unassuming style of his, co-hosting for a good length of time the open-line show with the late Helen Gougeon. Mike could perform within all formats and get the job done...and do it WELL. He left Montréal in the mid-late Eighties to help launch a new AM station in Ottawa, CJSB. He was doing PM drive there under the name of Ken Clarke in Ottawa until a terrible (vehicular) accident cut his life short.. Note: Along with his passion for motorcycles, Mike (a strict vegetarian!) was also an avid guitar collector, owning over a dozen vintage Fenders and Gibsons. As a matter of fact, he was the bass player in my retro rock band ''Mais Oui and The Flashbacks'' between 1980 and 1982. That band featured Gerry Dixon (CKGM News, CFCF News) on guitar and vocals), Bob Russell (1470 CFOX News) on drums, Mike on Precision Bass and yours truly on keyboards and vocals. Even played a couple of private live gigs for fun. What great memories! The man 'oui' used to call ''Mykee'' is sadly missed by all. He will be remembered as 'THE' consummate pro."
Mike Williams died in a car accident December 30, 1985 while driving between Ottawa and Montreal.
Hear Mike Williams on CKFH here.


(The Tom Fulton Collection)
For more fabulous CKFH airchecks, visit The Tom Fulton Collection
---
Talent: JACK ARMSTRONG
Station: CHUM Toronto
Date: February 11, 1969
Time: 40:17 (unscoped)
11:02 (scoped)

Jack Armstrong is in his usual good form just nine days before his departure from CHUM.
Big Jack died March 23, 2008 at his home in High Point, North Carolina He was 62.
Enjoy Jack Armstrong on CHUM (UNSCOPED) here.

Enjoy Jack Armstrong on CHUM (SCOPED) here.




(The CHUM Archives/Doug Thompson)
(Restoration by John Troll)
---



Rock Radio Scrapbook pays
online streaming fees to the
Society of Composers, Authors and Music Publishers of Canada (License 22-F)

---
Talent: JACK ARMSTRONG
Station: CHUM Toronto
Date: February 20, 1969
Time: 24:29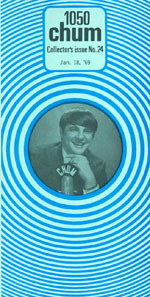 He came in with a bang but went out - literally - with a whisper.
Jack Arnstrong roared into Toronto's CHUM in June 1968, the loudest and fastest-talking jock the city had ever witnessed. But the man born John Larsh soon became disenchanted with the station's soon-to-arrive Drake-style format modelled on the successful Bill Drake-consulted format in the U.S. By February 1969, he'd had enough and decided to "work to rule", that is do the format with absolutely no energy, let the songs play out entirely, dead air between the jingles and the start of the record, those kind of shenanigans. Three hours into his show, Armstrong was fired and swing jock Hal Weaver came in for the last hour. So ended the Jack Armstrong era at CHUM. He moved to WPOP Hartford later in 1969, went to KTLK Denver for a few months then returned to the CHUM listening area at Buffalo's WKBW in the fall of 1970.
Enjoy Jack Armstrong on CHUM here.

(The Charlie Ritenburg Collection)
---
Talent: JOHN R. (RICHBOURG)
Station: WLAC Nashville, Tenn.
Date: April, 1969
Time: 31:32 (unscoped)
16:43 (scoped)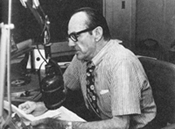 "Hey, John R., whatcha gonna do..."
It's hard to imagine a more unlikely champion of R&B.
Mild-mannered and caucasion, John Richbourg had the looks and bearing of an accountant. But few did more to promote African-American music as Richbourg - a.k.a. John R. - did at WLAC.
Richbourg got his start in radio in 1941 at WTMA Charleston, Sputh Carolina. He moved to WLAC in 1942 but a year later was off to a three-year hitch in the U.S. Navy. After the Second World War ended, he returned to WLAC in 1946. A newsman at the time, Richbourg filled in for vacationing deejay Gene Nobles and started gaining a following of his own playing leading R&B artists like Muddy Waters and Howlin' Wolf, who weren't getting airplay on mainstream radio. Richbourg wound up with his own late-night shift, part of a legendary WLAC quartet of program hosts that included Nobles, Herm Grizzard and Bill "Hoss" Allen.
John R. - he started using the short form after his name was misspelled in fan mail - was a popular late-night presence at WLAC for 27 years. What he did would make a radio consultant of today wince: he programmed his own music ... he ad-libbed commercials "down-home" style, a white announcer sounding black ... he sold exotic and unusual items like baby chicks, hot-rod mufflers and soul medallions (many of which turned out to be scams). But his show was wildly popular, thanks in part that it could be heard throughout the eastern U.S. and Canada thanks to WLAC's 50,000-watt clear channel signal.
Richbourg was also a record promoter, producer and manager. Bobby Hebb was one of the early artists he produced, but Richbourg had his greatest success with Joe Simon, whose 17 Hot 100 charters with Richbourg included the #1 1969 R&B smash The Chokin' Kind. John R. even did some recording himself, with two blues-based singles that he half-talked, half-sang through.
Balking at corporate pressure to play songs from a playlist, Richbourg left WLAC in 1973. In retirement, he gave financial help to needy artists, and the music community reciprocated with a benefit concert for the cancer-stricken Richbourg in 1985 at Nashville's Grand Ole Opry House. R&B music and radio lost one of its greatest friends when John R. died of the disease February 15, 1986 at the age of 75, .

Enjoy John R. on WLAC from April, 1969 (UNSCOPED) here.

Enjoy John R. on WLAC from April, 1969 (SCOPED) here.

(The Don Shuttleworth Collection)



Rock Radio Scrapbook pays
online streaming fees to the
Society of Composers, Authors and Music Publishers of Canada (License 22-F)

---
Talent: SHADOE STEVENS
Station: WRKO Boston
Date: April, 1969
Time: 42:16 (unscoped)
14:13 (scoped)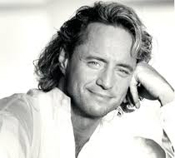 Shadoe Stevens started young.
The man born Terry Keith Ingstad was 17 when he got his first radio gig at KEYG in his hometown of Jamestown, North Dakota in 1957. It wasn't long before he headed to the bigger markets of Grand Forks and Fargo in North Dakota, before moving to KIKX in Tucson, Arizona. Then in 1968-69 he found his biggest platform yet - the 6-9 p.m. shift at Drake-formatted rocker WRKO.
Stevens moved to Los Angeles in the early '70s and since then has built a tremendous career as a disc jockey, voice-over artist, TV personality, programmer and actor. He's also authored several children's books. But we remember him as a Top 40 jock at WRKO.


Enjoy Shadoe Stevens on WRKO (UNSCOPED) here.

Enjoy Shadoe Stevens on WRKO (SCOPED) here.


Reaction to this aircheck from long-time RRS patron Mark Ogden...

"I've very much enjoyed the Shadoe Stevens aircheck, and am always ready for a tasty fresh helping of the Drake format! A couple of times he breaks format slightly (i.e. pre-announcing a 'Double Goldens' set when intro'ing the first of the pair of songs, and I don't think he says the time during the bottom on the hour ID), but nitpicking is part of the pleasure of listening for me!

The Mystery Voice sounds like Lou Rawls — in fact the spoken passage is similar to some of the lyrics of his great song Dead End Street.

The Boston club spots are fun, and seemed to be a frequent characteristic at WRKO. It's been ages since I've heard mention of the Toronto blue-eyed soul singer George Oliver who girls, especially, used to rave about when I was in high school in Oakville. I've put the catchy local top-10 hit "Opportunity", he had while fronting Mandala, on my "to download" list, and will see if I can find it. It looks like Oliver has still been active in recent years on the Toronto retro soul scene."

Thanks Mark!



(The Joe Fazio Collection)
---
Talent: JACK GALE
Station: WAYS Charlotte, N.C.
Date: June 26, 1969
Time: 11:10
"Be nice to your radio, the voice coming out of it may be mine..." - Jack Gale

Disc jockey, music promoter, radio station owner, record store owner, commercial announcer, author. All of these tags and probably a few more apply to Jack Gale, who for well over a half-century has been an innovative guiding force in radio and music.
Swing music was still in vogue in 1944, when Gale got his start in radio, at WBTM in Danville, Virginia. After cutting his broadcasting teeth at several smaller stations, he got his big break in 1951. He was hired by WSRS Cleveland and introduced that city's radio listeners to his zany brand of humour and wild stunts. In 1957, Gale achieved a dream by taking over morning duties at WITH in his hometown of Baltimore. During his five years there, he was number-one in the ratings and helped establish WITH as one of the leading rock 'n' roll stations in the east.
In 1965, Gale moved south to Charlotte, North Carolina, where he became morning man, program director and part-owner of WAYS. With Gale's help, WAYS became one of the great Top 40 stations of all-time, with top deejays, innovative contests and creative promotions. He left the station in 1970, the year Billboard Magazine's named his first Disc Jockey of the Year.
In the 1970s, Gale turned to radio station ownership, buying stations in California and Missouri. He also returned to another love - music promotion. In 1963, he had managed Johnny Cymbal, who had a Top 10 hit with Mr. Bass Man. For a time in the 1950s, he also owned a record store in Charleston, South Carolina. But by the 1980s, he hit the jackpot with Playback Records. With artists like Frankie Laine, Willie Nelson and Billie Jo Spears, Playback became the number-one independent label in the U.S. by the 1990s.
Jack Gale died January 23, 2018. He was 92.
Hear Jack Gale on WAYS from 1969 here.

(The Jack Gale Collection)
---
Talent: SANDY BEACH
Station: WKBW Buffalo, N.Y.
Date: July 10, 1969
Time: 12:52
Radio soared to new heights in the 1960s and so did mankind.
Not only were the sixties a golden age for Top 40 radio, they were an historic time for space exploration. Spurred by President Kennedy's 1961 declaration that the U.S. should send a man to the moon and return him safely to earth by the end of the decade, the U.S. space agency NASA did just that. At 10:56 p.m. EDT on July 20, 1969, Apollo 11 commander Neil Armstrong became the first human to set foot on the moon, followed soon after by Edwin "Buzz" Aldrin. Science fiction became reality.
Media coverage of the event was intense. Who didn't know about it? Even Top 40 radio got in on the action, as you'll hear on this aircheck recorded the week before the launch. WKBW trumpets its coverage plans for Apollo 11 "WKBW will devote more coverage to it than any other event of it kind!" as Sandy Beach continues jocking past the midnight end of his shift. You see, his relief didn't show up and in those days you had to just keep going - no computer drives to fall back on!
Enjoy Sandy Beach on WKBW (skywave reception included!) here.

(The Bill Dulmage Collection)
---
Talent: MIKE DINEEN
Station: WQXI Atlanta
Date: July 20, 1969
Time: 32:01 (unscoped)
12:45 (scoped)

Back to the future!
It was the morning of July 20, 1969. In a few hours, Neil Armstrong will become the first man to set foot on the moon, followed a few minutes later by Buzz Aldrin.
Nowadays you'd follow such an event on TV, radio or the Internet. There was no Internet in 1969, but a commercial at the 2:46 mark on this aircheck for the Nysark Center hints at the future. The centre invites people to visit or write for a computer search on how to find a home, an apartment, a used car or (and we're assuming here) anything that suits their fancy. Yes, a forerunner of the Internet. So as you explore the past on this aircheck, you are also going back to the future for a peek at what will be in popular usage in about three decades.
Enjoy Mike Dineen on WQXI (UNSCOPED) here.

Enjoy Mike Dineen on WQXI (SCOPED) here.

(The Don Shuttleworth Collection)
---
Talent: BOB LAINE
Station: CHUM Toronto
Date: July 20, 1969
Time: 4:50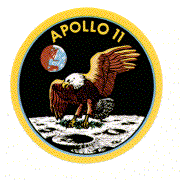 Bob Laine did his share of shows under the moonlight at CHUM. So it's fitting he was on the air the day man first set foot on the moon.
No one is more identified with the all-night show at CHUM than Bob Laine. He replaced Jay Jackson on the midnight-6 a.m. shift in 1958, coming over to CHUM from CHNR in Simcoe, Ontario. Back in the days when all-night music shows were done live and they actually played 45 rpm records, his was one of the best. Remember how he started his show?: Laine: "Hello World, this is Bob-O." World: "Hello, Bob-O this is World."
Laine spent 10 years on the all-night show before moving to mid-days in 1968. Among his innovations on the all-night show was the Golden Galaxy, a one-hour "oldies" program at 3:00 a.m. Back then, "oldies" weren't very old and therefore the concept was rather new. But Laine started the Golden Galaxy in 1958!
Laine did his last regular show on CHUM in December, 1969, and a couple of fill-in shifts in 1970 - making him the only deejay to work at CHUM in the fifties, sixties and seventies. After that he went into CHUM management, emerging from on-air retirement on May 7, 2001 to co-host the last music show on CHUM before the station switched to sports. He made several more on-air appearances after CHUM switched back to oldies in August, 2002.
Hear Bob Laine on the day Neil Armstrong walked on the moon here.

(The Bill Dulmage Collection)
---
Talent: HAL WEAVER
Station: CHUM Toronto
Date: July 22, 1969
Time: 10:34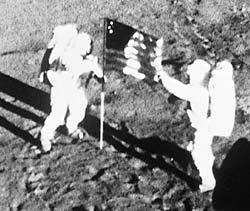 Neil Armstrong and Buzz Aldrin stand on the moon, July 20, 1969
In a decade marked by political assassination, social upheaval and war, the race to the moon was a welcome respite from the daily diet of bad news.
As the 1960s began, no man had even been in outer space. By the end of the decade, four had walked on the moon.
Apollo 11 astronauts Neil Armstrong and Buzz Aldrin planted themselves on the lunar surface for the first time on July 22, 1969 - an event so big that the New York Times used 96-point type in a headline for the first time. In November of that year, Apollo 12 astronauts Charles Conrad and Alan Bean duplicated the feat. A total of 12 Americans walked on the moon ending with the Apollo 17 mission in December, 1972.
Two days after the first moonwalk, there was still a lot of excitement in the air as Hal Weaver filled in for J. Michael Wilson in the afternoon drive shift on CHUM.
Hear Hal Weaver here.

(The Charlie Ritenburg Collection)
---
Talent: CHARLES P. RODNEY CHANDLER
Station: 1470 CFOX Montreal
Date: August 1, 1969
Time: 2:44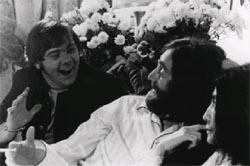 (Description by Marc Denis)
Charles Chandler enjoyed much success during his time on 1470 CFOX in Montreal from 1968 to 1970, as the high-energy Charles P. Rodney Chandler. One of his biggest career claims-to-fame to date is broadcasting live on CFOX in Room 1742 of Montreal's stately Queen Elizabeth Hotel (with CFOX colleague Roger Scott) for the better part of the high-profile John Lennon-Yoko Ono Bed-In For Peace, the last week of May 1969.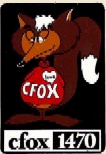 Chandler later appeared briefly on CKGM Montreal in 1972, changing his name to Todd Young for contractual reasons before returning out west permanently. Then came lengthy gigs at 630 CHED Edmonton, hosting the Homemakers Hitline and on Alberta television as host of Disco Daze. Chuckie later spent many years in Hollywood as Monty Hall's announcer on the classic game show Let's Make a Deal.
Enjoy Charles P. Rodney Chandler on 1470 CFOX here.

(The Dan Kowal Collection)
(1470 CFOX Charles P. Rodney Chandler August 1969 aircheck reproduced and posted here through permission by marcdenis.com (Marc Denis's CKGM Super 70s Tribute Page). This aircheck cannot be duplicated or distributed without prior written permission and consent by the proprietor(s).)
For more super Montreal airchecks, visit The Mais Oui Files
---
Talent: HAL WEAVER
Station: CHUM Toronto
Date: August 2, 1969
Time: 30:39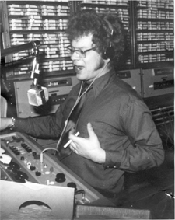 (CHUM Archives/Doug Thompson)
Hal Weaver had a smile in his voice.
The affable Weaver was a friendly presence in Canadian Top 40 radio during the '60s and '70s. He started at CKRD Red Deer, Alberta, before moving to CJCA Edmonton in 1964. The next year he moved east to CHLO St. Thomas, Ontario and by 1967 was holding down afternoon drive at CKOC Hamilton. In 1968, he became one of the first hires of newly-installed CHUM program director J. Robert Wood.
Weaver was at CHUM for two years in swing and weekends before moving to CKVN Vancouver in 1970. That proved to be his last radio stop, as he died of cancer on New Year's Eve 1971 in Surrey, B.C. He was only 28.
Enjoy Hal Weaver on CHUM here.

(The Bill Dulmage Collection)
---
Talent: FRANKIE CROCKER
Station: WMCA New York
Date: August 6, 1969
Time: 21:34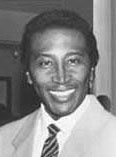 "If Frankie Crocker isn't on your radio, your radio isn't really on."
Self-described as "tall, tan and tantalizing", Frankie Crocker established his considerable reputation at black music stations like WWRL and WBLS. Calling himself the "Chief Rocker", Crocker's on-air passion for the music was only matched by his flamboyance off it. He rode through the front entrance of Studio 54 on a white stallion. He drove fast cars and wore his hair long. But the core of his life was music and radio and he was passionate about both.
"Hollywood" Crocker began his career at WUFO, a soul station in the Buffalo suburb of Williamsburg. He was part of the Buffalo Brigade, a group of jocks that included Imhotep Gary Byrd and Eddie O'Jay that moved from the Queen City to New York's legendary soul station WWRL. In 1969 Crocker went to the evening shift at WMCA, a lily-white station that was in its waning days as a Top 40 station. But despite a lineup that included Crocker, Gary Stevens, Dan Daniel and Jack Spector, WMCA switched to talk in 1970 - one of the first of the legendary 1960s AM Top 40 stations to disappear.
After WMCA, Crocker worked as a program director for WBLS-FM, helping that station to the New York ratings lead in the late '70s. He helped coin the phrase "urban contemporary" in the mid-70s, the contemporary R&B format that has been very popular over the years. Crocker did three tours of duties at WBLS-FM and also worked in the radio markets of Los Angeles, Chicago and St. Louis. A master of ceremonies at the famed Apollo Theatre in Harlem, Crocker was also one of the first VJ's on the video cable channel VH-1 and hosted the TV show Solid Gold. He also starred in five movies, including Cleopatra Jones, Darktown Strippers and Five on the Blackhand Side. Anyone who listened to Crocker over the years will also remember his famous sign-off song, Moody's Mood For Love, by King Pleasure.
Crocker died of pancreatic cancer on October 21, 2000 in North Miami Beach, Florida. He was 62. So secretive was Crocker about his fatal illness that even his own mother didn't know.
Enjoy Frankie Crocker on WMCA here.

(The Gary Pedoto Collection)
---
Talent: JACK ARMSTRONG
Station: WPOP Hartford
Date: August 14, 1969
Time: 17:26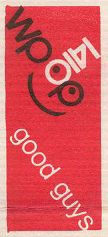 Jack Armstrong moved from town-to-town almost as speedily as he talked.
His short stay at WPOP pretty much typified his career. Armstrong was at WPOP for about eight months, from the summer of 1969 to February 1970. Armstrong was in great demand back in those days - he'd go into a station, give their ratings a boost, then move on to the next town and do the same thing. All told, Armstrong jocked at about two dozen stations stations during a career that lasted nearly half a century. Have microphone will travel.
Enjoy Jack Armstrong on WPOP here.

(The Bill Dulmage Collection)
---
Talent: BOBBY STEELE
Station: CHLO St. Thomas, Ont.
Date: August 26, 1969
Time: 10:51

Bobby Steele fills in for Tom Lodge on this great audio time capsule from late summer 1969.
Steele started in radio as a teenager at CHLO London in 1968. He spent three years there before leaving for CKOC Hamilton. Steele was also at London stations CKSL and CFPL London as well as CFRA Ottawa before leaving radio in the early 1980s to go into teaching.
Enjoy Bobby Steele on CHLO from August 26, 1969 here.

(The Charlie Ritenburg Collection)
---
Talent: FRANK BRODIE
Station: CKLW Windsor, Ont.
Date: August 27, 1969
Time: 15:52
Frank Brodie tells Rock Radio Scrapbook how he wound up at the Big 8:
"Every once in a while, you get lucky. Right place, right time. Such was the case in late 1967, when Big 8 PD Paul Drew was in Alberta looking for jocks. He listened to CHED in Edmonton, called when he got back home, and asked if I'd be interested in working at CKLW. It took everything to keep a straight face.
When I flew in to meet Paul, I eventually found myself in Master looking through the glass at one of the legends. Tom Shannon was the first in a long list of radio "greats" with whom I got to share some space over the next five years.
Skip ahead almost two years. A friendly Texan, Jim O'Brien - father of Peri Gilpin ("Roz") on Frazier" - was PD. Big Jim Edwards had just replaced Charlie Van Dyke in mornings. Yours truly, Hal Martin, Ed Mitchell, Steve Hunter, Scott Regen and Pat St. John completed the lineup.
The Temptations "I Can't Get Next To You" was about to knock The Archies "Sugar Sugar" out of the top spot on the Big 30 and a kid called Elvis was hitbound with "Suspicious Minds". Hope you enjoy this small slice."
Enjoy Frank Brodie on the Big 8 here.

(The Don Shuttleworth Collection)
For more great CKLW airchecks, visit The CKLW Years
---
Talent: STEVE WONDER
Station: CKLG Vancouver
Date: August, 1969
Time: 9:38

From the

Beatles to Sarah McLaughlin and everything in between, CKLG played the hits.

But it wasn't always so. When the Vancouver station first signed on in 1955 - the year of

Rock Around the Clock - the format was described as "MOR, popular and classical." CKLG's rock era began in 1964, after the station obtained exclusive broadcast rights to the Beatles August 22 appearance at Empire Stadium. On August 24, CKLG became a full-time Top 40 station. A year later, following a tip from Roy Hennessy, CKLG followed KHJ's lead by adopting the Drake format as Boss Radio.

Quite a few people jocked at

CKLG over the years, including Roy Hennessy, Emperor Malone, J.B. Shane, Dave Palmer, Don Richards, John Tanner, Jerry Landa, Paul Arthur and Ken Chang. Also, Daryl B., Dan Williamson, Russ Simpson, Jim Hault, Timothy M. Burge, Rick Honey, Ronald Morey, Peter Starr, Bob Boving, Jim Van Horne, Gord Robson, Don Stevens, Doc Harris and Stirling Faux.

'LG deejay alumni also includes

Michael Morgan, Fred Latremoille, the Raccoon, Mike McCoy, Terry David Mulligan, Jeff Rechner, Howard Cogan, Pat Cardinal, David Kaye, Al Murdoch, Stu Jeffries, Dean Hill and Wayne Deschover.

CKLG dropped Top 40 for talk by September 20, 1993, only to return to a full-time hit music format the following February 23. Just before midnight on January 31, 2001, CKLG ended music programming with

I Will Remember You

by Sarah McLachlan. The format then became 24-hour news.


Enjoy

Steve Wonder (not to be confused with the singer) on CKLG

here.

(The Russ Horton Collection)
---
Talent: RICHARD DAVID LAWRENCE
Station: CKCK Regina
Date: September 1, 1969
Time: 43:20 (unscoped)
8:51 (scoped)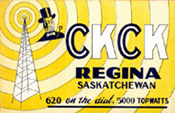 Like many of the early radio stations, CKCK was started by a newspaper.
It was 1922. The Regina Leader-Post wanted to open a radio station, and hired Marconi wireless operator Bert Hooper to do it. For the first seven years of the station's operation, Hooper was the only employee - he was announcer, manager, sales manager and chief engineer. There was no need for a sales manager as CKCK did not accept advertising and the Leader-Post paid all expenses. The station signed on during a thunderstorm the night of July 19, 1922.
CKCK achieved two major firsts in its early days - on March 14, 1923 Pete Parker announced the first complete (all three periods) play-by-play broadcast of a hockey game. Also around that time, CKCK became the first station in the British Empire to broadcast a church service.
Decades later, CKCK reached another milestone, going Top 40 (we don't have the date but the earliest CKCK chart we've seen is from 1962). CKCK was still playing the hits of the day in the mid'-80s. CKCK switched to oldies in 1991 and rebranded as "62 Cool." The AM signal signed off forever at 11:59 p.m. on September 30, 2001 with the playing of The Last Song by Edward Bear. The CKCK call letters moved to FM in 2002 as "Rock 94" at 94.5 in Regina.
Enjoy Richard David Lawrence on CKCK (UNSCOPED) here.

Enjoy Richard David Lawrence on CKCK (SCOPED) here.

(The Joe Fazio and Bill Dulmage Collections)
---
Talent: JIM NETTLETON
Station: WABC New York
Date: October 4, 1969
Time: 18:40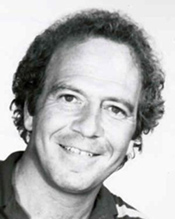 "You couldn't find a nicer guy in the business."
Jerry Wilkinson, Broadcast Pioneers of Philadelphia
He was a Philadelphia legend, but Jim Nettleton considered his radio nirvana to be about 80 miles to the east, at New York's WABC.
Nettleton originally turned down WABC when they approached him to do the all-night show with the departure of Charlie Greer in the summer of 1969. They came back to him to offer weekends and fill-in work and this time he took it, joining Musicradio in October, 1969. Nettleton spent 18 months at WABC and while there also wrote, produced and voiced Retro-Rock for ABC's Contemporary Network. He left WABC in May, 1971 in a breach-of-contract dispute over some voice-tracking he'd been doing for WCAU-FM in Philadelphia.
Nettleton started in radio in the late '50s at WRSU, the campus station of Rutgers University in New Jersey. The native of Jamaica Plain, Massachusetts, had been taking journalism, but the college radio experience gave him the radio bug and he left college after three months to look for a radio job. Before long Nettleton was doing mornings at WPAZ in Pottstown, Pennsylvania. It was 1958. After six months there he moved to WHTG in Eatontown, New Jersey, then to WATR Waterbury, Connecticut, and then to WAVZ New Haven, Connecticut, in 1962. After six months at WAVZ, he started at WDRC Hartford in April, 1963 where he was known as "Diamond Jim." Nettleton left WDRC in August, 1966 for WFIL Philadelphia where he was one of the original Boss Jocks.
After the WABC gig ended, Nettleton worked briefly at WHN New York in mid-1971 then left to spend about a year at WPIX-FM. He then did weekends/swing for a short time at CHUM Toronto, and thus became the only deejay to do air shifts at both WABC and CHUM. He returned to WCAU-FM - now WOGL-FM in 1972. He was named Billboard Magazine's Program Director of the Year in 1974 for his work as director of programming/operations and afternoon-drive personality at WOGL-FM.
In 1976, Nettleton moved to Philadelphia's WUSL as director of operations and co-host of the morning show. From 1979 to 1982, he did afternoon drive on WPEN and produced and hosted a Saturday night Big Band show. He was vice-president of operations at WDAE Tampa, Florida., from 1984 to 1993. Nettleton came back to Philadelphia at WOGL from 1993 to 2000. He returned to WPEN but left when the station changed format from oldies to sports in 2005.
Nettleton also did shows for WARX-FM in Hagarstown, Maryland, and was heavily involved in commercial voice work over the years. In 2006, disappointed with the state of oldies programming, he started an online oldies station with a wide variety of music that featured him and several other well-known Philadelphia personalities.
In April, 2009, Nettleton started doing mornings at WILW-FM (branded "Wibbage" after Philadelphia's WIBG) in Wildwood, New Jersey. Unfortunately, it would be his last gig. Nettleton died of lung cancer October 4, 2009 - the 40th anniversary of his first WABC show. An avid golfer who encouraged "playing by the rules," Nettleton was 69.
Enjoy Jim Nettleton's first WABC show here.

(The Bill Dulmage Collection)
---
Talent: LONG JOHN WADE
Station: WFIL Philadelphia
Date: October 21, 1969
Time: 34:34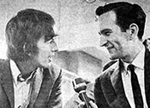 (Long John Wade with George Harrison/Credit WDRCOBG.com)
Long John Wade not only talked the talk of the Fifth Beatle, he literally walked the walk.
In February 1964, Wade - then a jock at WDRC Hartford - snagged an interview with the Beatles when they appeared on the Ed Sullivan Show in New York. He became fast friends with the Fab Four, and joined them on their tour, a 35-day trek that included 26 cities and 15,000 miles.
"He was the fifth Beatle," said
Larry Kane
, a reporter for
WFUN
Miami (who accompanied the recording legends on every date of their first two U.S. tours). "He really knew how to work them."
Born Carl Wehde on New Year's Eve 1939, the man who would become known as Long John Wade got his start in radio when he ran the station at his prep school, the New Hampshire School for Boys. His first full-time radio job was at WSPR Springfield, Massachusetts, in 1961. Three years later, he joined his brother Don Wade at WDRC.
Wade moved to WFIL in 1966, and later worked at Philly stations WIBG, WCAU AM/FM and WIFI as well as WCBS-FM New York. He started the American Academy of Broadcasting in 1970 but had to close it and leave radio nine years later due to illness. Wade died May 15, 2006 in Cape Cod at the age of 66.
Enjoy
Long John Wade
here.


(Scrapbook archives)
---
Subject: PAUL IS ALIVE AND WELL, MAYBE
Station: WKBW Buffalo, N.Y.
Date: October 31, 1969
Time: 1:08:29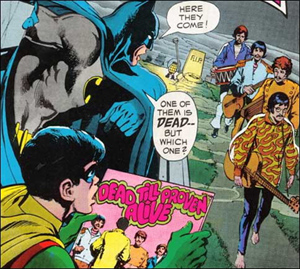 In the fall of 1969, an astounding rumour began making the rounds.
Paul McCartney is dead.
The first published claim that the Beatles icon had passed away came in an article written by Tim Harper and published September 17, 1969 in the Drake University (Iowa) newspaper, the Times-Delphic. The article - titled
Is Paul McCartney Dead?
-
did not support the rumour but merely reported the latest West Coast college gossip that McCartney had died in a car crash in 1966. He claimed he got his information from
Dartanyan Brown
,
a fellow Drake student and Times-Delphic writer. Just six days later - on September 23 -
Barb Ulviden
penned an article on the same topic for the Northern Illinois publication, the
Northern Star
.
But the rumour didn't really begin to take off until October 12, 1969, when a student phoned
Russ Gibb while he was on the air at
WKNR-FM in Dearborn, Michigan. The student - identified as Tom Zarski of Eastern Michigan University - claimed McCartney was dead and suggested Gibb play the Beatles' "Revolution #9" backwards. The clue "turn me on, dead man" was heard - Gibb aired some other clues - and from that point on there was no stopping one of the greatest urban legends of all time.
Other stations soon joined the bandwagon, including Buffalo's WKBW. Their special "Paul is Alive and Well, Maybe" aired October 31, 1969 (it was repeated in 1972) and reviews many of the clues that had surfaced by then. WKBW jocks Sandy Beach, Danny Neaverth, Stan Roberts and program director Jeff Kaye all appear in this documentary.
Hear "Paul is Alive and Well, Maybe" here.

(The Dave LaRussa Collection via Paul Palo)
---
Talent: JOHN RODE
Station: CKFH Toronto
Date: November 11, 1969
Time: 31:04 (unscoped)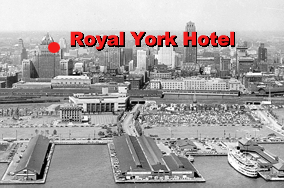 Toronto skyline in 1960

Toronto has changed a lot since 1969, and so has that city's AM radio dial.
The station featured on this aircheck, CKFH, has undergone one of the greatest upheavals. 'FH switched to an oldies format in 1973 before completely abandoning rock when it became a country station in 1975. In 1981, station founder Foster Hewitt sold the station to Telemedia after 30 years of ownership. The 'FH calls disappeared after the transaction and CJCL was born.
CJCL attempted a talk-based format early in its existence as Metro 1430. That later morphed into a
Music of Your Life
format which lasted until 1992. That year,
CJCL became Canada's first all-sports station as The Fan 1430. In 1995, The Fan 1430 swapped frequencies with
CKYC 590 - the former
CKEY - where it remains today as Sportsnet The Fan 590.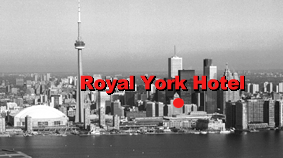 Toronto skyline in the early 2000s
As for CKEY, it doesn't even exist on the AM band anymore. In 1969, CKEY was a full-service station, boasting one of the city's most respected news staffs and an easy listening music format. In 1984, 'EY switched to a gold format as Solid Gold CKEY and later KEY-590. The CKEY calls disappeared in 1991 when the station became Country 59, CKYC. Today, the former CKEY is at 1430 on the dial and has an ethnic format as CHKT.
Moving up the dial, the Toronto station at 680kc in 1969 was CHFI and it had a Beautiful Music format. In 1971, CHFI changed calls to CFTR and soon became a Top 40 station. After 21 years of Top 40 magic, CFTR in 1993 became an all-news station as 680 News.
When Toronto radio listeners turned to 740kc in 1969, they heard the city's CBC AM outlet, CBL. In 1999, CBL moved to 99.1 on the FM dial (as "Radio One" or CBLA) and the frequency went silent but not for long. On January 8, 2001, CHWO 1250 Oakville, Ontario, was reborn as AM 740 Toronto with a standards-oldies mix.
A listener to CFRB 1010 in 1969 would have heard a full-service station with easy-listening music. Now it's NewsTalk 1010.
1050 CHUM was a Top 40 station in 1969. It's now TSN sports radio.
Unchanged in format is CHIN 1540. It was a multilingual station in 1969, and still is. And you'll also hear the French CBC outlet (CJBC) at 860 now, just as you did in 1969.
If you had tuned into 640kc in Toronto in 1969, you might have received some interesting DX catches, but nothing local. That frequency now is occupied by CFMJ (Global Radio AM 640) with a talk format. The station traces its history to country music giant CFGM Richmond Hill, Ontario, originally at 1300 (as CJRH), then at 1310 at CFGM and later at 1320 and 640.
Enjoy John Rode on CKFH in 1969 here.

(The Charlie Ritenburg Collection)
---
Talent: MARSHALL ARMSTRONG (newscast)
Station: CKFH Toronto
Date: November 11, 1969
Time: 11:26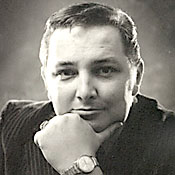 Marshall Armstrong (1945-2009)
Like many Top 40 stations of the day, CKFH is remembered mainly for its music. But there were other great elements too, including Toronto Maple Leaf hockey and entertaining and informative newscasts. Among the many voices heard on 'FH news during its rock 'n' roll years (1967-1975) were George Wilson, Jim Ward, Bud Riley, Jack Allen, Mac Lipson, Robert Murdock, Bob Payne, Barrie Bailey, Bill MacKissock, Robert E. MacIntyre, Matt Wootson, Fred Peabody, Jack Malloy, Bill McCullough, Glen Cole, Brian Hill and the gentleman appearing on this aircheck, Marshall Armstrong.
When 'FH debuted as a rock station in 1967 they did something a little different in the scheduling of the news - headlines at 14 past the hour and details at the 30 mark. Considering that CKFH was at 1430 on the dial, it was quite easy to remember when the newscasts were! By 1969 - the year this newscast was made - 'FH had moved to a format already in use by many other rock stations at the time: 20-20 news. In the case of CKFH, this involved headlines at 20 past the hour and details at 20 before the hour.

There are a few things to listen for in this newscast. It starts with a story on a proposed domed stadium in North York, an idea promoted by borough mayor James Service (one wag suggested calling it the Service Centre). It would be another 20 years before Toronto actually got a domed stadium, and it was built downtown, not in North York.
At the 52-second mark, you'll hear a 34-second actuality - a little longer than we are used to in these short attention span days. Later on we hear that Prime Minister Pierre Trudeau has a date with "divorcee" Barbra Streisand. How shocking, the prime minister dating a divorced person!
At the 3:28 mark, we hear about a psychologist who suggests slugging your husband is a good idea, an effective way to let off steam. You can hear this for yourself and shake your head.
At 4:11, we hear a fluff piece about the Executive Sandbox, complete with a clip from a Simpson's "salesgal."
There's a skyjacking story at 4:48 - air piracy was a relatively new phenomenon back then. At 5:40, future Toronto mayor Mel Lastman is interviewed (he was a North York alderman back then).
There's lots more too, including sports and weather.
Listen to it here.

(The Charlie Ritenburg Collection)
---
Talent: HAL WEAVER
Station: CHUM Toronto
Date: Fall, 1969
Time: 10:58
Life was sweet for Hal Weaver when this aircheck was made. The day before, his wife had given birth to a baby daughter.
Sadly, Hal would not live to see his daughter grow up. Two years later - on December 31, 1971 - this highly respected veteran of southern Ontario and B.C. radio was dead of cancer. Weaver, who came to CHUM from CKOC Hamilton in 1969, had left for CFUN Vancouver in the early 1970s.
Hear Hal Weaver on CHUM here.

(The Charlie Ritenburg Collection)
For more great CHUM airchecks, visit The CHUM Archives
---
Talent: GARY DUKE
Station: CHUM Toronto
Date: December 13, 1969
Time: 10:41
First as Gary Duke in the late '60s, then as Duke Roberts in the '70s, the man born Bob Stoehr was one of Toronto's leading jocks of the time. More details can be found at www.dukeroberts.com. The "Duker" lives in the U.S. now and sends along these comments:
"First, I'd like to share with you, my feelings of "respect" for Alan Waters, and the way he handled 1050/CHUM's All Star Reunion and DJ Replays last year. He is still a class act. His follow-up letter and personalized CD(s) blew me away, with gratitude.
Now, Gary Duke - from the very first moment arriving in Toronto in 1969 and listening to CHUM(AM), I thought "I've made it"! Then Chuck McCoy called, and really gave me a warm CHUM Canadian welcome. We became friends and shared some real hot social memories.
Meeting J. Robert Wood was more of a turn-on than my former three-time boss, Paul Drew in Philadelphia 1968). Bob was firm, but never made you feel threatened.
1050/CHUM was the finest station and company that I ever worked for, both before and after. And that's looking back from today. Both as Gary Duke and Duke Roberts, just three years apart, in 1973.
When I see Warren's List mail and CFTR jocks talking about all of the fun they had on the air, all I can say is WE at CHUM had fun and discipline, and we all treated it like a business. Maybe they weren't as blessed as myself, getting to work for JRW (J. Robert Wood) and 1050/CHUM more than once. WOOF!
Gary Duke remembers the socializing with Chuck McCoy, Bob Laine, Jay Nelson (a fellow Scrantonian), and others, not to mention Bob Wood's secretaries....:) Roger Ashby was too young in those days. LOL!!
The One Time, Wonder Jock, Gary Duke will never forget the CNE, the CHUM Chicks or the pounding we gave my good friend Gary Palant at CKFH, who had originally hired me to do mornings, yet "Paul Drew talked me into going with the winner, 1050/CHUM".
Enough for Gary Duke's brief 15 minutes of Glory....Duke Roberts has the juicy stuff re: Scott Carpenter, Tom Rivers, John Rode, and a lot more. God forbid!"
Hear Gary Duke on CHUM here.

(The Charlie Ritenburg Collection)
---
Talent: MICHEL GIRARD
Station: CJLR Québec City
Date: 1969
Time: 1:23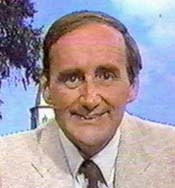 (Description by Michel Gignac)
Cliquez ici pour la description en francais
CJLR came on the air on October 1959 - its call letters stood for Jacques La Roche the original owner of the station. Through the 1940's and 1950's, CHRC and CKCV clashed to get the best ratings and both went on top in turn. By 1959 a new player started broadcasting on 1060 kHz CJLR. Unlike its two competitors, CJLR did not take song requests from the listeners. While the same songs were played over and over by its competitors, CJLR was distinguishable from them by programming the songs played throughout the day. Many pop songs were introduced to the Quebec City market via CJLR, songs that could not be heard anywhere else on the Quebec radio dial.
CJLR did pretty well as an underdog as high as second in the ratings in the early 1960's but in the long run it lacked colourful DJs at a time where radio was more and more centered on high-profile personalities. Michel Girard may have been one of the best top 40 personalities form the late 1960's and early 1970's. He was the disc-jockey of Jeunorama and Dancing 1060 and he was the first radio personality to introduce oldies on a regular basis on Dancing 1060 before Radiomutuel Network launched The History of Rock and Roll in 1970.
More than a simple radio show Girard shared his wide knowledge of music with his listeners. The Beach Boys, The Four Seasons and Jan and Dean and many doo-wop groups were among his favourites.
In the summer of 1969, CJLR was bought by Radiomutuel radio network (CJMS, CJTR, CJRS, CJRC) and Michel Girard was part of the revitalized station. In the early 1970's he hosted the drive show on CJRP. He then moved on to Radio-Canada in Quebec City where he could be heard on radio and seen on local television before moving elsewhere in the province. Knowing Michel Girard, he will be touched to see that Rock Radio Scrapbook fans acknowledge him as an ex-top radio personality.
Hear Michel Girard on CJLR here.

(The Pierre Tremblay and Michel Gignac Collections)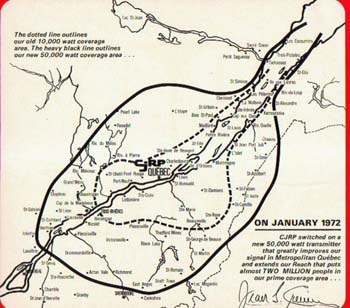 ---
Talent: ED MITCHELL
Station: CKLW Windsor, Ont.
Date: December, 1969
Time: 18:25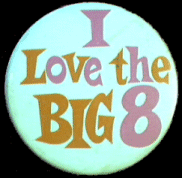 Year-end countdowns used to be a staple of Top 40 radio. Most stations counted down the year's top hits but at the end of 1969, CKLW went another step further. They decided to count down the top songs of the entire decade of the 1960s. We'll pick up the countdown at song number 32 and go to 14.
Hear the CKLW Top 100 countdown with Ed Mitchell here.

View the entire Top 100 here.

(The Tom Sanders Collection)

---