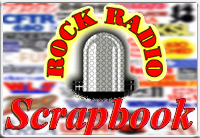 Articles
Buffalo Radio in 1955

By Gary Deeb

It was the summer of 1955 and Buffalo still was the 14th largest broadcast market in the United States. I was only dimly aware of that fact, being only nine. But I knew that those sounds coming from the radio and my own portable RCA model were wondrously thrilling. Indeed, it's entirely possible that Buffalo radio never was performed at such a stratospheric level as it was at that particular moment. More...
The Daddy of Rhythm and Blues: John R.

By Dale Patterson

"Gentleman John", "John R.", or just plain John Richbourg, it didn't matter what name you knew him as. This legendary late-night voice of Nashville's WLAC will always be regarded with awe whenever great rhythm and blues dee-jays are talked about. He truly was "The Daddy of Rhythm and Blues." More...
The Ace From Outer Space: Jocko Henderson

By Dale R. Patterson
He has been called the black Dick Clark, the father of rap, the ace from outer space. He may also be the most deserving deejay not in the Rock 'N' Roll Hall of Fame. Douglas "Jocko" Henderson remains one of rock 'n' roll's most overlooked pioneers. More...
Progressive Radio Pioneer: Tom Donahue

By Dale R. Patterson
He was a giant - both in stature and in influence on rock radio. One of the leading Top 40 jocks of his era, he is best remembered for something that had nothing to do with talkovers, million-dollar weekends and all that is associated with hit music radio. For Tom Donahue is one of the originators of the free-form album format. More...
Forgotten Pioneer: WBNY
By Bob Skurzewski
It is Buffalo's forgotten pioneer.
On September 24, 1935, Mr. Roy L. Albertson received a construction permit for WBNY radio. The station went on the air on March 4, 1936, assigned to a "shared frequency" of 1370kc. WBNY-AM and WSVS (Seneca Vocational High School) shared "air" time. Later, the FCC, as part of a nationwide frequency reallocation program, moved WBNY-AM and WSVS to 1400kc. More...
The CHUM Chart
By Dale Patterson
On May 27, 1957, CHUM radio in Toronto made two changes that would prove very historic. They became the first station in Canada to program Top 40 hit music, 24 hours a day. Also, they began a tradition that would last 29 years with the weekly issuing of the CHUM Chart. More...
The CKOC Chart Gallery
As donated by Mark Sorensen via Nevin Grant

It was the longest-running chart in Top 40 radio history, with more than 16-hundred issues from 1960 to 1992. View some classic CKOC music charts as donated exclusively to Rock Radio Scrapbook. More...
Radio's Jackie Robinson: Nat D. Williams

By Dale Patterson

In the decade of Jackie Robinson, there was yet another man who broke a color barrier. One year after Robinson became the first black in modern times to play major league baseball, Nat D. Williams became the first black man in the south to become the regular host of a radio show. It opened the floodgates as many African-Americans would follow him to their rightful place on the airwaves. More...
Breaking the line: Black radio pioneers
By Dale Patterson
WDIA was by no means the first U.S. radio station to hire black broadcasters. It was the first in the U.S. south to go with an all-black format. But other black broadcasters preceeded Nat D. and company in other parts of the country. More...
The Boy on the Couch: B. Mitchel Reed
By Dale Patterson
He was the fastest tongue in the east - and west - a rapid-fire entertainer backed by a cacaphony of bells and horns. But he also had an alter-ego, a slow-talking, introspective personna that made him a pioneer in FM underground radio. B. Mitchel Reed, whether he talked at you or to you, remains one of the great legends of rock radio. More...
The Don Berns Interview
By Bob Paiva
Q: You're one of the top personality jocks in the country, and you've worked some of the top "personality" stations in the country. Tell us about some of these stations. What I'd like to know in particular is how their station "personality" differed.
A: I consider the top "personality" stations I've worked for to be (WKBW) Buffalo, KLIF (Dallas), KFMB (San Diego) and now WTAE (Pittsburgh). I'm not geing to back before WKBW because we'd be getting into 1960s radio, which is a totally different bag. More...

---